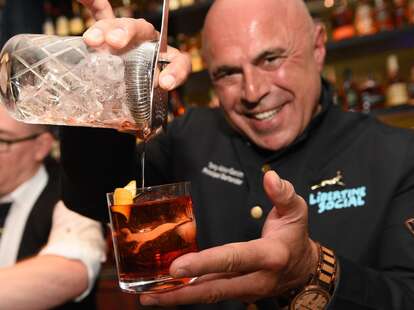 If you think Las Vegas is all about watered-down vodka cranberries, overpriced bottle service, and sugary slushy drinks in giant plastic containers... then you're not completely wrong. But it also means you've never truly experienced the best of what this town has to offer. Let's get you up to speed with some of the bartenders who helped shape 2016 and took Las Vegas to new heights -- both on and off the Strip.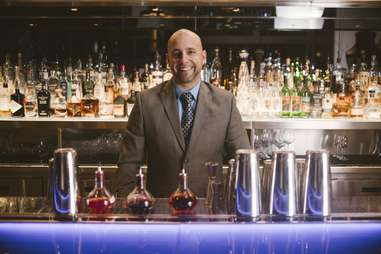 Tim Weigel
2016 has been a "year of transition" for Tim Weigel. In March, he was promoted from lead bartender at Hakkasan Restaurant in Las Vegas to mixologist for all US restaurants within the entire Hakkasan Group empire. That includes not only dining spots like Herringbone, Searsucker, Red Square, and Yumi on the Strip, but also restaurants around the country in cities like Miami and Los Angeles. He'll be actively involved in new locations opening early next year in Houston and Hawaii. Weigel says his primary duties are on the creative side -- developing "new cocktails that brighten up the current list and keep us on the cutting edge of what's going on in the mixology world."
Hakkasan Restaurant at the MGM Grand is a great example -- offering new twists on classic cocktails as well as inventive drinks that share the food's Asian influence: for instance, the use of yuzu marmalade made in-house from the Japanese citrus fruit. The restaurant also has a wide selection of esoteric spirits, including 15 to 20 Japanese whiskies, and, as of last count, 23 different mezcals. "It's unique," says Weigel. "We're a Cantonese restaurant, yet we go through a substantial amount of agave spirits. We're taking our mezcal selection quite seriously. We actually have two different flights on our menu."
Outside of the restaurants, Weigel isn't too involved in Hakkasan's nightclubs, but works with smaller venues, like Vista at Caesars Palace and Alibi at ARIA. "The lounges have just as robust a cocktail program as our restaurants do," he says.
Weigel started out washing dishes when he was 16 in North Dakota. He got into bartending in college, and moved to Las Vegas, where he worked at the ARIA for four years. "Every day, I'd drive past the MGM when they were starting to build Hakkasan. I said, 'This place is awesome. MGM is giving them their own marquee.' So I researched it and I jumped on board with Hakkasan back in 2013 when it opened. I've never looked back since."
What's the one drink you're most proud of?
Tim Weigel: One that is really special to me is the Bossanova Sunrise. I went to Brazil to study, so I took all those experiences from Brazil, and I poured my heart into this cocktail. We don't get passion fruit that often here in the States. It's expensive. In Brazil, it grows wild, so I included that into the cocktail, and of course, there's aged cachaça and banana liqueur.
When you're not at Hakkasan Group's bars and restaurants, what are some of the places in Vegas you like to go for a good drink?
Weigel: For classic cocktails, nobody can beat Herbs & Rye. It's the bartenders' clubhouse. For innovative things, one of the new players in the game is Libertine Social.
What trends do you expect to see in 2017?
Weigel: Things are going to go full speed ahead with mezcals and Japanese whisky. You'll see drinks like beertails -- beer being in cocktails. I'd also say molecular mixology; you need a lot of special equipment, but now we're starting to see some tools and products come out where a lot of the work is already done, so you can do molecular mixology at the average bar.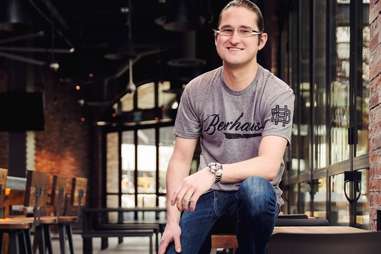 Craig Schoettler
Some bartenders are in charge of a bar or restaurant; Craig Schoettler runs the drink program for an entire resort. As director of spirits, wine & beer for ARIA, he says, "Anything you would drink on property technically falls under my jurisdiction." He manages the cocktail list for restaurants, bars, and lounges -- including the spirits program and working with sommeliers on wine. "I deal with all things liquid," he adds.
However, after graduating from Johnson & Wales with a degree in culinary arts, Schoettler began his career with food and drink in the kitchen of some of Chicago's top restaurants. He got more involved in cocktails, in particular at a place that didn't have a bar -- with drinks run out of the kitchen. He focused on the beverage side during a stint in Miami, and eventually came to Las Vegas as the property mixologist for ARIA. He took over the wine program last year, which lead to his current position.
ARIA is known for having a killer lineup of restaurants. Schoettler says the drink program has to be just as diverse as each individual dining spot. "We try to program each outlet differently," he says. "Sage has a more progressive cocktail program than Carbone (for example) because that's the style of cuisine it has."
Schoettler has the autonomy to create his own cocktails for different venues. "We still try to push the envelope and stay relevant with our peers, not just in Las Vegas but in the world -- whether using the techniques of tableside service, smoked cocktails, or liquid nitrogen, we want to make sure we're playing the same game as everyone else.
When you're not at ARIA, what are some of the places in Vegas you like to go for a good drink?
Craig Schoettler: I think Parlor Lounge at Mirage does a fantastic job. Harvest at Bellagio takes that fresh-ingredient approach to heart. Herbs & Rye is a staple in Las Vegas and part of the fabric of the cocktail scene. The Cosmo is doing fantastic stuff at the Chandelier Bar.
What trends do you expect to see in 2017?
Schoettler: I don't necessarily like to use the word "trend" because it ends with "end," which means it's going to come and go at some point. I'd like to see these philosophies (like fresh ingredients) stay. Whiskey is still king. I don't see that going away soon. No one can make enough rye these days to keep stocks available.
Juyoung Kang
As lead mixologist at Delmonico Steakhouse, Juyoung Kang has a lot of ground to cover. In addition to knowing her wine and cocktails, she is also in charge of maintaining the restaurant's famous whiskey list -- which features selections that are nearly impossible to find anywhere else.
"We're a steakhouse, so a lot of martinis go out. At the same time, people know we have whiskey, so they come here just for the whiskey."
The demand for whiskey, bourbon, and rye carries over to the cocktails, including traditional favorites -- like Manhattans, whiskey sours, and Old Fashioneds. The latter is crafted with house-made cherry bitters and orange citrate syrup. "Right now, our Old Fashioned is probably the most popular drink that's on the menu," says Kang. "I usually make the syrup for it every week, but right now, I'm making two batches every week."
Kang broke into the business in Philadelphia. She learned on the job, including at a wedding gig where she was so green she "didn't know the difference between a stout and a lager." Her love of spirits developed when she attended tastings for both Robert Mondavi and Johnnie Walker and "had way more fun" at the Johnnie Walker tasting. She refined her craft at "really crazy martini bars," and relocated to Los Angeles, where she worked at five-star resorts before moving to Las Vegas. She helped open the Cosmopolitan, then made a name for herself at Commonwealth's Laundry Room before taking the Delmonico job at the Venetian.
"I'm really organized," says Kang. "I bartend blind -- meaning I have to know where that product is. When I pick it up, I know that is where lime juice is. I don't have to read the label over and over again to know it's lime juice. I know what it looks like just by touching it and feeling it. I don't have to actually look at it."
She also isn't above having a little fun. She recently added a Midori sour as a "guilty pleasure" for those not so ultra-serious about their whiskey drinking.
Is Vegas underrated as a craft cocktail city?
Juyoung Kang: Yeah. Everyone goes to the casino bars, and thinks the bars aren't that good. They're not meant for that. They're for the general public. If you want specific stuff, you go to specific places. There's tons of talent in the city itself who want to do more. They just don't have the support. I'm lucky to have that.
When you're not at Delmonico Steakhouse, what are some of the places in Vegas you like to go for a good drink?
Kang: Bound at the Cromwell; they do a good job. Sand Dollar is a small dive bar and the bartenders are really good there. Everyone goes to Herbs & Rye… if you want something classic, they have stuff you've never heard of before.
What trends do you expect to see in 2017?
Kang: Using different liqueurs -- and even wine -- in cocktails. You can't always use the same things. In order to change it all, you have to change the flavor profile itself. Sherry was really big for a while, and port tried to catch on, but it didn't have quite enough depth for a cocktail, but I think a lot of people are working in that direction.
Tony Abou-Ganim
Tony Abou-Ganim first met chef Shawn McClain a little more than four years ago during an episode of Iron Chef America on the Food Network. "We won that battle, thank goodness, and we formed a great friendship," say Abou-Ganim. The two also teamed up for McClain's latest Vegas venture -- Libertine Social, which opened this year at Mandalay Bay.
"We wanted a place where we could pay tribute to today's cocktail resurgence," he adds. "A fun, festive, social place."
Abou-Ganim knows what he's talking about. He started making drinks professionally in Michigan back in 1980 "when it wasn't so cool to tell people you're a bartender." He moved to San Francisco and then New York, where he was the first bartender at Mario Batali's first restaurant. He eventually came to Las Vegas, where he led the drink programs at the Wynn and Bellagio.
2016 was a busy year for Abou-Ganim. He also crafted the signature cocktail menu for the new T-Mobile Arena on the Strip, and continued his role leading "For the Love of Cocktails" -- an annual multi-day event to raise funds and awareness to battle cancer. It will return for its fourth year in 2017.
But for now, it's Libertine Social that demands the most attention, and Abou-Ganim says the proof is in the details. "From the glassware to the ice program to the ingredients that we are using and the techniques as well. People may have never had a barrel-aged Boulevardier or a fresh, from-scratch margarita on draft, so we wanted to give guests an experience they might not have in another establishment."
Abou-Ganim hopes Libertine Social encourages people to get outside of their comfort zone, but says his team has not only mastered the art of the cocktail, but also the art of hospitality. "A great cocktail only gets you so far. A great cocktail from a friendly, approachable, knowledgeable bartender -- that makes an experience, not just a drink.".
What's the one drink you're most proud of?
Tony Abou-Ganim: My best known drink is the Cable Car. It dates back to 1996 when I was approached by the Captain Morgan people at the Starlight Room to do a drink. It's now at Libertine Social on the retro menu of all places.
Is Vegas underrated as a craft cocktail city?
Abou-Ganim: I think the perception of Las Vegas for a long time has been volume or quantity over quality, but since the opening of Bellagio in '98, we are now home to the largest US Bartenders' Guild of over 60 chapters. The evolution of what has happened here in Las Vegas has been amazing.
When you're not at Libertine Social, what are some of the places in Vegas you like to go for a good drink?
Abou-Ganim: I have a soft spot in my heart for the Petrossian at the Bellagio. That's like going home for me. A lot of people working in that lounge today were there when we opened in 1998. Off-Strip, I like to go to Herbs & Rye. The quality bartender Nectaly Mendoza has developed there is great for Las Vegas. He makes a good Holland House -- one of my favorite drinks.
Tori Bender
"Tiki bars can get a little complicated when drinks have nine or 10 ingredients," says Tori Bender, who recently stepped in as bartender and general manager of The Golden Tiki -- a 24-hour spot in Chinatown that marked its first anniversary over the summer.
One of Bender's goals is making sure those Tiki drinks -- usually rum-based with fruit juices and a tropical feel -- are served efficiently in a high-volume establishment while retaining careful attention to detail. She's also revamping the menu, keeping popular favorites while bringing in some new creations. "We're bringing back the Singapore Sling, which is a traditional gin-based Tiki cocktail. We're adding a bitter liqueur and using fresh, homemade grenadine."
Bender is a Las Vegas native who got her start bussing tables at the Italian-American Club when she was 15 years old. She eventually got into bartending and found work Downtown. She was part of the team that reinvented historic Atomic Liquors as a craft-cocktail-focused bar ("Comfy craft," she points out. "We didn't want to be pretentious").
The Golden Tiki offers a healthy change of pace for Bender -- and allows her to incorporate some fun new ingredients in her drinks. There's even a machine behind the bar that dispenses Dole Whip -- a frozen pineapple treat that was once only available at Disneyland.
The Golden Tiki is looking ahead to its second full year of operation in 2017, and plans are in the works for the bar to produce a Tiki cocktail book. However, no matter how many duties she takes on, Bender says she'll always be a bartender at heart.
"My happy place is behind the bar. I'll do it as long as I physically can."
What's the one drink you're most proud of?
Tori Bender: I did a beer cocktail for a competition. It was called Colonel Mustard. I used spicy yellow mustard with turmeric, orgeat (almond) syrup, a dark vanilla rum, some pineapple juice, and topped it with a pilsner.
Is Vegas underrated as a craft cocktail city?
Bender: I don't think it's underrated anymore. I think it was a few years ago, but we're making our mark with our restaurants and the bartenders to match."
When you're not at Golden Tiki, what are some of the places in Vegas you like to go for a good drink?
Bender: Definitely Velveteen Rabbit, Atomic Liquors of course, Downtown Cocktail Room with their ever-changing menus... The Sand Dollar is doing great things. The Huntridge Tavern for a late-night shot and a beer. I love Herbs & Rye.
Max Solano
Southern Glazer's Wine & Spirits
Max Solano doesn't work at a bar or restaurant. He's part of the mixology team at Southern Glazer's Wine & Spirits -- the top distributor of alcoholic beverages in not only Las Vegas but the entire country. Solano's work mostly has to do with resorts on the Strip, but he also teaches spirits education with a primary focus on whiskey.
"Fortunately for me, whiskey is the No. 1 spirits category right now in terms of global growth, so I'm a popular guy," he laughs, noting that he also has a personal love of rum, and is eager to spread the good word on that spirit as well.
Solano's regular duties include creating cocktails for bars and restaurants, making presentations to hotel executives, and offering education for Southern Glazer's employees to improve quality of sales. Most of the training and education takes place in the Academy Room. It took more than $2 million to build, and sits inside Southern Glazer's headquarters in the Southwest Valley. "It's ridiculous," continues Solano. "There's no classroom setting like this in the country. It's unique, from the bar design to the audio system... it's the culmination of every idea into one bar. It's amazing."
Solano has been a part of food and beverage for about 23 years -- starting as a part-time dishwasher in Massachusetts. He became a bartender and later spent nearly a decade working with Emeril Lagasse -- eventually serving as the company mixologist for the celebrity chef's culinary empire. That included putting together the whiskey program at Delmonico Steakhouse.
Solano won "Best in Show" and "Best Long Drink" at this year's Wholesaler Iron Mixologist Competition by the WSWA. "I'm pretty much an open canvas," says Solano of testing his skills in competitive events. "I love diversity. I love exotic ingredients. I love unique products."
What trends do you expect to see in 2017?
Max Solano: In terms of spirits, I think we're going to see more boutique brands -- hopefully brown versus clear. I think we're going to see more international whiskey come to this country. More craft beer. Maybe the use of fortified wines in cocktail programs.
When you're not at Southern Glazer's, what are some of the places in Vegas you like to go for a good drink?
Solano: Herbs & Rye... I think that would be the consensus for most who live here. One of the newer places I find myself frequently is Libertine Social. They do a unique tableside service. If you want ambiance and aesthetics, go to Mandarin Bar on the 23rd floor. If you're a whiskey drinker and want good, crafted whiskey cocktails, Delmonico Steakhouse still offers the biggest spirits selection in the city. Carnevino is a great option. Oak & Ivy is another one for anybody really into well-crafted spirits. Bound at the Cromwell is another great bar to go to.
Nectaly Mendoza
You may have noticed a trend here: every single other bartender in this story has recommended Herbs & Rye as a bar they'd make a point to visit in their downtime. That's because the industry crowd knows there's no other place quite like it in Las Vegas. The bartenders are top-notch, with a wide array of spirits and knowledge at their disposal, and they innovate while staying true to how classic cocktails were originally made. The man behind it all is eager to shift the credit to his staff, however. "We have good cocktails. We have great food," says owner and bartender Nectaly Mendoza. "But people come in here because of us -- because the people are great."
Mendoza took a long path to this point. He worked his way up during four years at Todd English's Olives at the Bellagio and then for nine years with the Light Group. Mendoza founded Herbs & Rye at the height of the recession in 2009 with Gerardo de la Torre, the man he credits for the concept. A reputation was built over time, and 2016 is proving to be a banner year. While approaching its seventh anniversary, Herbs & Rye was recently named "Best American High-Volume Cocktail Bar" -- a first for a Vegas establishment -- by the prestigious Tales of the Cocktail industry showcase. Mendoza was also named "Bartender of the Year" by the Nightclub & Bar trade show.
The extensive drink menu is broken down into different periods throughout American history -- starting with the "Gothic Age" in 1776 and continuing through eras like "Rat Pack" and "Tiki Boom." However, it almost didn't happen. "We had a completely different menu the day before we were going to open. We actually trained the staff on it. I started drinking and said 'I don't know. Maybe we should change this,'" Mendoza recalls with a laugh, while noting that he didn't want the menu pigeonholed with a Prohibition theme. "Prohibition is only a certain time. All these cocktails are throughout a (longer period) of time. Why don't we just break it down into the eras of American drinking?"
Mendoza hopes to see his team expand in 2017, and "unlike other business owners" wants to see his staff branch out with ventures of their own. "Herbs & Rye is much more than a place you go to work," he says. "It's a lifestyle, and I truly mean that. You're not taught here to just bartend. You're taught to be a better person mentally and to expand yourself as an individual."
Is Vegas underrated as a craft cocktail city?
Nectaly Mendoza: The city as a whole has really made a name for itself. We've got a lot of talent in the city. A lot of young talent. Within the next four or five years, you're going to see a lot of these young guys bloom.
When you're not at Herbs & Rye, what are some of the places in Vegas you like to go for a good drink?
Mendoza: I love Atomic; they're awesome. Velveteen Rabbit has some of the most unique and original cocktails the city has ever seen. Downtown Cocktail Room is a staple in the community... they were the true first cocktail bar. There's Vanguard. There's Commonwealth. The new Rebar off of Main Street is pretty kick-ass. I think Main Street is going to be the next thing to really boom. On the Strip, I'd go see Tony at Libertine Social. I think Sage has a good program.
What trends to do you expect to see in 2017?
Mendoza: Naturally, everyone is stepping their game up. People are going to fresh juices, fresh fruit, better products, quality products, and more staff training.
Sign up here for our daily Vegas email and be the first to get all the food/drink/fun in town.
Rob Kachelriess has been writing about Las Vegas for Thrillist for more than three years. He needs a good drink after writing this story. Follow him on Twitter @rkachelriess.