Sin City's 9 sweetest hangover cures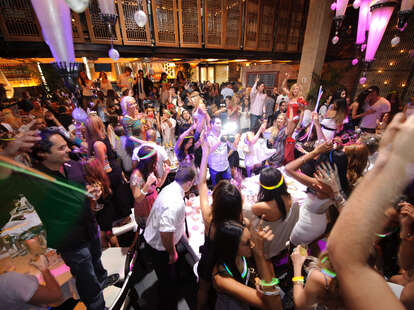 The Palazzo
The Palazzo
In honor of football, drinking, America, and YOU, we proclaim the Monday after the Super Bowl shall henceforth be known as National Hangover Day. It's a day for hangovers to be celebrated, embraced, and combated in the most enjoyable of ways -- namely, eating delicious food, and possibly drinking more. The ultimate goal? Getting the entire country a day off work, a beautiful dream you can help make happen by signing this petition to our sports-loving President right here and tweeting it.
The immediate goal though? Fixing that hangover, which is why we've got Sin City's sweetest hangover cures right here...
Hussong's Cantina
Shoppes at Mandalay Place
Reason number like, one zillion and seventy four that Vegas is the coolest city ever: this Pozole soup w/ chile guajillo broth, seasoned pulled pork, hominy, onion & cilantro is actually designed to cure hangovers.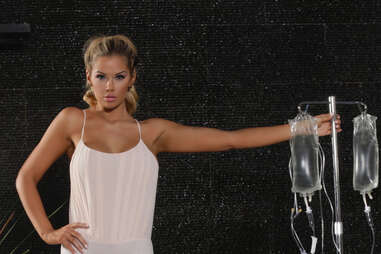 REVIV at MGM Grand
On The Strip
After a night with nothing but alcohol (and Taco Bell) flowing through your veins, the pro-move is getting hooked up to an UltraViv Recovery Infusion that comes with Vitamin B12 and medications to treat nausea and inflammation.
Oyster Bar at Palace Station
Off The Strip
Oysters are full of zinc, which can help boost your immune system, so skip those lozenges from Walgreens and order up a shooter from the Oyster Bar, 24hrs a day. Plus zinc can also boost your testosterone… which makes them the perfect choice if whoever you took home last night decides to stay for breakfast.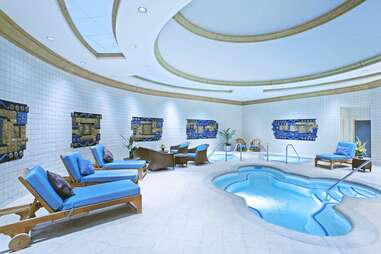 JW Marriott Las Vegas Resort & Spa
Summerlin
You don't have to be a registered guest to enjoy the perks at Spa Aquae, and there's a locals discount on treatments that'll rejuvenate the mind (which probably made some bad decisions the night before) and the body (which is paying for those decisions right now), like a sauna, steam room, waterfall showers, and indoor float pool.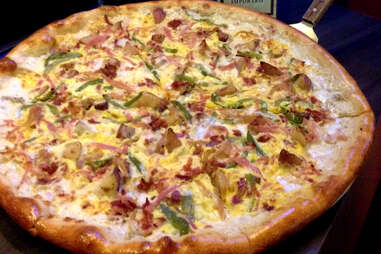 Slice of Vegas
Shoppes at Mandalay Place
Your body craves grease. So ignore that stale pizza in your fridge and head back to The Strip (aka the scene of your crimes from the night before) for some Hangover Pizza (yes, that's what it's called!), which's loaded up with sausage, gravy, green peppers, onions, home-fried potatoes, bacon, ham, mozzarella & scrambled eggs.
LAVO
On The Strip
Hit it a little too hard on Friday? It's time to hit the Palazzo from 2-6pm on Saturday for The Lavo Champagne Brunch, which'll take care of your hangover principally by setting you up for another one. The high energy bash includes a mimosa bar and more than twenty kinds of Champagne... and lots of ladies who probably never made it home last night.
MGM Grand
On The Strip
Dude, you're in no condition to drive home, and your home is nowhere near as nice as the Stay Well suites at the MGM Grand, so book one of those suckers and enjoy Vitamin C-infused showers, ultra purified air and "light therapy" -- short bursts of blue light to help wake you up gradually and peacefully.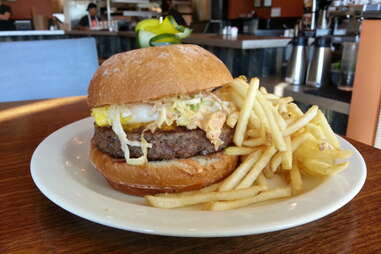 MTO Café
Downtown
So you passed out in the backseat of your car after a wild night on Fremont Street? It's cool... you're that much closer to the MTO Café, where they're expecting (a shton of people like) you to show up for their ultra-greasy Hangover Burger -- 8oz of dry Angus w/bacon, a fried egg, Tillamook cheddar, lettuce, and MTO's special sauce.
Cantina Laredo
Tivoli Village
You probably blew your rent money on booze last night, so order up the crab cakes benedict at Cantina Laredo -- they come with a free Bloody Maria (a Bloody Mary but with tequila instead of vodka) that'll give you an economical way to start on your next hangover.