The Best Spots for LGBTQ Nightlife in Las Vegas
Head to the Strip and the Fruit Loop district for queer day parties, bottomless drag brunches, and more.
In Las Vegas, we celebrate Pride in October (officially LGBT History Month). June is just too hot—not sweaty-sexy-ripped-bodies hot, but eyeliner-running-down-the-face hot. That said, there are still plenty of places to celebrate your LGBTQ+ pride in Vegas all throughout "official" Pride month, and every other month of the year, too.
When it comes to gay destinations, Las Vegas isn't exactly Miami or Palm Springs, but we do what we can and we do it with a whole lot of camp. The best gay bars tend to be beloved dives, many of which are located in the "Fruit Loop"—the actual name of Vegas' gay bar district just east of the Strip. But on and off Strip, you'll find fun bars, clubs, events, variety shows, and entertainment that warmly welcome the LGBTQ community, even if they don't explicitly cater to it. This is Vegas, after all.
And even though we celebrate Pride in October, there are still plenty of Pride events happening around town throughout the month of June! Some highlights include the Henderson Pride Festival (with events happening throughout the month), PRIDE OUTside's hiking events throughout the summer, Women's HotHer Pool Party at Influence, The POOL at The LINQ, on Sunday, June 5, and "A Beautiful Tomorrow" PRIDE poolside celebration at the Boulevard Pool at the Cosmopolitan on June 18. Check out the Las Vegas Pride events calendar for full listings.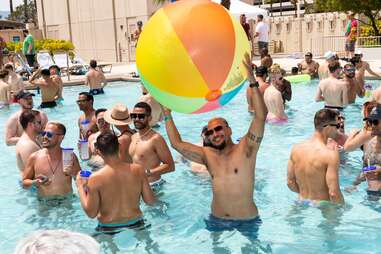 The Luxor
Las Vegas's only LGBTQ+ pool party is finally BACK at the Luxor after a two-year COVID hiatus! Now in partnership with nightlife impresario Eduardo Cordova and The Garden, Temptation Sundays promises more guest DJs, more celebrity appearances, and more Sundays than ever before (now weekly through mid-September). They're kicking off Pride month on June 5 with Miss Nevada Kataluna Enriquez, the pageant's first-ever openly transgender winner, walking the "blue carpet" with Cordova. MGM Resorts representatives will also make check presentations to the Human Rights Campaign, Las Vegas Pride, and The Center organizations in recognition of the important work they do for the LGBTQ+ community.
East Flamingo
Another establishment that's been COVID-interruptus these last two years has finally reopened: Hamburger Mary's, the campy queer burger joint, is back with a full calendar of drag events like the "Stars-N-Stilettos Female Celebrity Impersonation Revue" on Fridays and Saturdays, "Drag Your Sass to Brunch" drag brunch Saturdays, and "Mary's Gospel Brunch" on Sundays (drag brunch served Sister Act-style—praise be!).
East Twain
Jimmy's at Madison's is a super-fun new LGBTQ show bar with a packed roster of daily events including, but certainly not limited to, Twisted Tuesdays drag comedy, Tuck Be a Lady drag show Fridays, Clap Back Brunch Saturdays, and Revolving Door Drag Brunch Sundays (with a different revolving theme each week). The food is great, the performers are top-notch, and it's a fun, casual, and welcoming space to hang. They also have quite the fantastic outdoor pool and patio for soaking in the sun.
DTLV
The only gay bar in Vegas that fully caters to the city's large Latinx population (rather than just a weekly Latin night), the BackDoor hosts live music, DJs, vaquero (cowboy) and reggaeton nights, plus drag performances.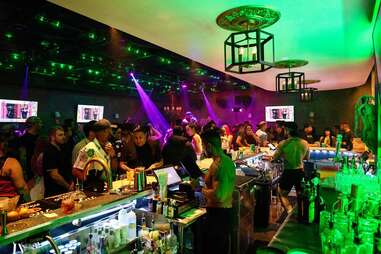 DTLV Arts District
Despite the challenges of opening in the midst of a pandemic, the Garden quickly became the hottest gay bar in town, thanks in part to a sexy, stylish space in the super-hot, hip, and happening DTLV Arts District, as well as a can't-miss Bottomless Drag Brunch every Saturday and Sunday. They've also got great food—think upscale gastropub fare like angus beef sliders and cauliflower wings—great happy hour specials, DJs and bottle service on weekends, and they host a drag and performance show called SHADE! every Thursday. Also worth noting: the Garden's drag residency lineup includes many Ru Paul's Drag Race alums.
East Twain
The Fun Hog Ranch is a cash-only gay dive bar that's open 24/7. They host monthly events like "Bears Roam the Ranch" and "OINK Night" that also serve as fundraisers for community partner nonprofits. But make no mistake—parties can get wild at night and leather, fetish wear, and bondage gear is all highly encouraged. But if you're not into that, skip the dancing, grab a beer, and play a little video poker.
Fruit Loop
FreeZone is basically the superclub (think Omnia) of Las Vegas gay bars. This is a 24/7 nightclub that never sleeps, with a dangerous-sounding all-you-can-drink special from 8 pm to 2 am— at $15 for bottomless beer and $17 for unlimited cocktails, it's undoubtedly the best drink deal in Vegas. Plus there's a 12-hour happy hour with two-for-one drafts and cocktails from 8 am to 8 pm daily, $3 late-night drinks daily, AND the first drink is always free!
East Tropicana
Every Sunday is leather night at the Las Vegas Eagle with $10 all-you-can-drink well and draft. If you want to take your fetish further, every third Saturday they host a "Puppy Play" event. (If you don't know what that means, it's not for you.) They also have regular drag performances and events like lip-synching competitions and drag queen bingo, plus dirt-cheap late-night all-you-can-drink specials for the nocturnal bears.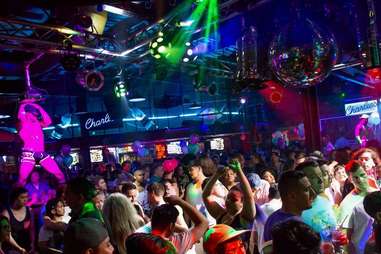 West Tropicana
The country-western theme is strong here, with some of the most enthusiastic line dancing you'll find east of the Strip, plus every day of the week they've got some sort of themed special or event, like "Sing with the Queen" Karaoke Mondays, "Gayme Night" Tuesdays, and "Wet Wednesdays" when men who arrive in their skivvies drink free.
East Sahara
This easy-going country-themed spot offers super-cheap drinks and theme nights like Trivia Tuesdays (hosted by a drag queen, natch), Humpday Karaoke Wednesdays, a "Hips, Heels and Tucks" weekly drag show on Fridays, and monthly leather nights. Possible bonus: it's also just steps away from the Green Door sex club, which often draws adventurous/confused heterosexuals.
Fruit Loop
Open 24 hours a day, the central destination of the Fruit Loop has a sound system to rival most clubs on the Strip, and an outdoor patio that's perfect for catching your breath between trips to the dance floor. They host almost-nightly events, including Latin Tuesdays with $5 wells until midnight, Wednesdays We Wear Pink with $5 wells from 10 pm–midnight, and We Love the Weekend drag nights with performances at midnight and 1:30 am.
Fruit Loop
If the madness of Piranha gets to be too much, QuadZ offers a Fruit Loop alternative sans dance floor, where the regulars prefer to hang out with the bartenders, shoot pool, play darts, and pick out songs on the video jukebox. This is another loosely themed "country" bar with "Cowboy Bingo" nights supporting the Nevada Gay Rodeo Association.
West Sahara
Nothing says inclusivity like people of all genders and sexual proclivities sharing a game of Super Mario Bros on a giant projector screen. The Las Vegas Gaymers even hold weekly video game tournaments here. It's one of the most welcoming bars in the LGBTQ community, thanks to its ladies' nights, burlesque nights, "divalesque" nights, and fandom-themed events.
East Flamingo
There are plenty of TVs to watch a big game, plus pool, darts, and shuffleboard to play a few of your own. The auto theme is taken seriously—bartenders are called "mechanics" and serve drinks like the "Drive Shaft" and "Fuel Injector." They've got an amazing all-day happy hour that runs from 11 am–7 pm, with two-for-one drinks on offer, plus daily deals that run from 8 am–4 pm, including $4 shots of 1800 Silver on Sundays and $3 off top-shelf liquor on Thursdays.
East Sahara
The 24/7/365 Spotlight Lounge is probably best described as a quintessential gaming bar for locals that caters to the gay community. This is a friendly, relaxed spot with daily drink specials, video poker, keno, slots, pool tables, six 50'' TVs, and daily gaming promotions.
The Flamingo
The fiercest queens from RuPaul's Drag Race can be seen slaying at their very own show at the Flamingo, and these "showgirls" know how to WERK. RuPaul's Drag Race LIVE! is an original production based on the Emmy Award-winning reality competition with new dance numbers, costumes, and choreography. Marvel at world-renowned drag show queens like Asia O'Hara, Derrick Barry, Kameron Michaels, Naomi Smalls, Vanessa "Vanjie" Matteo, and Yvie Oddly. There's also RuPaul's Werk Room, a merch shop where you can slay with a new makeover and meet the performers. Sashay! Shante!
Treasure Island
The infamous Liquid Drag Brunch at Señor Frog's happens every Thursday, Friday, Saturday, and Sunday with wild performances by the stars of RuPaul's Drag Race and Vegas's finest drag artists. The liquid part of brunch is blessedly bottomless, so sidle up to the open bar and pick your poison before grabbing a front seat at this interactive stage show. Plus, brunch is buffet-style so you can hit that line as many times as needed to make sure you don't fall out of the bar when you leave.
The Strip
If you only see one show in Vegas in your entire life, make it one of Spiegelworld's whacked-out, raunchy, NSFW, and most definitely queer variety/vaudeville shows. Right now that roster includes Absinthe, a green-fairy-fueled circus held in a big top in front of Caesars Palace and hosted by the enigmatic Gazillionaire; Opium, the out-of-this-world space opera send-up with plenty of robot sex and a sword-swallower named Todd (you'll understand why that's relevant when you see the show); and their WAY "Out" West production, the Atomic Saloon Show, where Madam Boozy Skunkton and her boy Blue Jackson will have you saddling up for the wildest ride of your life. And keep an eye out for their newest production DiscoShow opening at the LINQ later this year! These shows are basically like Cirque if Cirque had an NSFW sense of humor and thoroughly embraced queer camp.
Tropicana
The longest-running show on the Las Vegas Strip is back at the Trop, and it's now hosted by the legendary Queen of Las Vegas, Frank Marino, the longest-running performer on the Strip who is best known for his longtime role impersonating Joan Rivers. Expect a wide range of celebrity impersonators that include queer icons like Cher, Elton John, and Lady Gaga.
And on Tuesday, June 14, you can also take part in a Pride Month commitment ceremony for the Queen of Vegas at the first celebrity LGBTQ ceremony at Little Vegas Chapel in their new venue. The ceremony, honoring Marino and his partner Shannon "Alex" Schechter, will be officiated by Mayor Carolyn Goodman, starting with a ribbon cutting at 5:30 pm followed by the ceremony and a cocktail reception.
Nicole Rupersburg
is a freelance writer covering food, travel, arts, culture, and what-have-you. She winters in Las Vegas and summers in Detroit, as does anybody who's anybody. Her favorite activities include drinking beer and quoting
Fight Club.