Las Vegas is proving to be a hot destination for beer lovers. Need evidence? The Motley Brews' Downtown Brew Festival is celebrating its fifth anniversary in Las Vegas on October 22nd at the Clark County Government Amphitheater. It's a great opportunity to get familiar with the very best breweries Las Vegas has to offer and check out more than 200 craft beer samples -- but uh, not all at once! -- with local beer makers at the top of the list.
Henderson
Can we talk about "Booze Yoga" -- where you twist and stretch into odd positions with a tall glass of beer at your side? It's just one of the many reasons CraftHaus has loyal fans. Founded by a husband and wife who were inspired by the craft beer culture in Europe, the brewery has a tap room that's bright, fun, and feels like a clubhouse. Weekly tours are offered on Saturdays, and the $10 price tag includes a flight of four beers. The Any Which Way IPA comes in two versions: a tamer white, and a double that's heavy on the hops as well as the alcohol.
Downtown
This family-owned and -operated brewery has been around for 17 years, and recently moved into a new location Downtown, after outgrowing its previous facility in the northwest valley while launching a line of cans to help accelerate that expansion. It's not your typical Las Vegas watering hole: no gaming, smoking, or liquor, just great craft beer and a little bit of wine. There are 28 handles -- about half from Tenaya Creek and half from other highly regarded microbreweries. The staff is among the most knowledgeable you'll find in a brewpub, and at last check, the newest bartender has been around nine years. There are a few exceptions, but the beers are generally well-balanced and drinkable -- not super-hoppy, which is something of a rarity these days. Favorites include the Hauling Oats oatmeal stout, and the offline It Takes 702 to Mango, which packs some sweet heat.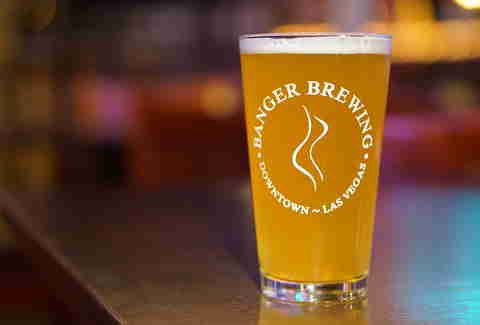 Downtown
While there are a few breweries in the Downtown area, Banger Brewing is the only one smack-dab in the middle of the Fremont Street Experience. Despite the location, the brewery and bar is a favorite of locals as well as a beloved detour for tourists. It doesn't hurt that it offers all-you-can-drink house draft beers for $30. Opened by a group of service-industry friends a few years ago, Banger Brewing is proving to be a great success story. Make sure you try the Blondie, Porterhouse, and El Heffe -- a hefeweizen with a jalapeño kick.
Henderson
Originally opened as a family business, Joseph James was eventually sold to Miller International (no, not that Miller, but rather a western clothing company) and has been growing ever since. The brewery doesn't currently allow visitors, but is expanding into a new facility that will offer a tap room and restaurant. Widely available around Las Vegas, Joseph James now produces 4,000 barrels a year, including seven year-round beers, four seasonals, a barrel-aged series, and the newly released Suave Felon sour series. The first official creation for Joseph James was a root beer -- made while waiting on the brewing license -- that's still available today.
Henderson
The newest brewery in Las Vegas is already making a big, sudsy splash -- despite being open less than a year. Built from the ground up in Downtown Henderson, the company was founded by four brothers (and yes, their last name is Lovelady) who got their start experimenting with at-home brewing back in their high school days. It made them popular at parties, and the love for producing beer was hard to shake. One of them is the former head brewer at Gordon Biersch in Las Vegas. Fun choices include a tangy pineapple sour and a porter made with beans from Mothership Coffee roasters.
Henderson
Nathan Hall got into homebrewing on a whim. It started with a coupon for a five-gallon beer kit and quickly grew into a full-blown operation in his garage. Hall developed his own recipes and tested them out with friends during UFC viewing parties. He was encouraged to open his own brewery -- which finally happened after selling his house. Bad Beat is growing so fast, it actually won't be at the Downtown Brew Fest this time around, so make sure you visit the company's tap room. Sales have doubled since last year, thanks to five year-round beers (four of which are canned) and a knack for building demand for limited-edition specialties. The latest is the Big Baby Porter -- named after the head brewer's new baby -- and packs a 10.6% ABV, in honor of the baby's birthweight.
On the Strip
Launched back in 2003, when the craft beer community was far less busy than it is now, Sin City Brewing stands apart from the pack with a handful of locations on the Strip: the Grand Canal Shoppes, Harmon Corner, the Miracle Mile Shops, and a new location on the way at the Grand Bazaar Shops. It's also the only local brewery to follow a 1516 German beer purity law that states water, barley, and hops can be the only ingredients in the brewing process. The five signature house beers and one rotating seasonal are now made at the Lovelady facility (after previously renting space at Gordon Biersch) and produced in small batches of 72 kegs at a time, which creates more robust flavors and ensures the quality remains consistent.
Downtown
Inside the Main Street Station casino, you'll find the Triple 7 restaurant and microbrewery, which offers up six of its own beer creations to wash down burgers, pizza, and other forms of comfort food (although the sushi bar does seem a bit out of place). It opened 20 years ago, making it the longest-running brewery Downtown. One tap is reserved for a rotating lineup of seasonal favorites, including the current Blackjacked milk stout with pumpkin pie spices and vanilla. If you're hungry, show up for the Express Lunch -- a special menu in which the food is free if it doesn't arrive in 20 minutes. That just means more money for beer.
Northwest Valley
Founded in the mid-'90s by the late Tom Wiesner at the old Holy Cow casino, Big Dog's (as it's now known) was the first-ever microbrewery in Las Vegas. It eventually moved north when the Holy Cow was demolished -- a Walgreens is currently in its place -- and led the way for the craft beer movement in Southern Nevada. Despite being ahead of the game, Big Dog's encourages friendly rivalries from other breweries, and has even produced collaborations with Tenaya Creek, Bad Beat, and Joseph James. Most of the beers are given a dog theme, with the Red Hydrant English Brown Ale and the Tripel Dog Dare Belgian Tripel scoring high in recent editions of the Great American Beer Festival. The brewery also has its own full-service restaurant -- modeled after a large barn -- that's designed to offer a little Midwest hospitality. If you're a Green Bay Packers fan, you'll be especially among friends.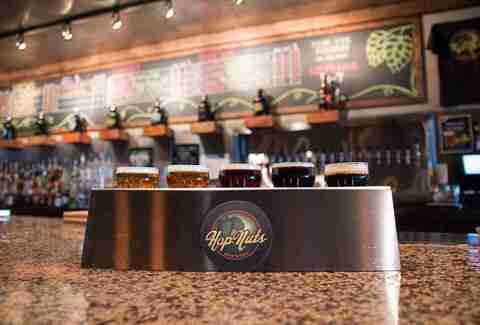 Downtown
A newcomer to the local brewing community, Hop Nuts has quickly become one of the best reasons to visit the growing Downtown Arts District. The name pays tribute to its Green Mamba Double IPA -- a hop-heavy West Coast-style DIPA that scores extremely high on the IBU scale. That's "International Bitterness Units," so consider yourself warned. Aside from the Golden Ale, most of the brews have something of a hoppy bite, including the limited-edition Imperial Espresso Stout -- made with beans from Makers & Finders Coffee next door.
Summerlin
Located on the eastern edge of Summerlin, the Chicago Brewing Company offers a little bit of everything for people living in the west Valley -- including an outdoor beer garden, cigar lounge, and menu loaded with bar food and 24-hour breakfast bites. The house brews come in six basic choices, with the nutty Old Town brown ale a good one to take home in one of the 64oz growlers.
Off the Strip
It may be near the Strip, but Ellis Island is mainly a locals' hangout -- with regular karaoke, tasty barbecue, and yes, its own microbrewery on the property. Things are kept simple with five basic choices: light, weiss, amber, IPA, and stout -- and a rotating lineup of seasonal choices. Ellis Island also brews its own all-natural root beer that comes in both "hard" or alcohol-free versions. Ask about the loaded lemonade as well.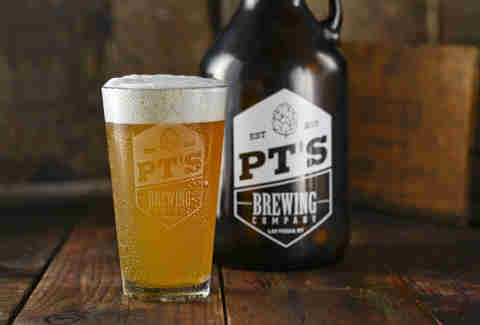 Northwest Valley
Long known for its chain of locals-oriented bars, PT's recently got into the business of making its own beer, after taking over Tenaya Creek's former brewery. Most of the creations are given Vegas-centric names (like the Sahara Pale Ale and Rebel Red, in honor of UNLV's sports teams). The brews are shipped out to PT's pubs around the valley, including an Irish-style red for the Sean Patrick's Irish pub locations.
Sign up here for our daily Vegas email and be the first to get all the food/drink/fun in town.