What Your Casino Drink Says About You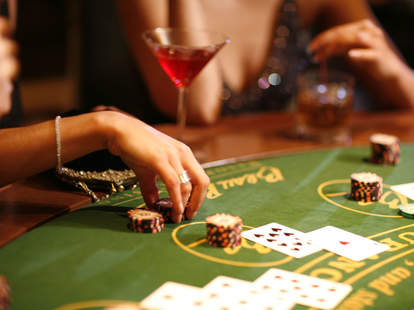 COURTESY OF MGM RESORTS INTERNATIONAL
Las Vegas is known for three things: drinking, gambling, and drinking while gambling. But not everybody plays the same casino games, and not everyone chugs down the same drinks. So what does your casino drink say about you? Read on.
Beer
What you're playing: Video poker
You're a local who's done with the Strip. In fact, you've been over it for years. Forget that place! It's full of tourists and assholes throwing their money around. Instead, you're miles away. Well, at least three to four minutes away at a good old-fashioned slot parlor. It's technically not a casino, and technically not much of a bar. But you're here and you're staring at that video poker screen built into the countertop. And hey, at least there's a deal on PBR tonight.  
Long Island iced tea
What you're playing: Craps
As far as casino games go, this one is among the most fun and energetic. So of course, you want to be a fun and energetic guy. Order a Long Island iced tea. The mixture of booze and Coke from a soda gun is bound to get your heart pounding and your mind racing. Just try not to (a) yell too loudly in the middle of the action, (b) give someone else advice on how to play when you're not playing, and (c) ask a girl to blow on your dice for good luck. You're not Sinatra.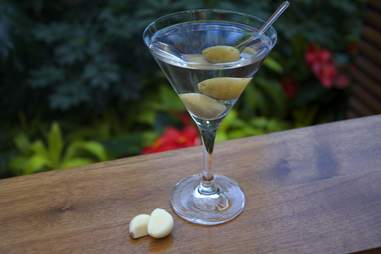 Courtesy of The Mirage
A dry martini
What you're playing: Baccarat
You're in town with your friends for a bachelor party and you're ready to chase girls and play baccarat like James Bond. But how do you play baccarat anyway? And should the martini be shaken or stirred? It's hard to remember, especially since you're surrounded by a table full of tourists who look nothing like James Bond. After losing a few hands, you'll feel less like 007 and more like Vince Vaughn from Swingers. And once your vacation funds completely dry up, you'll feel like the suckers who got ripped off in Ocean's Eleven.
 
Gin & tonic
What you're playing: Poker
Unlike most casino games, poker requires a certain level of skill. The best players are sharp, focused, and can win big money. Many of them are among the thousands who come to Vegas for the World Series of Poker each year. These people know what they're doing. And they know they prefer gin to vodka. Are you one of them?
Ivan Mateev/Shutterstock
Rum & Coke
What you're playing: Blackjack
You don't gamble much. Actually, you might not even drink that much. But you're here in Vegas and you've googled "tips on winning blackjack" while waiting for your luggage at the McCarran baggage claim. Now it's time to put that newfound knowledge to use. The only thing you didn't put much thought into was the answer to, "Would you like a drink?"
 
A wine cooler
What you're playing: Powerball
You love the lottery, but it's not legal in Nevada. Here's the good news: you can drive a few miles south of Las Vegas to Primm. That's where you'll find a casino right before the California state line and a convenience store just after it. Buy as many Powerball tickets as you like, but set a few bucks aside for a six-pack of wine coolers. Just don't drink 'em in the parking lot.
A fruity martini
What you're playing: A goofy slot machine
You're a girl in her 20s and your date from Plenty of Fish hasn't shown up yet. It's cool. Just sit down at the next slot machine that catches your eye. It probably has a theme like Ellen, Friends, or Wheel of Fortune. If you lose more than 20 bucks, hurry up and text your date to find out his ETA. At least you're not paying for dinner... hopefully?
 
Wine spritzer
What you're playing: Keno
You're an old woman from the Northeast who's in her 60s. Maybe older. You make a point to visit Vegas at least once a year because Atlantic City ain't what it used to be. Now that you think about it, Vegas ain't what it used to be either. But it's still better than Atlantic City.
 
Anything in a mason jar
What you're playing: Sports betting
You're at a big hotel on the Strip and you just finished dinner at a trendy new restaurant. The girl at the host stand has kindly offered to pour your colorful cocktail from that mason jar into a plastic cup so you can take it with you on the casino floor. Now what? Well, the sports book is nearby and you've always wanted to bet on a UFC fight... or a ball game... or the Kentucky Derby... or... ?  
Shots
What you're playing: Bingo
Have you actually played Bingo lately? It's electronic now, and you don't even need to pay attention. Your screen does all the thinking for you. If you're playing this game for any length of time, you'll need to make it a little more exciting. The solution? Shots... shots... shots... shots... shots... shots...
Sign up here for our daily Vegas email and be the first to get all the food/drink/fun in town.
Rob Kachelriess has been writing for Thrillist for nearly three years. He once lost $40 playing blackjack after having too much to drink. That was enough. Follow him on Twitter @rkachelriess.