There's nothing better than a great view to go along with your drink, but if you really want to soak in the neon-lit spectacle of Las Vegas, you'll have to look higher. Literally. To grab the beauty that is the Sin City view, head up on the roof and enjoy the open-air atmosphere of these top bars.
The Cosmopolitan
Can a dayclub qualify as a rooftop bar? Of course it can! Marquee is one of the best places for wet bodies in skimpy clothes to bump-and-grind to electronic dance music by the pool, whether it's during the hot summer months or in the wintertime inside the seasonal domed enclosure.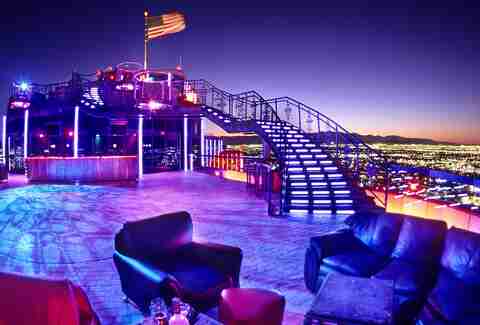 The Rio
Just west of the Strip, and 51 floors above the ground, you'll find the VooDoo Steakhouse. It's a great place to grab a hunk of red meat and just so happens to be next to the VooDoo Nightclub & Lounge, which spills out onto a rooftop deck with a panoramic view of Sin City. It transforms into a crowded dance floor on weekends, with a DJ pumping loud dance music into the bright Las Vegas sky. Don't leave without ordering the Witch Doctor: a fishbowl blending rum and dry ice into a spooky (but delicious) cocktail.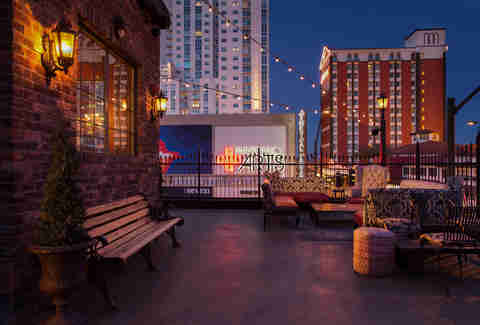 Downtown
The rooftop deck at Commonwealth features bistro lighting, couches, park benches, and plenty of room for dancing in front of the bar. The main room downstairs is an old-school speakeasy with elegant chandeliers and long tables, offering an atmosphere that perfectly suits your drink of choice, whether it's a cold beer or a Moscow Mule. Commonwealth even has a secret club-within-a-club known as the Laundry Room, which requires a password and bans both cellphones and PDA.
Off the Strip
The four stories of climate-controlled driving ranges at Topgolf come with food and drink service. But don't worry: there are several bars scattered throughout the venue to make sure the booze comes as quickly as the golf balls from the automated machines. Topgolf is right next to the MGM Grand and each seat comes with a wide open view of the Strip. It's worth a visit to hang out, sit back, and enjoy your drink -- even if you never pick up a club. Oh, and did we mention there's also a pool with a swim-up bar?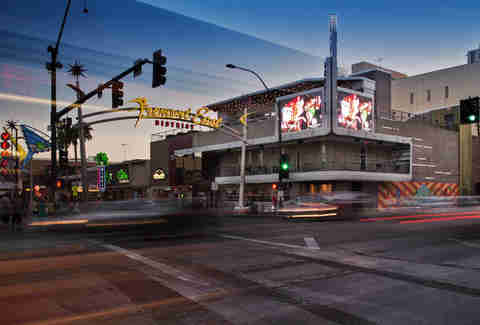 Downtown
It's only open three days a week, but the Roof Bar at Inspire offers a picturesque view of Downtown from the busy corner of Las Vegas Blvd and Fremont St. No stairs here. Take the elevator up to the third floor to check out the action. Inspire also features a theater for guest speakers, a downstairs bar, and a cafe. So yes, there's a little something for everyone.
Monte Carlo
This huge two-story Mexican joint is known for tasty margaritas and a massive patio overlooking the sea of tourists on the Strip below. It's bound to only get busier with the new T-Mobile Arena around the corner and a new neighboring theater at the Monte Carlo opening next year. If you're feeling lucky, take your chances with the Wheel O' Sin, which offers random deals on shots and drinks during happy hour.
The Palms
Head up to the 55th floor of the Palms' Ivory Tower for a bar with a spectacular outdoor patio. It's lined with long couches and impressive views to the north, south, and east. If it's a little cold, just head inside where the sights are nearly as good through floor-to-ceiling windows.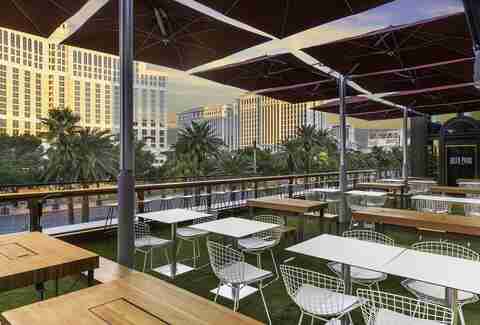 Paris Las Vegas
Need a few options? This rooftop beer garden has more than 100 brews to choose from, including nearly 40 on draft. Hang out at one of the picnic tables and enjoy a snack from the roaming food cart or have a little fun with a game of pool or giant-size Jenga. There's even wine and cocktails on tap if beer isn't your thing.
Downtown Grand
Formerly known as Picnic, Citrus wants to project a little more vitamin C (or is it vitamin D?) into your life with the sunshine you'll find outdoors at this fun and relaxing pool area. There's cornhole, table tennis, and foosball to keep you busy among the trees and gardens. The bar that lines that patio has been transformed into a massive lemonade stand, with boozy concoctions and refreshing cocktails like the Seedless & Spicy, which mixes watermelon juice, tequila, lime, and spice. Plus, admission is free for locals.
Downtown
This event space is only available for private functions and features big and bold views of both Downtown and the Strip. Grab your drink from the bar and head to the outdoor terrace where you'll find string lights, fire pits, and interactive food stations from Cut and Taste catering. The unique spot is on the 16th floor of the World Market Center, a sprawling complex for professionals in the home decor and furniture industries.
The Cromwell
The Cromwell hotel is 11 stories tall and Drai's is right on top of it, with a massive pool area, giant palm trees, and plenty of booze -- day or night. As far as views go, it's hard to beat this one. You can wander inside to enjoy the nightclub or regular gigs from hip-hop, R&B, and EDM stars, but you can also hear the music just fine under the stars where the scenery is more impressive (and less clothed).
Downtown
The best place to grab a drink at the Downtown Container Park specializes in craft cocktails and features a pretty damn good whiskey selection. The bar itself is built inside an old shipping container, and you can actually climb the stairs up to the top of it to find an extra seat if the ground floor patio tables happen to be full.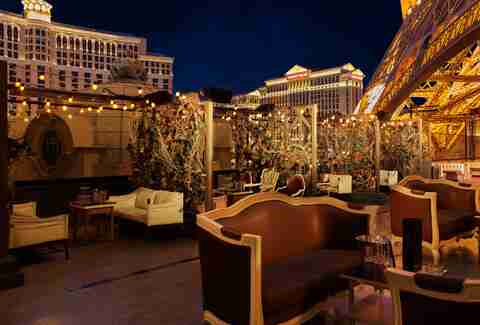 Paris Las Vegas
The next door neighbor to Beer Park has a totally different atmosphere, with a nightclub and lounge that is popular for the likes of wild bachelorette parties and single guys out on the prowl. The outdoor patio is right underneath the Paris casino's Eiffel Tower replica and comes with second story views of the Bellagio fountains across the street.

Sign up here for our daily Vegas email and be the first to get all the food/drink/fun in town.