Las Vegas has come a long way in its coffee culture in a very short amount of time. (See also: the city's beer culture, cocktail culture, and off-Strip food culture.) Where the rest of the country was exploding with small-batch artisan roasters and their reclaimed-wood-paneled cafes, Vegas was still partying like it was 1999 with sugary dessert lattes and burnt beans. 
But now! Now there are a plethora of local roasters cranking out excellent beans and brewing them up in AirSpace-worthy Instagrammable locations that offer ample high-speed Wi-Fi and tasty toasts and other treats to satisfy both the biggest coffee snobs and today's army of gig workers. We've been selective and intentional in our choices, so places that cater more to the ladies-who-Instagram crowd don't really have a place here. (Sorry, all of Summerlin.) Here are your best Vegas spots for killer coffee where you can put in a solid day's work.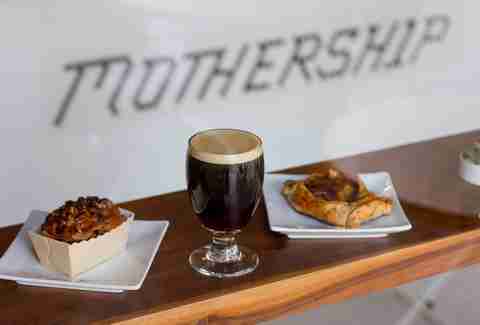 East Fremont
The newest location for partners Juanny Romero and Josh Walter, and the third in a growing local coffeehouse "chain" if you want to call it that is a jaw-droppingly gorgeous space tucked away in the back of the gloriously renovated Fergusons Downtown. Black-and-white tiled walls, marble counters with a wood paneling inlay, concrete floors, brass accents, tufted black leather chairs, and white marbled tabletops make this space worthy of a spread in any modern trends interior design magazine. There are comfortable couches and chairs where you can certainly post up to send your emails, but you might find yourself too distracted by the scenes around you as your peer outside to the grassy amphitheater -- a space that's often activated with various programming (yoga, DJs, food and drink events) or just a popular chill spot. This location has a pastry counter filled with sweet and savory treats, beer-and-coffee "Cattails," as well as choco tacos from local chocolatier Happy Endings Chocolate.
Arts District
Vesta Coffee Roasters are the best roasters in Vegas. What they're doing is absolutely next level. Next level also comes at a premium, so don't be surprised when your bag of an ultra-limited specialty roast costs close to $30. The coffee shop serves all the standards, as well as pour-overs of its excellent bean selection (get the Burundi Kibingo), but if you absolutely must pollute your coffee with some form of milk and syrup, get an Aztec Mocha Latte. There's a small kitchen that kicks out great food, including an egg sandwich that gives cult fave Eggslut a run for its money. This place is really popular, and if you want to snag a spot close to an outlet and away from the front window where the sun will blind you for at least a couple of hours in the morning, you have to get there early. Like 7am early.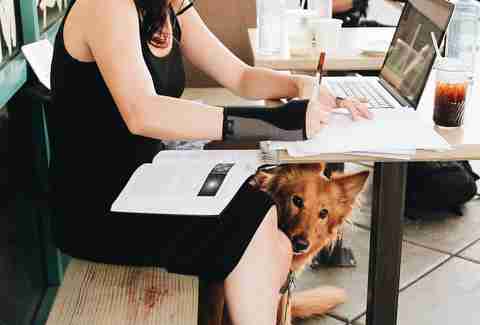 Best for a bustling, academic environment: Sunrise Coffee
East Sunset Rd.
Sunrise Coffee on Sunset (across from Sunset Park, naturally) is the OG Las Vegas coffeehouse. Open for 11 years, Sunrise has become a well-known and well-loved local hangout. There are lots of seating both indoors and outside on a lovely patio, but for remote workers the coveted spots are the couches and cushy chairs just to the left of the entrance. This is a place that is equally popular with remote workers and UNLV students studying as it is with folks looking for a social outing, and it's also a favored neutral ground for first dates, casual job interviews, and business consultations. Point being, there's usually a lot of noise inside, so bring your headphones. During lunch hours, order tasty sandwiches and burritos, most of which are vegan-friendly. The cafe bakes its own breads and pastries and serves single-origin, organic, Fair Trade coffees sourced from micro co-ops as pour overs, cold brews, and a variety of lattes. The staff is always incredibly friendly and the vibes are always good here.
Best to fuel up before checking out the Arts District: Makers & Finders
Arts District
Take a walk with me down memory lane, circa 2014-15, when Makers & Finders first opened -- a hip coffeehouse and cocktail bar in a very much up-and-coming part of town that served a Latin-fusion breakfast and lunch menu as well as excellent lattes and private-label coffees (roasted in its Chinatown roasting facility) hand-brewed via French press, pour-over, and siphon methods. Well, now the place serves dinner, too, and it's a hugely popular spot for weekday lunch and weekend brunch. If the weather is nice and you can go without being plugged in for a couple of hours, the shaded patio is a lovely place to get some reading or work done. Or pick up a coffee to go and wander around the Arts District, which has now certainly come into its own.
Best for those looking for an intimate hole-in-the-wall: Mothership Coffee
Henderson 
The original Mothership Coffee location, located in Henderson in the same plaza as Trader Joe's (so, obviously, two birds/one stone), is beautiful. And tiny. There are just a few small tables inside flanking the counter, but the beauty of both its location and its size is that it is never loud and crowded. This is a place for serious people to get serious coffee and get some serious work done, in an atmosphere that more fully shows off the owners' design sensibilities and the brand's stylish black-and-white color palette (which culminate in the glorious new location downtown). Here you'll find a pour-over menu, seasonal latte flavors, teas, craft sodas, and a selection of sweet and savory house-made pastries.
Best place to feel like you're a Vegas insider: Gabi Coffee & Bakery
Chinatown 
Gabi Coffee & Bakery isn't exactly a secret, in that everyone seems to know about it and it's always packed. Thanks to Yelp and Instagram, the word is out on this achingly charming bakery and café in Chinatown where, even though it will inevitably be crowded, you will still feel like you've stumbled across a special secret. There's single-origin coffees, excellent teas, and a number of different signature coffee- and tea-based drink creations (try the Butterfly Tea Latte), as well as excellent salads, sandwiches on house-baked breads, and a nice selection of gorgeous house-made pastries. This is a great place to meet up with friends, but if you're flying solo with just yourself and your comp, the staircase seating in the back usually has some spots available and is a great place to kick off your shoes -- literally you have to take your shoes off -- and sit on a comfy cushion to get some work or reading done. And yes, the kitchen is located inside a "greenhouse" in the center of the café. 
Best for wizards and their muggle friends: Bad Owl Coffee
Henderson, Downtown 
To be honest, the "Harry Potter theme" here is a pretty loose one. The owners definitely had some fun throwing in some Potterverse touches, like a snow-white owl statue in a cage and tables embossed with sayings like "Espresso Patronum" and "My other car flies." But when people talk about "that Harry Potter café in Las Vegas," you would think it's like something straight out of the Universal Studios Theme Park. It's not. It's cute, but not overbearingly themey. Sure, there are Belgian waffles served with "ButterBrew Cream," but the rest of the menu is a pretty standard selection of sandwiches and hearty toasts. Bad Owl also roasts its own single-origin and special blend coffees and has its own signature lattes and coffee creations, including espresso and coffee drink sampler flights. Plus, a menu of beer and wine provides options for when your workday becomes your work night. 
S. Eastern Ave.
Pour Coffeehouse is a relatively new player on the local coffeehouse scene, and it's located catty-corner to Sunrise. But Pour is a much quieter retreat, filled with ample sunshine from the floor-to-ceiling windows and walls covered rotating artwork for sale by local artists. This woman-owned coffeehouse has its own private label of organic, Fair Trade coffees sourced from women farmers and roasted locally. Expect a menu of fresh fruit smoothies, sandwiches, wraps, salads, and bowls. There is also lots of seating, including a lounge area and the soundtrack is quiet and mellow. So if you want to get some serious work done without having to jostle for a seat, fight for an outlet, or overhear several conversations around you, give this place a try. This might just become your new favorite oasis.
Best for tried-and-true downtown hipsters: PublicUs
East Fremont 
When I first stumbled across PublicUs, I immediately fell in love with it, and then felt heartbroken by the thought of its imminent closing. Those were different days for DTLV, especially this stretch of East Fremont where most of its neighbors were abandoned motels and a Siegel Suites. But, six years later, you can't even find a seat inside if you don't get there by 9am on weekends. PublicUs is simply a phenomenal place, roasting its own coffee (among the best in Vegas) and baking all their own breads and pastries in-house and they are excellent. There are also booze-free, espresso-infused spins on classic cocktails like the Old Fashioned and the gin and tonic. The breakfast and lunch menu has a bit of a Hawaiian fusion vibe and highlights include the shakshuka, the French toast, the seasonal "Pumpkin Crunch" dessert, and the fruit toast. (And, by God, if they have the bread pudding, get it.) This is a great place to work during the week, with lots of different seating arrangements in the beautifully designed space.
Henderson
Public Works is located on the ground floor of the recently constructed new offices of TSK Architects -- hence its beautiful design -- and it has introduced a whole new kind of coffeehouse experience to downtown Henderson. Charming and centrally located for all the action and festivals on Water Street, Public Works brews up locally roasted pour-over, French press, cortado, nitro cold brew, coffee or tea latte, a barista special (like the Turmeric Chai Tea Latte), or loose-leaf tea. The coffee bar also carries an assortment of scratch pastries and breakfast, brunch, and lunch items (including hearty vegan options) from other local food purveyors, as well as a solid selection of beer and wine, which is half-off from 4pm to close. 
Best for vegans and/or their LGBTQ friends: The Jolt
Downtown 
You don't have to identify as either vegan or LGBTQ to enjoy the Jolt ("jump on the love train"), located in the more residential area of downtown Las Vegas in the Gay and Lesbian Community Center of Southern Nevada. But if you do identify with either of those groups, then you will definitely want to check this place out. Spacious and comfy with lots of seating, a lovely outdoor space, and ample free parking, the Center supports the LGBTQ+ community through a wide variety of programming, events, and resources. The Jolt is the breakfast and lunch café that operates daily inside the Center, serving locally roasted coffee and espresso drinks, house-made pastries (including vegan options), as well as a robust menu of sandwiches that will satisfy hungry carnivores and vegans alike -- the pulled jackfruit will fool anyone. On Sundays, there's an all-vegan brunch buffet, and on any given day there's usually some special kitchen creation not on the regular menu.
Best for those want that new new: Coffee Religion
W. Charleston Blvd.
Coffee Religion is a brand-spankin'-new spot on Charleston just a bit east of the CSN Charleston campus, and it is terrific. Ask about the giant Buddha statue that is the centerpiece of the café -- it was designed by the owner's grandfather originally for the King of Burma, and she had it shipped overseas at no small expense. This is just one of the many things that are endearing and unique about this place, which serves Mothership coffees and signature drinks (try the Purple Rain or the Mardi Gras) and an assortment of house-made pastries and hearty toasts. Plus, there is plenty of seating so you can hang out all day, occasionally gazing at the Buddha for inspiration. 
W. Charleston Blvd.
Yaw is a teeny-tiny space, and is yet another stellar small-batch local roaster that has recently popped up. If you want to complete your Vegas roaster bingo, this place is imperative. While Yaw might not be the best option for hanging out for long stretches -- there's no Wi-Fi, on purpose, and seating is pretty limited -- you'll still be tempted to, because the interior is super cool. The owners built the wood-and-epoxy counters, and do pretty much everything else, too, from roasting the beans from small and micro-lot farms to making hand-poured soaps from spent espresso beans, coconut oil, and goat milk. The pastries from Café Breizh and chocolates from JinJu Chocolates, are outstanding, as are the exclusively oat milk lattes, like the house special "Yawtte." People also love the iced coffees: try the new creation, the "KWADZILLA," a four-shot beast made with white chocolate. Everything done at Yaw is all about coffee craftsmanship, so if you're a serious coffee enthusiast, this place is an absolute must. Just don't plan on putting in an eight-hour shift here. (Seriously. Don't be that guy.)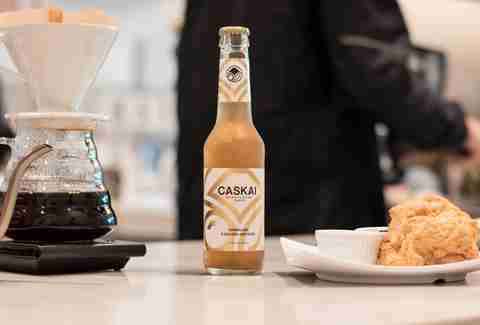 S. Eastern Ave.
The recently opened Coffee Class certainly benefits from being located in the same plaza as the cultishly popular (and Food Network-famous) Truffles N Bacon Café, but it is a worthy destination in its own right. Including unique breakfast/brunch and lunch items, everything is made fresh in-house and all of the pastries are made from scratch. The coffee and tea offerings will satisfy all tastes, from pour-overs of single origin specialty coffee (try the Nicaragua Carlos Ferrey Honey) to loose-leaf teas to excellent coffee and tea lattes made with house-made syrups. The interior is pretty and comfortable, although they definitely want to cater more to their dine-in clientele than café campers , but outside there is a ton of mostly shaded comfy wicker seating for a fabulous al fresco working experience.
Henderson 
Dark Moon Coffee Roasters isn't kidding with its name: inside, the café is dark and a stark, a modern, minimalist retreat for the no-frills coffee aficionado. The small-batch roasts are legit (Ethiopia Yirgacheffe FTW), and the dark wood paneling that covers the walls lends a moody atmosphere that's perfect for hunkering down with a heavy read or seriously focusing on your work. If this description sounds disdainful, quite the opposite is true: this place doesn't look like every other trendy coffeehouse in the country, nor is it crammed full of bric-a-brac or "Instagrammable moments." Instead, it's purely about the coffee (plus a small case of pastries from the always-excellent CRAFTKitchen), take it or leave it. There are also educational workshops on roasting and manual brewing because this place is really all about the beans. 
Downtown
Writer's Block has the unique distinction of being the only independently owned bookstore selling new books in the Las Vegas Valley. It's also a café, young writers' workshop, artificial bird sanctuary, and a beloved community space -- holding readings, rare book exhibitions, and book club events. The space is quaint, cozy, colorful, and charming, with a fake forest of artificial fruit trees providing a unique liveliness. As far as coffeeshops go, this one is pretty standard: you can get your basic brewed coffee, espresso drinks, teas, smoothies, bagels, and cookies, but nothing crazy. As for being able to get work done…well, it's a bookstore and a writer's haven, and if you can't get work done in a place like this, you should probably just stay home.
Best for folks who need some om with their nom: Zen Coffee Bar
Henderson 
Zen Coffee Bar is accurately named. This place is a little piece of paradise, a tranquil spot with comfortable seating that is all clean, bright white, and punctuated by lush, lively green. For anyone who is super into the idea of, like, forest bathing but must live in the reality of metropolitan Las Vegas and having to work for a living, Zen offers a little bit of respite. The shop serves a variety of coffee (including single-origin pour-overs and French press as well as Vietnamese slow drip and 24-hour cold brew), specialty house green teas, matcha, fruit smoothies, frozen lemonades, booze, and as a "light bite" menu food. But really, this is a place that is all about the #goodvibes. 
S. Maryland Pkwy. 
On the opposite end of the theme-y spectrum is Grouchy John's, a place synonymous with "that Star Wars café." That's because the original location on Maryland is loaded with the owner's personal collection of all things sci-fi and comic book paraphernalia -- Star Wars, DC, Marvel, etc. Admittedly this is not a place for the hardcore coffee snob -- there are no micro-lot house roast pour-overs on the menu, just a lot of flavored lattes and frappes. But if you're not psycho about your brew and maybe want to nibble on a wrap or pastry while enjoying the nerd-and-proud ambiance, this is a great place to get comfy on cushy couches and armchairs. Plus if you start to get sick of working, you can always pull out one of the classic board games and find a new friend to dominate in Mastermind. 
Best for Instagramming your day away: Café 86
S. Jones Blvd.
Café 86 is a great spot to put in your work rotation, if for no other reason than it's all about that #ubeallday life. They have purple potato everything! Ube cheesecake, muffins, crinkles, pop tarts, truffles, butter bars -- it's ube overload! And I know I said I wasn't including spots designed for Instagram, but who can resist the power of purple?? Not me, friends. Not me. Plus, there are milk teas, ice teas, milkshakes, loose-leaf teas, espresso drinks (there is an ube latte, of course), and blended lattes. It's a nice large space with plenty of different seating areas with their own vibes, free parking, a large menu of different food options to snack on throughout the day.
Sign up here for our daily Vegas email and be the first to get all the food/drink/fun in town.