Though Nevada did manage to legalize same-sex marriage before the Supreme Court took care of it for the entire country (just barely anyway), Las Vegas seems to have trouble throwing its full support behind the gay community, and recent closures of Krave, Drink & Drag, and Liaison have only added to the frustration. But the scene trudges on! So raise a glass and toast to the progress made so far and the promise of what's to come at the 13 best LGBTQ bars and clubs in Sin City.
3900 Las Vegas Blvd South
On select Sundays throughout the summer, the Luxor pool transforms into the biggest gay-friendly dayclub in Las Vegas. Expect DJs, overpriced cabanas, and plenty of skin. An honorable mention goes to The Tropicana for its LGBT outreach that took a stab at similar pool parties over the past year. 
 
495 East Twain Ave
Parties can get wild at night and leather, fetish wear, and bondage gear is all highly encouraged. But if you're not into that, skip the dancing, grab a beer, and play a little video poker. It's an equally great spot to try to score four queens.
 
3430 East Tropicana Ave
The best place to belt out a tune is also the best place to drop your pants. Karaoke happens three nights a week, and if you sing in your underwear, a free drink will come your way.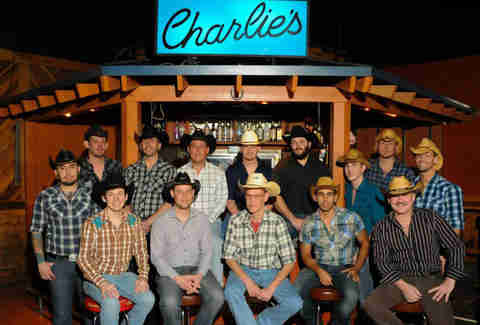 953 East Sahara Ave
Though recent renovations have rid the joint of its old country music-playing jukebox, Badlands Bingo, Fabulous Funny Fridays drag show, and super-cheap drinks will surely suffice. Definite bonus: it's just steps away from the famous Lotus of Siam Thai restaurant. Possible bonus: it's also just steps away from the Green Door sex club, which often draws adventurous/confused heterosexuals.
 
Second-best place to spot a cowboy: Charlie's
5012 Arville St
The country-western theme is strong with some of the most enthusiastic line dancing you'll find east of the Strip, plus Sing-a-Long Musical Mondays and Drag Queen Trivia Tuesdays.
4636 Wynn Rd
The dance floor on the first level offers the same crowded grinding, VIP tables, and bottle service that you'd find at any nightclub on the Strip (though this one's just off it), while the lounge upstairs offers a little more room to breathe and actually have a conversation. If you're into that sort of thing.
 
4633 South Paradise Rd
Open 24 hours a day, the central destination of the Fruit Loop (a cluster of LGBTQ establishments) has a sound system to rival most clubs on the Strip, and an outdoor patio that's perfect for catching your breath between trips to the dance floor.  
 
Best for ladies: FreeZone
610 East Naples Dr
Sunday is Ladies' Night, Thursday is Boys' Night, and there's plenty of mingling on both occasions. The rest of the week comes complete with two nights of karaoke and Drag Madness on weekends, which is one of the longest-running drag shows in Vegas.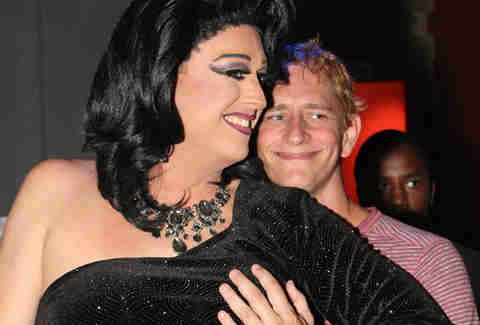 4347 West Charleston Blvd
Flex features two popular reviews each week: Flamboyance on Thursdays, and the long-running What A Drag! on Saturdays. Also worth noting: male strippers, pool tables, and karaoke.
 
4640 South Paradise Rd
If the madness of Piranha gets to be too much, QuadZ offers a Fruit Loop alternative sans dance floor, where the regulars prefer to hang out with the bartenders, shoot pool, play darts and pick out songs on the video jukebox.
 
1402 South 3rd St
Formerly known as Snick's Place, which is often credited as Vegas' first gay bar decades ago, this hard-to-spot hideaway in the Downtown area south of the Arts District is a cross between a dive bar and a British pub, with three distinct happy hours: morning (11am-2pm), afternoon (4-7pm), and night (11pm-2am).
4213 West Sahara Ave
Nothing says inclusivity like people of all genders and sexual proclivities sharing a game of Super Mario Bros. and other Nintendo Wii games on a giant projector screen. It's one of the most welcoming bars in the LGBTQ community partially due to lesbian-themed evenings where it's cool if the boys show up too.
 
Best place to get your oil checked: The Garage
1487 East Flamingo Rd
There are plenty of TVs to watch a big game, plus pool, darts, and shuffleboard to play a few of your own. The auto theme is taken seriously -- bartenders are called "mechanics" and serve drinks like the "Drive Shaft" and "Fuel Injector."
Sign up here for our daily Vegas email and be the first to get all the food/drink/fun in town.