Pride month may be in June, but in Las Vegas, we celebrate Pride in October. June is just too hot -- not sweaty-sexy-ripped-bodies hot, but sweaty-drag-queens-with-eyeliner-running-down-their-faces hot. That said, there are still plenty of places to celebrate Pride in Vegas, this and every other month of the year.
When it comes to gay destinations, Las Vegas isn't exactly Miami or Palm Springs, but we do what we can and we do it with a whole lot of camp. The best gay bars tend to be beloved dives, many of which are located in the "Fruit Loop" -- the actual name of Vegas' gay bar district just east of the Strip. But on and off Strip, you'll find fun and open-minded bars, clubs, events, variety shows and entertainment that warmly welcome the LGBTQ community, even if they don't explicitly cater to it. This is Vegas, after all.
Best pool time: Luxor
The Strip
The pool at Luxor
has a weekly gay day
(which just so happens to coincide with Sunday Funday!) It's sort of like Kylie Minogue's "
Slow
" video, sans Kylie. This year Temptation Sundays celebrates their tenth anniversary and remains the longest-running gay pool party in Sin City. Expect guest DJs, cabanas, and go go boys!
East Twain
Parties can get wild at night and leather, fetish wear, and bondage gear is all highly encouraged. But if you're not into that, skip the dancing, grab a beer, and play a little video poker.
East Tropicana
The best place to belt out a tune is also the best place to drop your pants. Karaoke happens three nights a week, and if you sing in your underwear, a free drink will come your way.
East Sahara
This easy-going country-themed spot offers super-cheap drinks and theme nights like Badlands Bingo and the Fabulous Funny Fridays drag show. Possible bonus: It's also just steps away from the Green Door sex club, which often draws adventurous/confused heterosexuals.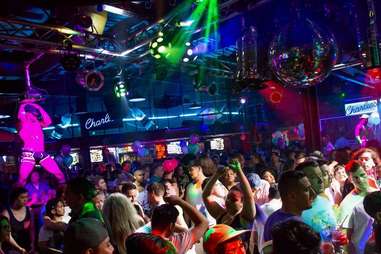 Second-best place to spot a cowboy: Charlie's
West Tropicana
The country-western theme is strong with some of the most enthusiastic line dancing you'll find east of the Strip, plus Sing-a-Long Musical Mondays and Drag Queen Trivia Tuesdays.
Best for ladies: FreeZone
The Fruit Loop
Sunday is Ladies' Night, Thursday is Boys' Night, and there's plenty of mingling on both occasions. The rest of the week comes complete with two nights of karaoke and Drag Madness on weekends, which is one of the longest-running drag shows in Vegas.
West Charleston
Flex features two popular reviews each week:
Flamboyance
on Thursdays, and the long-running
What A Drag!
on Saturdays. Also worth noting: monthly events for bears and big boys, male strippers, pool tables, and karaoke.
The Fruit Loop
Open 24 hours a day, the central destination of the Fruit Loop has a sound system to rival most clubs on the Strip, and an outdoor patio that's perfect for catching your breath between trips to the dance floor.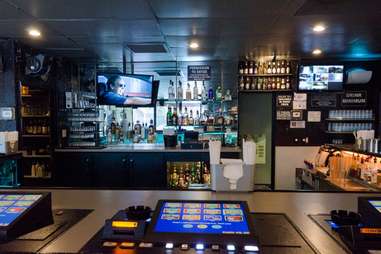 East Sahara
This is the only trans bar in the state of Nevada. It's a laid-back bar with good cocktails, drag shows, speed-dating events, and more.
The Fruit Loop
If the madness of Piranha gets to be too much, QuadZ offers a Fruit Loop alternative sans dance floor, where the regulars prefer to hang out with the bartenders, shoot pool, play darts and pick out songs on the video jukebox.
Downtown Las Vegas
Formerly known as Snick's Place, which is often credited as Vegas' first gay bar, this hard-to-spot hideaway in the Downtown area south of the Arts District is a cross between a dive bar and a British pub.
West Sahara
Nothing says inclusivity like people of all genders and sexual proclivities sharing a game of
Super Mario Bros.
on a giant projector screen. It's one of the most welcoming bars in the LGBTQ community, partially due to lesbian-themed evenings where it's cool if the guys show up too.
Best place to get your oil checked: The Garage
East Flamingo
There are plenty of TVs to watch a big game, plus pool, darts, and shuffleboard to play a few of your own. The auto theme is taken seriously -- bartenders are called "mechanics" and serve drinks like the "Drive Shaft" and "Fuel Injector."
Downtown Las Vegas
It's hard to describe Oddfellows. They call it "a dance club for people who don't like dance clubs," and yeah, that works. They have video DJs, a large vinyl collection, theme nights, karaoke nights, and a reputation for hosting a very open-minded, queer-friendly crowd.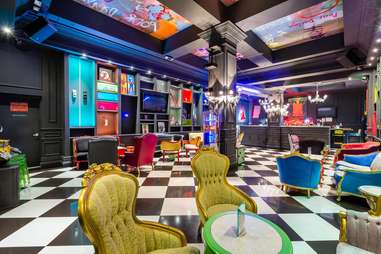 Downtown Las Vegas
If you have any serious fandoms and a deep love of/appreciation for cosplay, this is the place to go. They constantly host fandom/cosplay events, trivia nights, and viewing parties, and people get DRESSED. This is SDCC year-round, folks.
East Flamingo
Described as an "open-air bar and grille for open-minded people," Hamburger Mary's is basically a gay burger joint with drag shows. Stop by on Sunday mornings from 11am-1:30pm for
drag gospel brunch
($30 buffet, $45 for bottomless mimosas).
Best for off-the-wall events: Artifice
18b Arts District
Not a gay bar but a gay-friendly bar, Artifice is home some of the wildest, wackiest, off-the-walliest shows and events in Las Vegas between the bar itself and the attached
Cockroach Theatre
. Think cheap drinks, trivia nights, goth nights, and Nerdlesque Burlesque.
Downtown Las Vegas
The Gay and Lesbian Community Center of Southern Nevada is a community-based nonprofit that provides a wide variety of services to the local LGBTQ community. They also host a number of events that are well worth checking out.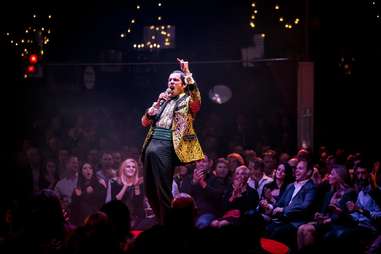 The Strip
Like Cirque, but more NSFW and campy
If you only see one show in Vegas in your entire life, make it one of Spiegelworld's raunchy, NSFW, and most definitely queer variety/vaudeville shows. Right now that roster includes
Absinthe
, loosely themed as an absinthe-fueled circus held in a big top in front of Caesars Palace (be sure to take photos under the new Electric Oak!), as well as
Opium
, the out-of-this-world space opera with plenty of robot sex. A lot of the performers float between the two shows. (Keep an eye out for their new
Atomic Saloon Show
coming soon!)
New York New York
An even more queered-up Cirque show
When Zumanity from Cirque du Soleil first opened in 2003, there was a lot of tittering over the same-sex kiss between two men. Today, Zumanity is still the sexiest Cirque show by far, and there is plenty for audience members of all orientations to enjoy.
The Tropicana
Whitney resurrected, the many faces of Lady Gaga, and a funhouse mirror of Chers
Frank Marino's Divas Show has closed, but if you enjoy a good celebrity impersonator without the drag, the long-running Legends in Concert does not disappoint.
Vegas residencies
The Strip (various locations)
These residencies are must-sees
From gay icons like
Cher
,
Lady Gaga
,
Christina Aguilera
, and
Janet Jackson
to queer-ish shows like
Postmodern Jukebox
, the Vegas residency is nothing like what it used to be and is now everything.
Off Strip
The best in indy entertainment
The Space is one of the best venues for independent theatre performances and other events in Las Vegas. During Mondays Dark, you can catch Vegas performers from the Strip's hottest shows in an ever-changing variety show that raises money for a different local charity each time. They also host a wide range of other events and performances, from singers to comedians to fandom musicals.
Drag brunches
Various locations
Top queens and bottomless mimosas!
Slowly, ever so slowly, Vegas is getting on board with the cackling girls' trip bacchanal that is drag brunch. There are now two drag brunches on the Strip -- the recently-launched
Totally Outrageous Brunch
at SLS Las Vegas, and
Drag Brunch
at Treasure Island. the originator of the current Vegas drag brunch phenom dating all the way back to three years ago. Expect screeching bridesmaids and wear something with feathers or sequins.
Male revue shows
Various locations
Dollars for d*cks
The popular male revue shows on the Strip --
Chippendales
, the
Thunder from Down Under
,
Aussie Heat
-- cater to a decidedly heterosexual female crowd, but that doesn't mean that you can't have a gay 'ol time there yourself. And then there's
Magic Mike Live
at the Hard Rock, which is a touch more variety show than just a male revue, and is actually really good, or so we've been told.
Female revue shows
The Strip (various locations)
Tasteful toplessness
For female nudity plus good choreography minus the strip club vibe and the hustle for lap dances, check out one of the all-female topless revue shows! They're actually pretty fun and could make for a great sexy-time date night.
X Rocks
is set to rock music;
X Country
is, unsurprisingly, country; and
X Burlesque
is kind of the all-genre crowd pleaser. And for something a little…nay, a LOT…different, check out the glorious camp of
Zombie Burlesque
.
Sign up here for our daily Vegas email and be the first to get all the food/drink/fun in town.
Robert Kachelriess is a contributor to Thrillist.

Nicole Rupersburg is a freelance writer covering food, travel, arts, culture, and what-have-you. She winters in Las Vegas and summers in Detroit, as does anybody who's anybody. Her favorite activities include drinking beer and quoting Fight Club.