The Venetian's New Cocktail Bar Wants You to Stay Awhile
Cozy furniture, live music, and video gaming machines are part of the draw at the Juliet Cocktail Room, one of three high-profile lounges now operating under new management at The Venetian.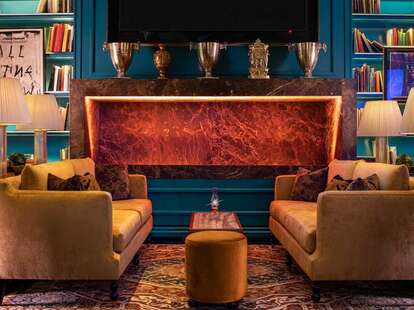 Juliet Cocktail Room

| Photo courtesy of Venetian Las Vegas
Juliet Cocktail Room

| Photo courtesy of Venetian Las Vegas
The Venetian has no shortage of indulgent drinking destinations, from the legendary whiskey list at Delmonico Steakhouse to upscale sake pairings at Wakuda and splashy champagne guzzling at Lavo's chaotic Party Brunch. Yet the resort's cocktail scene is getting most of the attention these days, with three high-profile lounges now operating under new management.
"The goal is to take them, rebrand them, and reintroduce them," according to Ryan Labbe, founder and CEO of 81/82 Group, the team in charge of the project.
The transformation of the Dorsey into Juliet Cocktail Room is the most dramatic change, with an extensive renovation giving the space a warmer, more intimate feel. The large furniture and bold brass accents are gone in favor of cozier furniture, deeper color tones, a new ceiling, stylish chandeliers, refinished floors, a beautiful stone bar top, and Victorian-era inspiration. "The only thing we didn't do is knock down the walls," Labbe says.
A room in the back, long known as the library, is now closer in style to a living room with drapes, teal-green paint, and panels to create a secluded space for private parties. The "Cage" is a live entertainment stage framed by a birdcage of steel bars. At one point, dueling pianos were considered, but the concept didn't match the character and identity of the room. Instead, the team opted for a three-piece band setup of piano, drums, and vocals on weekends with a DJ on Thursdays. Live band karaoke is being discussed and could debut soon.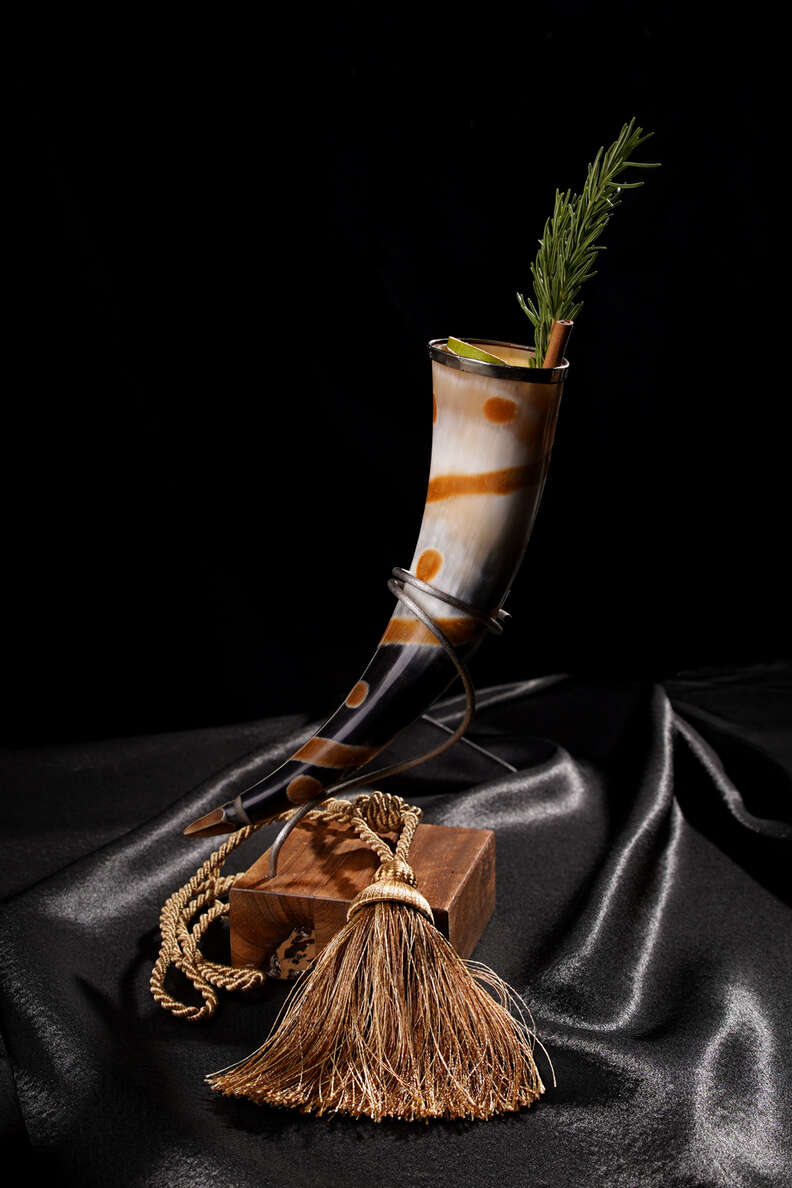 A different kind of entertainment—six new video gaming machines—are now available to play at the bar. It's a clear message: Stick around awhile and enjoy your drink; there's no need to rush back to The Venetian's neighboring casino floor. It's worth noting that Juliet Cocktail Room is open from 3 pm to 2 am daily with a looser, casual tone during afternoon hours.
The cocktails, created by Director of Operations Chris Zadie, are all about vibrant spirits and creative presentations. Fields of Norway is a mix of Aquavit (a Scandinavian spirit), meade, rosemary, and green chartreuse, served inside a Viking horn, while Cherried Treasure (gin, plum wine, and amaro) makes a grand entrance inside a smoke-filled treasure chest.
"We were looking for a strong, feminine, sexy name," Labbe explains. "Everybody knows Romeo and Juliet, but we actually named the lounge after the most sought after, expensive rose–the Juliet rose. We wanted to build a story around it and the cocktail menu resonates with that."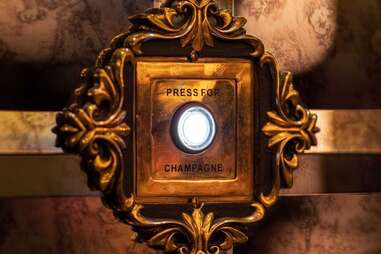 By comparison, the changes at Rosina, down the hallway in the resort's Palazzo wing, are more subtle, with no immediate plans to change the name or physical layout. One of the best craft cocktail bars on the Strip since opening in 2017, it's an intimate space with a timeless art deco design, dark lighting, and oversized luxury booths. The original concept specialized in classics done right, down to the ice and glassware. Under the direction of 81/82 Group, the format has been quietly modified with familiar favorites and new signature recipes now sharing equal space on the menu.
"If you're a Manhattan or Dirty Martini drinker, you don't need a menu. You're just going to go in and order one," says Labbe, explaining his thought process. "There's two drinkers in my eyes—the person who's going to order what they order no matter what and the person who doesn't know and wants to explore a cocktail menu. So it was important to give them that opportunity at Rosina."
The new recipes still match the character of the lounge. The Foggy Night, for example, is like a mezcal Manhattan with cherry and smoked chili bitters, while Peach Petals is an elegant combination of sparkling wine and gin with bright notes of peach, lemon, and elderflower. Rosina also serves bottles of wine and champagne with occasional live entertainment (like a violinist or saxophonist) on Friday nights. In case you're wondering, yes, the infamous "call button" for champagne is still there. The secret menu of modified classics is gone, although the bartenders are happy to dig through their memory banks and customize something fun on the spot.
Talks are currently underway about the future of Electra Cocktail Club. For now, it's an ultra-lounge with DJs Thursday through Saturday, live acoustic performances on Tuesdays, and "Girls Night Out" specials on Thursdays. A 40-foot digital wall, Electra's most distinguishing feature, remains a draw for viewing parties to watch UFC, boxing, football, and hockey—you know, all the local favorites. The venue's look hasn't changed, with an open floor plan and deep blue and gold hues in the heart of the Palazzo casino.
The cocktails are largely the same, with the drink list streamlined to focus on the most popular recipes, including the Disgruntled Mai Tai (made with two rums) and King Cole (a fernet-fueled Old Fashioned). "We're not going to touch making new cocktails until we figure out what we're doing with the space," Labbe says. Stay tuned. In the meantime, 81/82 is looking to introduce food menus of small bites at both Electra and Juliet Cocktail Room.
Overall, it's a season of change at The Venetian, from new attractions like the long-awaited Sphere (featuring a U2 residency) and Voltaire (debuting with a series of Kylie Minogue performances) to hot restaurants like HaSalon and Donutique. The only downside is the dreaded introduction of paid parking. It's enough to make you want a stiff drink. Fortunately, you've got options.
Rob Kachelriess
is a full-time freelance writer who covers travel, dining, entertainment, and other fun stuff for Thrillist. He's based in Las Vegas but enjoys exploring destinations throughout the world, especially in the Southwest United States. Otherwise, he's happy to hang out at home with his wife Mary and their family of doggies. Follow him on Twitter
@rkachelriess
.