There's no one definition of "sexy" -- what fits the bill for you might be totally un-sexy to someone who gets their definitions from UrbanDictionary.com. We partnered up with GUESS Night -- a new fragrance whose own definition includes "hot peppers" -- to track down five very different Vegas spots that, one way or the other, provide an atmosphere that serves as a prelude to getting your freak on.
é by Jose Andrés
If you like your 15-course tasting menus intimate (who doesn't!?), pony up to this eight-seat steel-topped bar, backed by a no-peeking red velvet curtain, and try not to whisper her sweet innuendos about the tacos they make by folding charcuterie over caviar.
Rx Boiler Room
Remember that movie Boiler Room? This is nothing like that, except it will make you as happy as all those guys were when that other guy gave that rousing speech about how much money they were all going to make and then they went running through the city shouting "Yeah, we're going to make some money!". That's because this industrial-yet-alluring place pairs sexy-for-the-ladies chandeliers and Some Like It Hot cocktails against the sexiest dish ever: Bacon-wrapped bacon.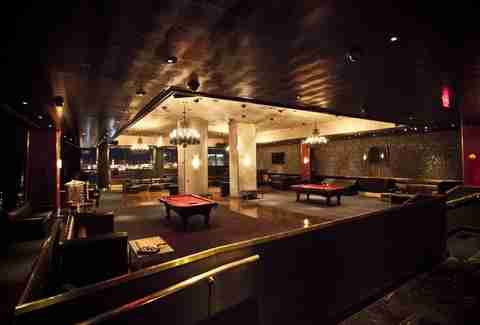 The View
Unless you have vertigo, you'll be plenty aroused by this 52nd floor bar with dark wood floors, black leather couches, and a view so tight... well, they called the place The View, didn't they?