The Bad Decision Bar: It's not necessarily a dive, or even a bad bar. It's the kind of place where you end up holding a chicken wing you found in the bathroom in one hand, and trying to button up your pants with the other... err, wait... those aren't your pants! There're plenty of these places in Vegas, but we've found the 10 baddest so-called "Bad Decision Bars", where you're guaranteed to do something you'll instantly regret/secretly be proud of...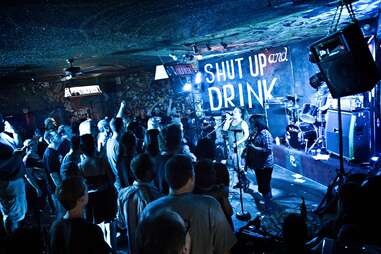 East of the Strip
The fact they sell "puke insurance" is a dead give away. Plus, the signature drink is known affectionately as Ass Juice. No one is sure exactly what's in it... but we're pretty sure there's some Jägermeister involved, and while it may be tasty, a few too many of 'em will find you making your own version in the bathroom the next morning.
Off the Strip
This open-all-night party lounge is where you go after the nightclubs have closed and you still don't want to go home. It's usually a sign you didn't hook up with anyone yet. So be careful about who you have that final drink with. You could really be regretting things the next day.
Westside
Here's where '80s rockers come to die. You'll have a blast chugging drinks while checking out L.A. Guns and Faster Pussycat for the umpteenth time... but you could also be staring at your whiskey glass wondering where all those years really went.
Downtown
This dive bar has a serious "no tie" policy and it's strictly enforced. So don't insist on dressing in your preppy best while arguing with the biker dude door guy or you could be in for a rough night.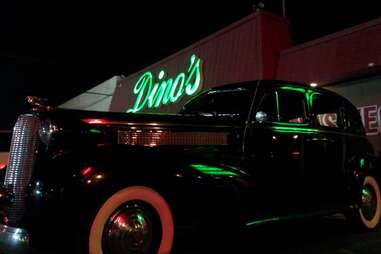 Downtown
There's a reason the doors haven't closed since 1962 at the longest running continuously open bar in Las Vegas. There's the promise of free flowing booze, wild crowds and notorious karaoke sessions that could leave you regretting the decision to belt out Taylor Swift's latest hit at the top of your lungs.
The Cosmopolitan
The king of all lobby bars rises through three floors of the Cosmo and is open 24/7. So when you're done buying expensive drinks at Marquee nightclub all night long, you can stumble over here and buy even more expensive drinks until the early morning hours.
Southwest
Las Vegas may not have a pro team, but you can still show up at this sports bar and cheer on the Rebels (in and of itself a bad decision come turn tourney time) even if you're not a UNLV grad.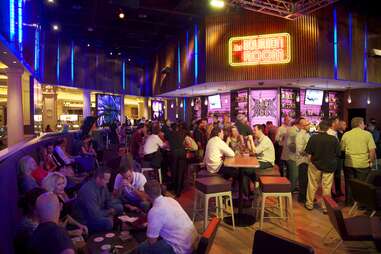 The Venetian
If you can't stand hair metal, you've come to the wrong place. The music is loud and the screens on the wall play vintage videos from the likes of David Lee Roth and Whitesnake. You could be in for a long night as your date sings along to "Here I Go Again" and other pop-metal anthems.
Various locations
The McDonald's of slot parlors. It seems like there's one on every corner. They're supposed to be neighborhood restaurants with a little bit of gaming. But they're really mini-casinos with a little bit of food from a limited kitchen. Be careful or all your spare change could be gone before you know it.
Sign up here for our daily Vegas email and be the first to get all the food/drink/fun in town.