21 Las Vegas Bars Open on Christmas Day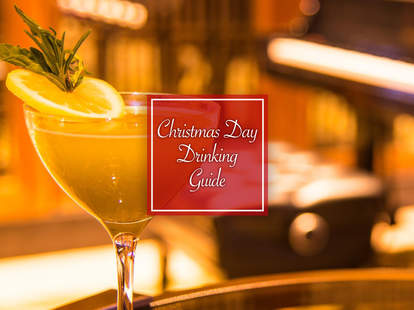 Courtesy of The Mirage Parlor Lounge (edited)
When Christmas finally arrives, you'll be ready for a drink... or two... or 10. After weeks of shopping, company parties, family dinners, and ice skating on the Strip, you'll need some time to yourself -- and what better way to get said time than by checking out a few of the Vegas bars that'll be open on Christmas Day?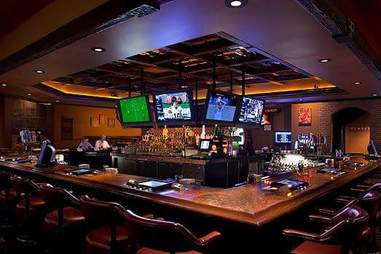 Courtesy of Remedy's Tavern
Henderson
The bar is already decked out with holiday lights and there's a ham dinner ready to go on Christmas day. But if you want to stick with the regular menu, it will still be available, including killer stuff like the pot roast spring rolls or the jalapeño popper burger with sticky-sweet jalapeño cream cheese and bacon on top.
 
Northwest & Southwest
Either one of the two locations is known as a top choice for cheering on the 49ers, but on Christmas Day you can hang around with a drink and grumble about the toaster you got that was obviously re-gifted. There are three happy hours to choose from (12-2pm, 5-7pm, and 12-2am).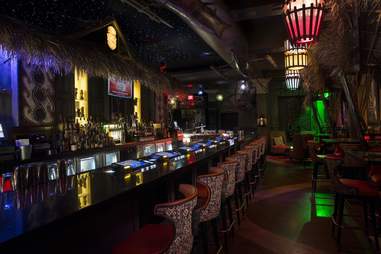 Courtesy of Christopher DeVargas
Chinatown
The newest Tiki lounge in Vegas will be throwing a holiday party with a kitschy tropical theme. If you're there early from 2-6pm or still hanging around late from 4am-8am, the Mai Tais are just $5 and every drink is a dollar off.
 
The Mirage 
The new lounge to complement the Mirage's new Center Bar also happens to have live music from a Steinway grand piano. Ask the dude behind the keys to play that song from the Charlie Brown Christmas special. That song is so good. 
 
The Stratosphere
You've not only got a lengthy whiskey and bourbon selection, but also a three-course holiday dinner featuring a maple-raisin-glazed bone-in ham chop. Take advantage of the $2 glasses of Champagne during happy hour 3-7pm.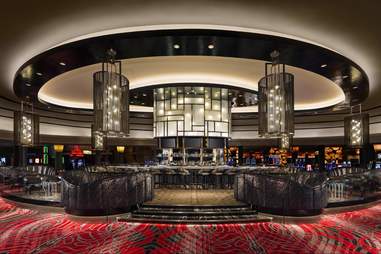 Courtesy of Social
The Palms
The bar's drink menu was recently redesigned by Bar Rescue mixologist Mia Mastroianni, who may have come up with the perfect Christmas cocktail. The S'mores Mudslide Meme is made with Baileys, Kahlua, and vodka with a torched marshmallow on top and chocolate graham cracker crumbs around the rim.
 
West Valley
A date-night hangout for those in the Summerlin area, The Martini lives up to its name with more than a few different takes on its namesake drink, from the classic original to the fruity bubblegumtini. But the best choice for the Christmas holiday could be the creamy mocha martini with chocolate liqueur, espresso vodka, and coffee beans.
Courtesy of Hard Hotel & Casino
Hard Rock Hotel & Casino
Back in the day the Hard Rock Hotel & Casino was a notorious pick-up spot for singles and people pretending to be single. It recently reopened after a few renovations, and although it may have a sleek new look and an expanded drink menu, it still has a panoramic view of the casino floor, perfect for spotting any potential holiday hookups.
Courtesy of Sin City Brewing Company
Planet Hollywood (& other locations)
All three bars will be open on Christmas Day, with five original brews on tap. If you can't choose between the amber, light, IPA, weisse, or stout, nobody will mind if you order a cocktail.
Coutesy of Lucky Bar
Red Rock Resort
The one spot where the cocktail waitresses parade around in dresses with backs so low, you question if they got the size wrong at the fitting. Ask for a Jackpot martini, available all month long, which is like a holiday version of a Cable Car with Laird's Applejack, Cointreau, lemon, and a cinnamon-sugar rim.
Courtesy of Mandarin Oriental Las Vegas
Mandarin Oriental Las Vegas
Not only is the check-in lobby of the Mandarin Oriental on the 23rd floor, but so is the hotel's main cocktail bar, offering a unique 180-degree view of Las Vegas Blvd in both directions, as well as comfortable seating and samples of rare Cognac.
 
West Valley
It only seems natural to celebrate the winter holidays at a bar that overlooks an ice rink next door through panels of giant windows. Brooksy's is open 24 hours a day -- every day -- including Christmas. So if you prefer pizza and beer to turkey or ham, you've come to the right place.
Courtesy of Gilley's Saloon
Treasure Island
This country-and-Western bar is the main spot for line dancing on the Strip. And for one day only, the kitchen will expand the usual BBQ eats for a holiday menu headlined by bourbon- & agave-glazed turkey or whiskey- & honey-glazed ham. Either option goes down easy with a shot of Jack. 
Courtesy of Gaudi Bar
Sunset Station
Don't want to drink the entire day away on Christmas? Gaudi Bar is almost like 3D version of a Salvador Dali painting and trippy enough that once you're inside, you'll feel tipsy without having to fully get there.
 
Goodsprings
The oldest bar in Southern Nevada is about a half-hour drive from Las Vegas and features Krazy Karaoke at 5pm. If you're looking to stare into a monitor and slur the words to "Do They Know It's Christmas"... stop looking, you've found it. 
 
Off the Strip
Las Vegas is notorious for borrowing other people's ideas, which is why you can find replicas of the Eiffel Tower, Statue of Liberty, and the Sphinx on the Strip. But the best (and most useful) reproduction of all may be a few blocks east at the faithful re-creation of Germany's famous Hofbrauhaus beer hall. The Christmas Day menu include a triple-level Christmas tower with roast duck, roast pork and veal bratwurst with red cabbage and potato dumplings. And yes, you already know there will be plenty of beer.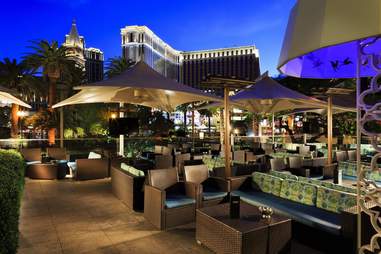 Courtesy of Levi Ellyson
The Mirage
Stay indoors and spend the holidays with an ice-cold mojito or head outside where a prime choice from the cigar collection will keep you warm. Rhumbar is open from 5pm-midnight on Christmas Day and the bartenders may even dish out some dating advice if you play your cards right. Don't forget to order the Cinn City Santa, a holiday drink made with Kilo Kai spiced rum, Velvet falernum, and cranberry puree.
Courtesy of Elixir
Henderson
The Christmas spirit can be found in the dangling chandeliers and ruby-red velvet curtains that envelop this moody neighborhood bar on the western edge of Henderson. But if you're looking for a different kind of "spirit," check out the bar's namesake Elixir cocktail, with Absolut Citron, PAMA liqueur, lemon, and cherry juice with a candy garnish.
Courtesy of Chandelier Bar
The Cosmopolitan
A holiday surprise may be in order if the underside of your tree is looking pretty barren. Wander over to the second floor (and second floor only) of the multilevel Chandelier Bar and order the Verbana. It's an off-menu cocktail with a spicy citrus kick and an edible flower on top that will leave a tingle in your mouth that you never saw coming.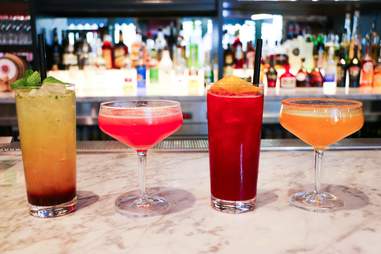 Courtesy of Flour & Barley
The LINQ
OK, it's more of a pizza joint than a bar, but on Christmas Day only, Flour & Barley will offer an eggnog panna cotta served in a glass with gingerbread crumble and toasted hazelnuts. It's a sweet complement to Scrooge's eggnog -- a super-secret eggnog recipe made with Jameson and Baileys and served in a Champagne flute.
 
West Valley
This west side neighborhood hangout has a great selection of local beer on tap and it's offering glasses for just $3 all day. So whenever you're done unwrapping gifts, there will be plenty of time to enjoy your brew.
Sign up here for our daily Vegas email and be the first to get all the food/drink/fun in town.
Rob Kachelriess is eagerly planning a Christmas Day bar crawl. Follow him on Twitter: @rkachelriess.