Your Guide to the Perfect Las Vegas Beer Crawl
It's hard to find a better place for drinking than Las Vegas, but sometimes (always?), you need to set aside the expensive bottle service and oversized frozen margaritas for a good old-fashioned beer crawl. Lest you waste precious drinking hours on the planning stages, we've mapped out the most solid beer crawl on the Strip for you. Just follow these directions... and make sure someone else drives you home at the end of the night.
Oren Aks/Thrillist
Your Las Vegas beer crawl begins Downtown at the tacky and touristy Fremont Street Experience. That's where you'll find Banger Brewing, a locals' favorite, where the beer is brewed on-site. Go with the Morning Joe, a kolsch infused with French caramel and hazelnut coffee. It's a little sweeter than you might expect, and may even have a little caffeine left over after the brewing process. That's a good thing, since you'll need all the energy for this crawl that you can get.
Hitch a ride with Uber and head south on Las Vegas Blvd. You'll pass by an endless sea of wedding chapels, old motels, pawnshops, and bail-bond services, until you arrive at the SLS Las Vegas. It pretty much signals the beginning of the Strip, and is a perfect spot to continue your beer crawl. Stop by Umami Burger, Beer Garden & Sportsbook, where of course you'll be most interested in the "beer garden" part. This outdoor drinking area comes with picnic tables and a long patio, perfectly situated for soaking in the view of the nearby Stratosphere tower. Your options include more than 40 craft beers, six IPAs, and a special reserve list featuring 10 specialty brews like Brooklyn Sorachi Ace, Uinta Cockeyed Cooper, and Estrella Damm Inedit.
Oren Aks/Jason Hoffman/Thrillist
You've had a couple drinks now… so walk it off and continue to head south. You can also rent one of those motorized scooters if you like (we're not judging). Head inside the Venetian and wander through the lobby until you stumble across Public House, one of the best resources for regional craft beers on the Strip. The bar staff is made up of certified cicerones, offering more than 200 beer selections, including 24 on tap and three seasonal specialties from artisan cask brewers. Try the Firestone Bretta Rose from the Santa Maria Valley in California. It's made with fresh local raspberries and matured in French oak puncheons to create a crisp, refreshing Berliner Weisse-style ale with a rose color and clean finish. It's also low in alcohol -- which is actually good, since you have more beer to sample as your journey continues.
Head back outside and take an escalator to the pedestrian bridge that straddles Las Vegas Blvd. It's time to track down LVB Burgers & Bar, a new spot that has some of the best burgers and bar bites on the Strip. It also has two beers that are exclusive to the Mirage: Amber's Ale from Wasatch Brewery, which is Utah's first effort at the beer-making game, and the Island Hopper Saison from local CraftHaus Brewery. This may be (it is) a good time in your beer crawl to actually order some food. Ask for the P.S.S., which stands for pineapple, salmon, and slaw. It's much better than your typical fish sandwich, and will provide some much needed omega-3s to help absorb some of that alcohol.
As you continue to trudge down the Strip, hang a left and turn down The LINQ promenade. OK, first, you may want to go take a spin on the High Roller wheel, but then it's back to serious business, like drinking at ameriCAN, a watering hole that features beer pong and a patio built on imitation grass. The emphasis on the last three letters here emphasizes the unusually large selection of canned beer -- which <a href="https://www.thrillist.com/drink/nation/beer-cans-vs-bottles-which-is-be…; target="_blank">some experts swear by these days</a>. The bar's original concept was to offer at least one beer from a brewery in every state, a project that turned out to be easier said than done. Still, you've still got more than 80 cans from around the country to choose from, including great choices like Hop Crisis Imperial IPA from 21st Amendment in San Francisco, and the malt-heavy Golden Monkey from Victory Brewing near Philadelphia. &nbsp;
Cross back over Las Vegas Blvd and keep walking down the Strip until you come across Casino Royale. It has nothing to do with James Bond, but everything to do with saving money. The lobby bar is famous for $1 beers, namely Michelob and Michelob Light. (Sorry, not Michelob Ultra. Don't get greedy.) You may even be surprised to see they're actually served in bottles, not watered-down taps. And if you really want to splurge, Bud, Bud Light, Coors Light, Miller Lite, and Miller Genuine Draft are all $2 each.
As you cross Flamingo, keep your eyes peeled for the Paris casino, where a set of stairs will take you up to Beer Park. In addition to having an awesome view of the Strip and goofy games like giant-sized Jenga, this spot has more than a hundred beers on offer, with 36 on tap. It recently introduced a value-driven beer flight, where you can choose any four draft beers for $14. Whatever you do, make sure one of them is the Shock Top Twisted Pretzel Wheat.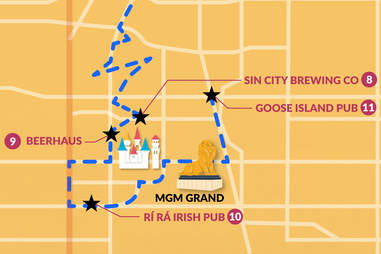 Oren Aks/Jason Hoffman/Thrillist
It's time to detour off the Strip… but only slightly. Around the corner from Planet Hollywood is Harmon Ave, where you'll come across the Sin City Brewing Co. -- the only local brewery with its own bar on the Strip. (It actually has three, if you count the ones inside the Venetian and Miracle Mile Shops -- not to mention a fourth on the way at the Grand Bazaar Shops.) It keeps things simple with a blonde, weiss, amber, IPA, and stout on draft, but there's always a seasonal option worth checking out as well. So for now, turn your attention to the Oktoberfest special -- it's malty and light with a hoppy finish.
Hop on an escalator by Walgreens and take a pedestrian bridge that leads to the Cosmopolitan and then wraps around towards CityCenter. Keep walking until you reach the new outdoor area near the T-Mobile Arena, called The Park. At the center of it all is Beerhaus, with plenty of outdoor seating, live music, and tasty bites that include brats, pretzels, fried pickles, and house-made whoopie pies. The beer list is enormous, but keep your eye on the always-changing list of "Rarities and Unusuals" written on a chalkboard. Beerhaus also recently teamed up with Sin City Brewing to produce its own amber that's designed to go down easy and was given the clever name of "Beerhaus/Sin City Collab."
Cross Tropicana and hop on board the free monorail that takes you from the Excalibur to Mandalay Bay. Mixed among the shops is Ri Ra Irish Pub, a lively spot that features a few distinctly different rooms and bartenders skilled in what's described as the "perfect pour" of Guinness from the tap. It involves holding the glass at just the right angle, pausing, and waiting for just the right amount of time before topping it off. Ri Ra is also one of the very few bars in the United States to import its Guinness from Ireland instead of Canada, and the door-to-door here is well under a week. Does it really make a difference? Decide for yourself during your Las Vegas Beer Crawl.
Time to grab a taxi and venture off the Strip to the new Goose Island Pub inside the Hard Rock Hotel and Casino. (Make sure the cabbie drives from Koval to Harmon and <a href="https://www.thrillist.com/travel/las-vegas/las-vegas-taxi-driver-compla…; target="_blank">doesn't try to longhaul you</a>). The Rare Bourbon County Brand Stout may be on the expensive side at $100 a bottle, but it's the perfect choice to wrap up a night of drinking, so share it among friends. The imperial stout is aged for two years in the same barrels that were used to age bourbon for more than 35 years, and this unique method produces a sticky sweet taste that's worth savoring.
Sign up here for our daily Vegas email and be the first to get all the food/drink/fun in town.
Rob Kachelriess has been writing for Thrillist for three years. He's wondering if 11 beers in one night is really a good idea. Follow him on Twitter @rkachelriess.