When the roaring '20s hit the United States, Las Vegas had only existed as an official city for less than a decade, so while the rest of the country was hiding booze and drinking on the sly, the place that would eventually be called Sin City was known primarily for being a place where you could procure clean drinking water. But as time went on, we realized cocktails and misbehavin' were a pretty good match, which lead to some delightfully retro bars that perfectly capture the speakeasy atmosphere of the prohibition era.
Recommended Video
The Surfin' California Burrito at Lucha Libre Has a Serious Secret Ingredient
Chinatown
This 24-hour tiki bar can be found in the heart of Chinatown, hidden among a row of shops in a strip mall. Enter through a lava rock cave and waterfall (yup) for an indulgent oasis of kitsch, with hidden treasures of all kinds that include a chest of gold coins, a giant conch shell, tropical huts, palm trees, and a skeleton that will perform for you. However, the real treasure is Golden Tiki's rum-filled cocktails: some are topped off with Dole Whip -- a frozen pineapple treat originally only found at Disneyland. Now Golden Tiki has a machine behind the counter, so there's no reason to leave Sin City.
Downtown
This quiet, members-only cocktail club seats just 10 people at a time, and can be found upstairs at the Inspire art and entertainment complex. It features floor-to-ceiling windows that overlook the busy Fremont East district, with an Asian-inspired cocktail service designed by award-winning mixologist Mr. SeongHa Lee. Custom-made cocktails are often created based on the taste and mood of each guest, and they come with the only artisanal ice service of its kind in Vegas, with carved whiskey orbs, and crushed or cubed crystals created with an artistic touch. To get in, you have to be a member, but you can always apply here.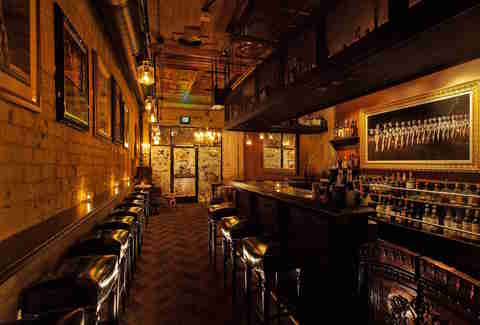 Downtown
Taking the bar-within-a-bar concept to a new level, the Laundry Room can be found inside the walls of Commonwealth, and was once the laundry facility of the El Cortez hotel across the street -- hence the name. There are only 27 seats, and a few strict house rules... like no texting, no photos, and no PDA, so if you're looking to take things up a notch with your date, head somewhere else. The focus, instead, is on labor-intensive cocktails. You know, the kind that take more than 10 seconds to make. So how do you get in? Text a secret number for instructions on how to enter. They don't just hand it out to anybody. So hang out at Commonwealth, make a few friends... and see how far your personality gets you.
Off the Strip
A bit off the beaten path for those who rarely leave the familiarity of the Strip or Downtown, Herbs & Rye offers great steaks that are half-off if you come during happy hour, and an impressive mixology program that's a favorite among the industry crowd. Some of the cocktails take up to six minutes to make, and are crafted with such precision, they are more than worth the short wait. The bartenders are well-trained experts in vintage drinks who welcome the challenge of putting together something unconventional with Herbs & Rye's rare and varied supply of liquors and mixers. Grab a seat at the bar; the bartenders are friendly, engaging, and willing to discuss the weather, your hard day at work, or all the details about how your cocktail was created.
Mandalay Bay
Look carefully near the entrance to the Shoppes at Mandalay Place, and you might find this secret drinking spot tucked in the corner, next to RM Seafood, with a door disguised as a liquor pantry. 1923 Bourbon Bar used to feature burlesque shows, a secret password to enter, and a celebrity endorsement by Holly Madison, and although those things all disappeared a while ago, the joint is still one of the best hidden gems on the Strip. Check out the strong whiskey, rye, and bourbon selection, or take a trip to the cigar lounge, which offers a little more intimacy to go with your cocktail.
Downtown
Inspired by the urban drinking scenes found in cities like New York and Seattle, the Downtown Cocktail Room opened about 10 years ago, during a time when people cared more about bottle service than master mixology in Las Vegas. The bar was designed to be a word-of-mouth destination and built with a trick door to keep the average Fremont St drunk from stumbling in. There's no handle or door knob on the glass panels underneath the sign. Look for the one that's actually made of steel and push -- don't pull -- it to get inside. The menu changes about four times a year and has offered more than 300 original cocktails since opening day. An extra room in the back provides some speakeasy-style privacy while the doors to the bathroom stalls feature trick mirrors. You can see out, but they can't see in -- making a trip to the toilet a lot more entertaining than usual.
Off the Strip
Capo's offers a little throwback fun with a speakeasy-style bar that includes deep red carpeting and furniture that stands out in the venue's low lighting. In true Roaring '20s fashion, you'll be asked for a password by a voice behind a small window at the front door. Don't worry; you're pretty much guaranteed to get in, regardless of how you answer. The restaurant itself specializes in Italian pastas and steaks, while offering nightly live entertainment. Chances are good you'll hear your favorite Frank Sinatra song.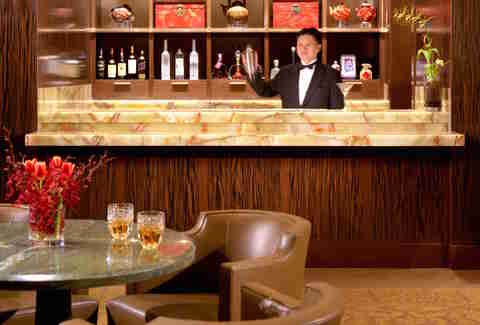 The Venetian
The Paiza Club is designed to fulfill every need -- no matter how extravagant -- for the high rollers staying at the Venetian or Palazzo. Inspired by the Golden Paiza that catered to the Chinese Emperor centuries ago, this exclusive club will provide a limo (or even a helicopter) at a moment's notice. For less pressing matters, enjoy a drink in the cigar lounge or wine tasting area, while in between rounds of baccarat in the high-stakes gaming area. You'll also enjoy live sporting events from around the world on high-def screens, and peking duck made by master chefs flown in from China. And yes, there's Wi-Fi. Membership is exclusive, select, and by invitation only.
Boulder City
This bar and restaurant is admittedly more of a neighborhood hangout than a hidden gem, but definitely borrows a sly speakeasy attitude -- starting with the name alone. Grab a drink, and you'll find an image or two of the famous gangster staring down at you. The Dillinger was originally a bank, and still kinda feels like one when you walk through the large wooden front doors... although the mobster theme resurfaces with vintage rifles in place of door handles. Some say the burgers are the best in Boulder City and any sort of speakeasy vibe goes out the window every summer when the place closes down to host an outdoor block party.
The Cosmopolitan
Rose. Rabbit. Lie. is a fun restaurant that has great food, in-house performers, and a lounge/theater area that is currently empty, but is set to welcome Absinthe in 2017. One of the best things going for it right now is The Study, an intimate bar sneakily tucked away on the side of the main entrance. Browse over The Study List -- a short menu of internationally inspired cocktails that are perfect for pre-gaming, before having dinner in the main dining room. However, you can also stick around awhile and order food from the regular menu. The bar has plenty of charm, with bookshelves and a record player. (Yes, a real one. Not an MP3 player shaped like a record player). Browse through their album collection, which includes a little bit of everything, from Miles Davis to Justin Timberlake. The bartender is happy to let you be the DJ.
Gold Coast
Make no mistake. The Gold Coast casino is geared towards locals and tourists eager for a discount. However, it does offer a few charming dining spots, and one of these is Ping Pang Pong, frequently singled out for its authentic Chinese food. The other is the recently opened Cornerstone steakhouse. It doesn't have the flash and style of the best steakhouses on the Strip, but it does offer a perfectly cooked wagyu coulotte and a true hidden gem with the bar area. It stands apart with Prohibition-inspired cocktails and a well chosen whiskey selection -- including three Japanese options. Old Forester is aged in-house for 40 days with dry cherry, vanilla bean, and orange peel -- and used to give their signature Old Fashioned a nice subtle sweetness.
Golden Gate
The Golden Gate has been around a while -- 110 years actually -- and is actually the home of the very first telephone in Las Vegas (with a number of "1" of course). So this place is one of the few around that's truly familiar with the original era of the speakeasies. Bar Prohibition! celebrates that spirit with a menu of classic cocktails served indiscreetly in coffee mugs -- just like they would back in the day, when boozing was done on the sly. It's no surprise that members of the Rat Pack cozied up to this very same bar in another historic era.
Sign up here for our daily Vegas email and be the first to get all the food/drink/fun in town.