Hit the second scariest spot on the Strip (Imperial Palace FTW!), where $129/person hooks you up with an open bar at The Goreatorium, a customized mask, special appearances by the sexy "Baby Doll" dancers and "freaks of the haunt", and some of the best views of the NYE fireworks on the strip.
Recommended Video
Make This Apple Brandy Elderflower Sparkler for Your Next Fancy Party
Previous Venue
Next Venue
Venue Description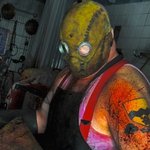 1. Eli Roth's Goretorium
3717 Las Vegas Blvd S, Las Vegas, NV 89109
This haunted house is open year-round, so you can scare the pants off yourself at any time (yay?). The scare shop's set up in the old Delmont Hotel space, which, legend has it, was run by a "sinister" old man whose paying customers ended up mysteriously offed. So, take all your friends, and good luck!