Topless girls and bottle service. And topless girls.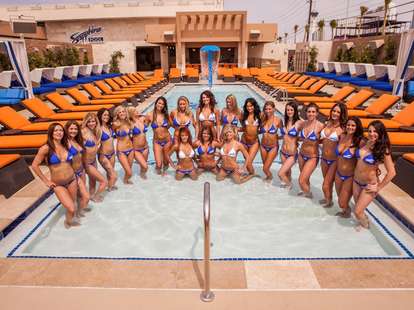 After four long years of bouncing around so its topless entertainers could do the same, Sapphire finally has a permanent pool/day club right next door to its award-winning gentleman's club, which is always just about five blessed minutes away from wherever you are... if you're in Vegas. If you're in Cincinnati, it's, like, an hour at least
Costing a mere $8 million (or approximately 12.6 billion above-ground pools), the club can host up to 700 people without much clothing on, thanks to all the lounge chairs, day beds, VIP cabanas, and hot tubs you could ever want. Plus, the girls from the club are going to party here all day, so that's cool too
The pool is not an actual strip joint, but like many of the Vegas pool clubs, it's very strongly encouraged to go topless, and there are plenty of pasties to go around
Be careful not to step on the attractive women basking by the pool
This is Grace. She's a bartender
These are some other employees who will attempt to talk you into bottle service
And here are some more.