Erik Kabik
Erik Kabik
They say New York is the city that never sleeps, but if they had ever been to Vegas then... um, it probably wouldn't matter 'cause despite what people think, after all the celebrity chefs go home and the nightclubs close at 3a, things do get surprisingly sleepy on The Strip. But don't worry, there are places you can still stuff your face/ keep drinking in hopes of finding at least one quality female who hasn't given up and gone back to her hotel for the night. The sweetest ones are right here...
Artisan
Off the Strip
This is where the boys who haven't hooked up yet go looking for ladies… lucky for them (and you), this casino-less hotel, with its retro-styled lobby and old-school drinking club-inspired lounge, is sweet enough that lots of said ladies actually show up to take a turn on the dance floor or catch the sunrise on the patio.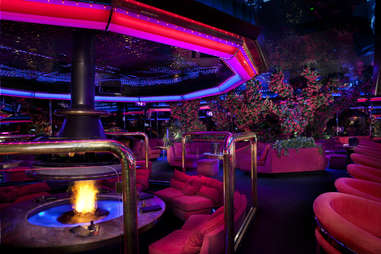 The Peppermill Restaurant and Lounge
The Strip
No dance floor, no VIP section, no bottle service. Just a staff that probably doesn't know what any of those things are, lots of greasy diner eats, a shton of neon, and a kitschy water/ fire feature in the middle of it all. Oh, and the fact that Robert De Niro and Sharon Stone shared a booth here in Casino.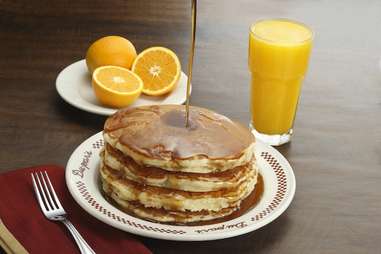 Du-Par's Restaurant
Downtown
This mainstay inside the Golden Gate is open 24hrs a day and world-famous for its enormous stacks of pancakes with drawn butter. In fact, Brandon Flowers of The Killers recently told the Wall Street Journal they were one of the best things about Las Vegas. And while that may be debatable, the fact that carbs and butter in these amounts, while delicious, are Killers, isn't.
Posh Boutique
Off the Strip
This Crazy Horse III-adjacent nightspot isn't technically a strip club (the poles are for "go-go dancers", and female members of the public are welcome to take a turn), it's a 3500sqft boozer where "the idea is to pick up two or three hours after the other nightclubs", and apparently serve as a frequent location for Snoop Dogg videos.
Drai's After Hours
On the Strip
This longtime late-nighter's permeant home is currently going up in an as-yet-to-be named resort, so this dance spot has set up temporary shop across the street at Bally's, and you know what that means... yup, you can take the monorail home! Oh wait, it shuts down at 2a.
Roberto's Taco Shop
Locations Everywhere
It probably seems like there're dozens of these places in Vegas, but that's just because... um, there are dozens of 'em, but that's cool, since you're not officially a "local" until you've scored a California Burrito w/ steak & French fries in the middle of the night.
Mr. Lucky's Café
Off the Strip
Just steps from another sweet late night spot, this all-hours eat spot is a go-to for people who aren't quite done dancing/ drinking/ gambling/ whatever you can do at The Hard Rock. It's also for those who wanna grab eats from the off-menu, but totally awesome, 777 Special: an eight ounce steak, grilled shrimp, mashed potatoes and a side salad… all for $7.77.
The Henry
The Strip
This restaurant at The Cosmopolitan has a view of the women wandering in and out of Bond nightclub and, more importantly, the best breakfast menu in the city. Period. The Short Rib Benedict is the signature dish but even the oatmeal – served with pralines, dried fruit and brown sugar - is badass. Our word is... ugh... bond.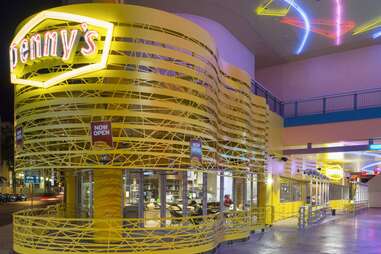 Denny's
Downtown
All over the country, when people are hungry at three in the morning, they go to Denny's. But in Las Vegas, when people are hungry at three in the morning, they go to... um, Denny's? Yup! A massive, metal-enshrouded Denny's on Fremont where, in addition to the usual Moons Over My Hammy-type eats, there's a full bar and, on the off chance you got lucky at one of the spots above, a wedding chapel.