Because sometimes you don't want to drop the equivalent cost of one of those Kia Souls all the cool hamsters drive just to get a table at a Vegas club, we rounded up the best places to party -- from lounges, to bourbon bars, to bar-bars -- that won't make you stand idly in lines, wear shiny shirts, or listen to that Deadmau6 dude.
Rhumbar At The Mirage: A Caribbean-inspired cocktail lounge serving up a variety of mojitos, caipirinhas, and margaritas on top of a fine selection of cigars that can be smoked on their expansive outdoor patio. It provides all the benefits of a tropical vacation without the risk of hurricanes/armed robbery/not being 100ft from a Wheel of Fortune slot machine at all times.
The Chandelier at The Cosmopolitan: Inside a giant cocoon of over 2 million crystals are three levels providing a unique experience: DJs on the bottom, serious cocktails like Cherry-Smoked Coke with leather-infused Makers Mark in the middle, and chilled-out seating up top where you can view it all.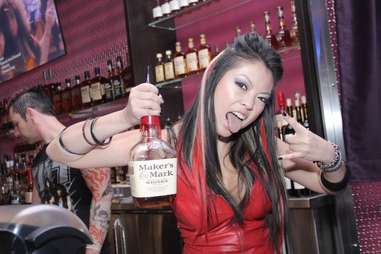 The Bourbon Room at The Venetian: Set your flux capacitor to 1.21 jigowatts and head back in time to this '80s bar that features pleather-clad bartenders, a whole lotta neon, and live performances by the cast of Rock of Ages. When it's all done, you'll wanna hop back in the time machine and get forward to the spot in the future where you don't have a hangover any longer.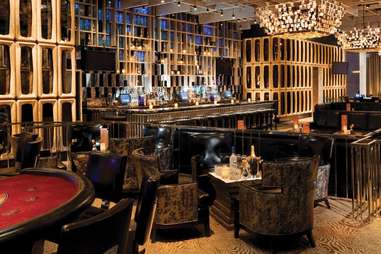 The Deuce Lounge at Aria: This place just oozes sophistication, so be prepared to pretend you know what that word means as you sip bottle service and cocktails custom-crafted based on your taste buds, as well as a full slate of casino gaming including blackjack and roulette.
The Rockhouse at The Venetian: Expect a rowdier crowd at this 9000sqft "dive bar" that features 83 TVs, beer pong, billiards, a mechanical bull, and a slew of scantily clad waitresses who are always happy to ride said mechanical bull.
VDKA at Encore: All the vodka you could ever imagine in one very simple place. VDKA is situated right off the casino floor, and is a no-frills paradise serving cocktails featuring bacon-flavored vodka topped with more bacon, plus single shots like the Stoli Elit Pristine Water, which is only 250 bucks, and not exactly water.