The Imperial Palace has fallen, because Luke Skywalker shot it with a proton torpedo, then made out with his sister, or something. But arising nevertheless is Rockhouse, which has been reborn at the Venetian to provide the same dirty(ish) dive-bar feel in a larger, slicker space with a lot more tacos. 9000sqft is a lot of space, so why not fill it with three bars, 83 TVs, pool tables, beer-pong tables, tire swings for the bartenders, and... ... cages filled with chicks? Don't mess with the one at the bottom, she's mad strong. The menu is hilarious! Like, seriously -- who would name a cocktail the Baltimore Zoo?! What a bunch of pranksters! Expect foie gras on EVERYTHING bar snacks galore. These are the Smokey Chipotle Chicken Sliders. The build-your-own-taco menu lets you check off your preferred selections for meat, tortilla, cheese, sauces, and toppings. The same goes for the dogs, with which you can also neatly control of the size of your weiner. And of course, they brought the mechanical bull. Just hop on and steady yourself by grabbing that thing -- IT'S A STRAP!!
Recommended Video
Make This Apple Brandy Elderflower Sparkler for Your Next Fancy Party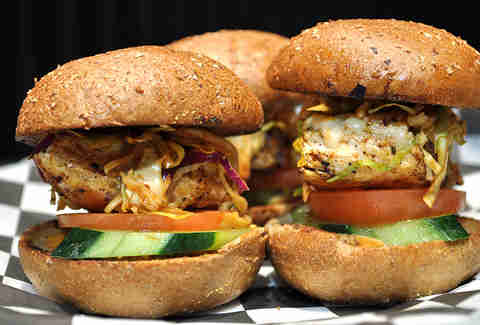 Previous Venue
Next Venue
Venue Description
1. Rockhouse
3535 Las Vegas Blvd S, Las Vegas, NV 89109
Rockhouse is an adult's playground, set right on the Strip in the middle of America's least responsible city: Vegas. With 9000sqft of space, this warehouse-sized venue has three bars, 83 TVs, pool tables, beer-pong tables, tire swings, and a mechanical bull. This place was clearly expensive to build, but they're not pretentious at the Rockhouse—the overall vibe here is of a Southern dive bar, from the weathered wood to the industrial lighting. Their food is cooked to match, as this self-described "ultra dive bar" churns out a steady stream of bar food classics like sliders, wings, and hot dogs. A menu of inventive and boozy cocktails is also available, patronizingly divided between "girly drinks" and "manly drinks."