This cocktail costs $5,000. Repeat: this cocktail costs $5,000!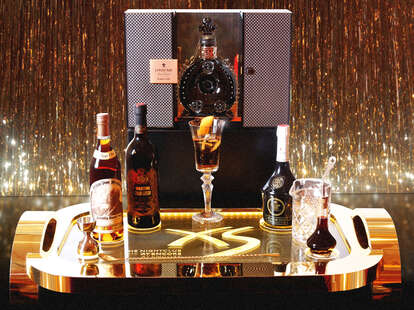 Danny Mahoney/XS Las Vegas
The Wynn's XS Nightclub is, once again, doing what it does best: DVS-ly combining letters so they sound like words! Doing things to... um, excess, this time via a cocktail that's mixed right at your table, costs just as much as Sin City's most expensive burger, and has more top-shelf liquor in it than Charlie Sheen when he decided that this engagement to an adult film star would totally work out.
What's it called?
The Five Star… which is a lot more subtle than calling it "The Five Grand".
What's in it?
A blend of exceptionally expensive liquors like a Louis XIII Rare Cask 42.6 cognac (a bottle of which goes for $22,000), and the extremely rare Pappy Van Winkle's Family Reserve 23yr bourbon, which apparently gets you so rip-ped, you could sleep though the Revolutionary War.
Is that it?
Nope, it's also got a single-batch red vermouth made with Moscato called Martini Gran Lusso 150th Anniversary, and a 500th Anniversary Edition D.O.M. Benedictine called "Black Monk" -- an herbal liqueur with copper flecks and a sweet gingerbread finish, which ironically is also what the witch got when she tried to cook Hansel and Gretel.
What else?
Well, there's Peychaud's Bitters, Angostura Bitters, and an orange twist that's done over a flame, because experts say it lightly caramelizes the oil and subtly enhances the flavor... and because for $5,000 they better put on a darn show.
So, do I just order this thing at the bar?
No. The Five Star is made table-side by a bartender and served on a gold tray, the sheen of which will presumably catch the eye of any nearby adult entertainers, all of whom will totally be attracted to you because... you can afford to spend $5,000 on a single cocktail. Or because you have a great personality. Who knows?!