Las Vegas Getting ready to party hard on New Year's Eve? There's tons of stuff to do, and if you're gonna get wild to celebrate 2016, you'd better have a good recovery plan come New Year's Day. It's one of the most popular times of the year to grab a good brunch... and every good brunch deserves an awesome bloody mary. Here's a look at 18 of the best ones in Las Vegas. More Stuff You Will Like
Design your own bloody
Longbar (address and info)   The D Resort As the longest bar in Nevada, the aptly titled Longbar stretches the entire length of the casino, with tons of flatscreen TVs and plenty of go-go dancers nearby. From 9am-2pm on Sundays you can design your own bloody mary, with five choices of mix (from traditional to tangy), a wide array of liquor (from vodka to gin) and choices of add-ons (from fresh celery to pimiento olives).
Bacon bourbon mary
Tom's Urban (
address and info
)   New York-New York Even better than the patio seating on the Strip is the bacon bourbon mary at Tom's. It's made with Jim Beam that's infused for 24-hours with real bacon. The fat is then drained out and the savory leftovers are blended with an in-house tomato mix and topped with olives, lime, bacon, and celery smeared with cream cheese. Continue Reading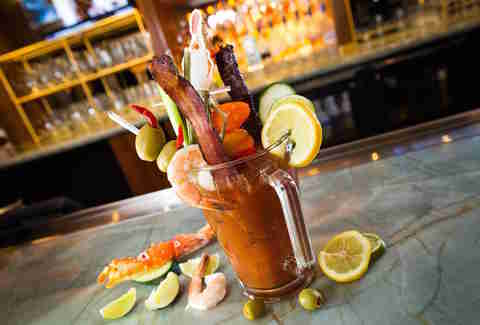 The Colossal
Hexx (address and info)   Paris Las Vegas Need to go big? The Colossal is a mini-pitcher loaded up with organic basil-infused vodka, bloody mary mix, jumbo shrimp, alaskan king crab leg, bacon, a beef stick, peppers, and pickled vegetables. It sells for $38 every Saturday and Sunday 7am-1:30pm.
The Yardbird bloody
Yardbird (
address and info
)   The Venetian The Yardbird bloody mary is a classic recipe with a southern touch. The vodka is blended with a house-made mix and garnished with bacon, okra, green beans, lemon, and olives. It's the perfect thing to wash down Yardbird's signature fried chicken with watermelon and waffles.
The Ultimate Bloody Mary
Triple George Grill (address and info)   Downtown The Ultimate Bloody Mary mixes Chopin Potato vodka with locally produced Habla Diablo bloody mary mix and comes garnished with a shrimp kabob made with a jumbo cocktail shrimp, olive, cocktail onion, aged cheddar cheese, and a strip of bacon. A fresh piece of leafy green celery is thrown in so you can at least pretend it's healthy.
The Lobster Mary
Lobster ME (
address and info
)   The Venetian The Lobster Mary. Just because it's garnished with Old Bay and a tender Maine lobster claw.
The All About Mary
Todd English PUB (address and info)   Aria There's a popular bloody mary cart on weekends with almost too many options to count,  but if you want to combine your cocktail with a meal, get the All About Mary. Check this out for garnish: salami, cheese, corn dog, cheeseburger slider, chicken wing, stuffed olives, pickled green beans, and asparagus, all for $35.
F&B bloody mary
Flour & Barley (
address and info
)   The LINQ The bacon-infused vodka is blended with a house-made bloody mary mix and fresh tomato water while garnished with soppressata, fontina cheese, and artichoke. It's the perfect weekend drink alongside the four-cheese Quattro pizza.
The DW bloody mary
DW Bistro (address and info)   Southwest Valley The Jamaican influence is felt not only in the food but also with the cocktails at this longtime locals' hangout. New Amsterdam vodka is combined with jerk-spiced bloody mary mix and garnished with lime, heirloom tomato, habanero olive, pickle, and house-made jalapeño bacon.
The Handcrafted Bloody
Morels French Steakhouse (
address and info
)   The Palazzo A bloody mary with a French twist. Try their bloody mary or maria (either vodka or tequila) while enjoying the views and weather on the patio. The drinks are custom made from a cart table-side during the Saturday and Sunday brunch, all with fresh ingredients.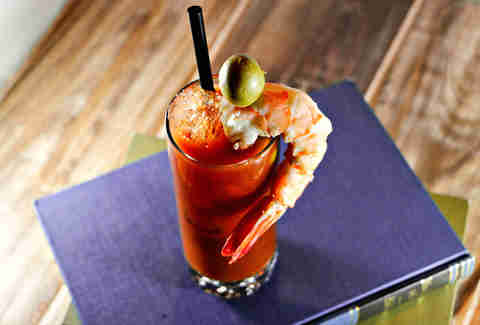 The Bloody Hell
Public House (address and info)   The Venetian You've got three options for the "Bloody Hell" bloody mary: The Big & Smokey with black grouse, lime, A1, and horseradish... the Cerdo Picante with spicy bacon-infused vodka, fresh lime and shrimp... and the Bitter Hottie with IPA, Sriracha, lime, celery bitters, and a salted rim. Choose wisely.
The Hash House Bloody
Hash House A Go Go (
address and info
)   Multiple Locations House bloody mary mix loaded up with a fresh tomato wheel, smoked bacon, a rib of lettuce, and white toast on the side serve to remind you that it's breakfast (maybe). It also comes served in a 20oz glass with a requisite salted rim.
The Signature Bloody
El Dorado Cantina (address and info)   Off the Strip This Mexican joint specializes in organic, healthy ingredients (and the bloody mary is no exception). It combines vodka, organic tomato juice, Worcester sauce, Tabasco, salt, and pepper in a glass lined with chili salt, with a lime, olives, jalapeño, and celery as the garnish.
T&T's bloody maria
T&T: Tacos & Tequila (
address and info
)   The Luxor Some people simply want tequila instead of vodka, especially when you're loading up on tacos and tostadas. This bloody maria comes with Jose Cuervo, fresh cucumber, Chipotle Tabasco, olive juice, and a salted rim.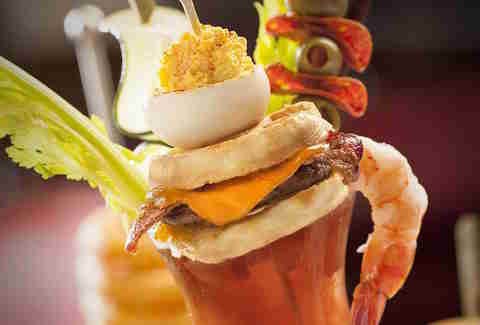 Mr. Lucky's bloody mary
Mr. Lucky's (address and info)   The Hard Rock Need more ridiculous examples of garnish? Read on. The bloody mary at this 24-hour spot is the perfect symbol of Vegas indulgence with Belvedere vodka, spicy tomato, shrimp cocktail celery, a Slim Jim, beef jerky, deviled egg, waffle slider, pickle spear, horseradish, and lime.
The Fusion bloody mary
Fusion (
address and info
)   The Palazzo The bloody mary from mixologist Wendy Hodges has a spiciness that's based on flavor rather than temperature -- due to a secret 13-ingredient mix, fresh house-made horseradish, olive juice, crushed red pepper, and vodka infused for a minimum of two weeks with celery and peppers that include bell, yellow, red, orange, serrano, jalapeño, and poblano.
Hangover bloody mary
Fleur by Hubert Keller (address and info) Mandalay Bay This Bloody Mary is made with precision and to your liking, almost like a steak. The cocktail here comes with a choice of five liquors (Grey Goose, Patron, Stoli Jalapeño, Absolut Peppar, or bacon vodka) mixed with three levels of heat, 20 sauces, cucumber, pickles, asparagus, cherry tomatoes, lemon, lime, olives, prawns (!), bacon, celery, carrots, pickled jalapeños, and peppers.
Hearthstone's bloody mary
Hearthstone (
address and info
) Red Rock Resort Why settle for bottle service
at the club
when you can have Bloody Mary service at brunch? The table-side cart is all yours for $70. It comes with two 750ml bottles of 50 Bleu vodka, jars of garnish, and two choices of bloody mary mix (one being just a little more spicy than the other).
Sign up here for our daily Vegas email and be the first to get all the food/drink/fun in town.