The best damn places to drink in North Lake Tahoe
Michael Merlone
Michael Merlone
Because South Lake Tahoe is, well, gross, we're rounding up the absolute best places to get your booze on in North Lake, from barely public boat dock bars, to a place that sells something called The Chupacabra.
Casa Baeza (10010 Bridge St; Truckee)
Because Casa Stark is so empty (huh... where'd everybody go?), check out Casa Baeza: a Truckee-area gem that features a 12-seat bar manned by one of the Baeza brothers, who'll pour you 100+ tequilas, super-strong margs (in glasses with cactus handles!!), or...
... one of these: a classic Paloma (tequila, lime, Squirt) that comes in a badass salt-rimmed clay pot.
Caliente (8791 N Lake Blvd; Kings Beach)
This Tex-Mex retreat in Kings Beach features one of the best rooftop patios in all of Tahoe-dom, plus is home to the 64oz El Campeon Margarita, which features this totally normal menu description: "Years ago, this shack was called 'The Stop' and our friends would dance with their shirts off at 6 a.m. Drink this and you will be a champion, too".
Your best bet, though: the 25oz grande Chupacabra (guava, mango, passion fruit, Sauza blue, Bacardi, peach schnapps, Chimayo reposado, and two little tiny Mexican flags in lime wedges).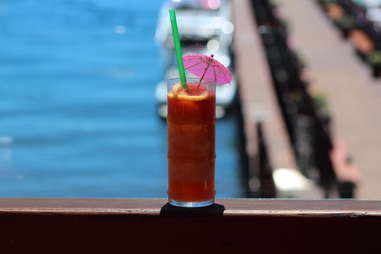 Gar Woods Grill & Pier (5000 N Lake Blvd; Carnelian Bay)
Since it's easily the most alcoholic drink in the LT, you can only order two of Gar Woods' Rock Hard Woody, likely because it features 151, light rum, peach schnapps, juices, sweet and sour, and TWO MORE 151 SHOTS FLOATED ON TOP.
You can drink it here on their lake-facing back patio, which looks out on their boat-up dock...
... and this important-but-not-applicable-to-Hollow-Man-Kevin-Bacon sign.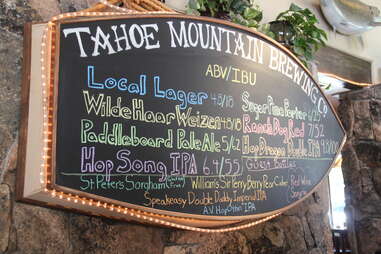 Tahoe Mountain Brewing Co. (475 N Lake Blvd; Tahoe City)
Brewed upstairs in their Tahoe City brewpub, beer at the year-old TMBC actually uses the crystal blue lake water in 18 different offerings (some seasonal, some limited-release), including four (Paddleboard Pale Ale, Saison Savourese, Local Lager, and Sugar Pine Porter) that've won awards in West Coast brewing competitions.
Oh, and you can get them all in to-go growlers. So there's that.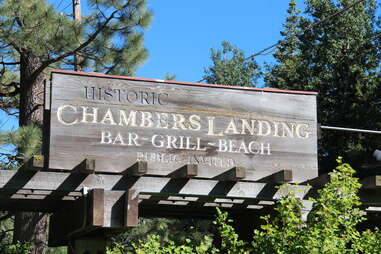 Chambers Landing Bar (6400 W Lake Blvd; Homewood)
The oldest and hardest-to-find bar in Tahoe, Chambers Landing is open to the public, despite being sandwiched between private residences and beaches -- just look for the tiny service road just past this sign.
Or, if you're on the water, this little boathouse (the bar's inside).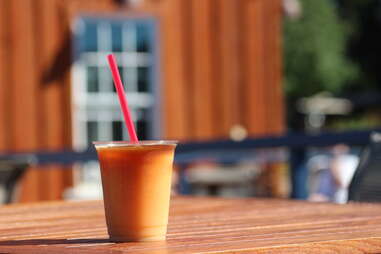 Once you finally find it, this is what you're gonna order. The Chambers Punch is churned out in two behind-bar slushie machines and uses three types of rum, plus blended fruit juices.
Bar of America (10042 Donner Pass Rd; Truckee)
One of the coolest buildings in Truckee, this four-story brick wonder has housed both the downtown Truckee bus station and the far-less-fun Bank of America, before being turned into this iconic watering hole.
There are exactly three reasons to order their Cock-tail: 1) it has Wild Turkey, 151, AND George Dickel in it, 2) if you order it after drinking the Chupacabra and Wet Woody (you've gotta have receipts to prove it), they'll give it to you for 95 cents, plus give you a free shot of Fireball, and 3) more mini flags!!