American wheat beer, 4.9%
San Francisco, CA
This wheat beer is brewed with fresh watermelon purée, leaving a crisp, fruity taste that's also light and refreshing. It's available in cans and on draft from April to September, but Las Vegas has exclusive access to the brew a few weeks before the rest of the country. Find it at a handful of different casinos, including the Cosmopolitan, Venetian, Aliante, and all MGM Properties.
German lager, 7.5%
The Strip
Sin City Brewing has three locations on the Strip, but this classic German lager is only on tap at the Grand Canal Shoppes and Harmon Corner locations. The smooth, malty beer is balanced, with a sharp kick, and is the perfect drink to chug down while enjoying the warm spring weather on Las Vegas Boulevard.
Dry Irish stout, 4.5%
Henderson, NV
Don't dismiss a dark brew for your seasonal spring fling. Henderson's Bad Beat Brewing is growing quickly and picking up loyal fans thanks to creations like the Gutshot. It's dry, but has a unique sweet taste and clean feel, and it's the perfect dark beer for people who don't like dark beers. You can buy cans at liquor stores around the valley, or order a glass on draft at the lounge in front of the brewery.
Maibock, 7.2%
Eastside
The full-scale replica of Germany's most famous beer hall has servers ready to spank you and grab you a new brew in time for spring. This year's maibock will be unveiled with a keg-tapping party on the night of April 29th, and will be available through the end of May. The full-bodied creation is sweet but savory, with a malty taste and a clean finish. It's more than 7% alcohol by volume, and patterned after Munich's oldest bock beer, dating back to 1614.
Belgian-style saison, 4.7%
Henderson, NV
Made exclusively for the new Center Bar & Parlor Lounge at the Mirage, this saison is a bright Belgian-style traditional beer that comes with hints of lemon and pepper. Fitting in nicely with the casino's tropical theme, the beer is brewed with fresh mangos and Australian summer hops to create a mandarin aroma. It's a great example of the nice work being done by CraftHaus, and is the brewery's only proprietary beer on the Strip. 
Gose, 5%
San Francisco, CA
This regional favorite from Northern California can be found on draft inside Public House at the Venetian, which boasts a strong, inventive beer program that's worth checking out any time of year. However, this gose is perfect for the fresh spring weather. It's made with local grain, fruit hops, and Meyer lemons for a light citrus flavor that bounces comfortably on your taste buds.
Fruit beer, 5.4%
Downtown
One of the most overlooked beer spots in Las Vegas is the Triple 7 brewery inside the Main Street Station casino. Check out the Mango Hefeweizen, an unfiltered and fruity wheat beer that shows up around April each year. Just like any of the in-house brews, it goes great with the oxtail-topped chili fries.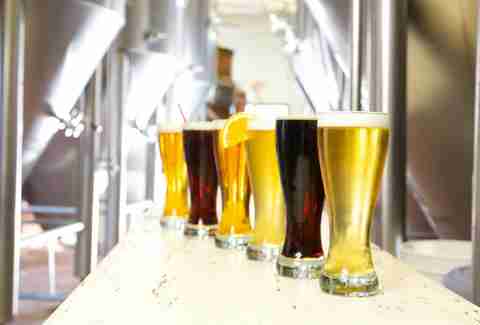 Irish ale, 6%
Eastside
The Red Irish Ale from Ellis Island Casino & Brewery usually arrives in time for St. Patrick's Day, but tends to stick around until the middle of April (or whenever the batch runs out). The beer has a slight malty aroma with a hint of candy-like caramel or toffee sweetness. Order it with a plate of Ellis Island's famous ribs, which are among the best in Vegas.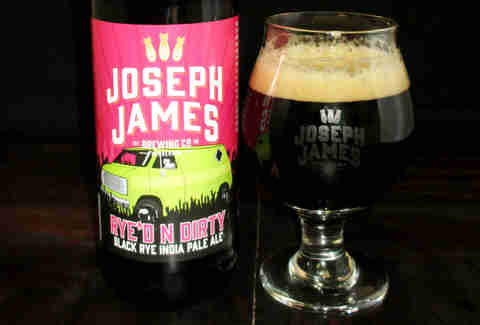 Pale ale, 7.2%
Henderson, NV
This black rye IPA is the best transition between winter and summer, since it's dark in color (sort of like our mood in the winter) yet surprisingly hoppy and refreshing. The rye malt highlights the featured hops, which have never been exactly the same each time the annual beer's been made since 2013. It's just one reason Joseph James has been growing rapidly over the past few years.
Saison, 5.7%
Las Vegas, NV
When the Tenaya Creek Brewery expanded and relocated, PT's moved into the old space to create a new lineup of beer. The Saison (which is just a fancy way of saying "seasonal") is a Belgian-style beer with broad, wide perimeters and sweet pineapple overtones.
Pale ale, 5.3%
Downtown
After opening a little more than a year ago, Hop Nuts has become a popular watering hole in the Arts District area of Downtown. 12 of its 20 taps are reserved for its own creations, brewed on site. The Rye'd Out pale ale is proving to be a popular choice for the season, made with dry hops that deliver a subtle spicy character. 
Imperial porter, 7.2%
Northwest
Big Dog's takes its obvious theme seriously, with brews like the Red Hydrant Ale and Black Lab Stout. But the one you have to check out for sure this season is the limited edition Kibbles 'n Nibs. This imperial porter is brewed with cacao nibs, giving it a chocolatey-sweet flavor. A second version is infused with real roasted coconut and is more fun than an Almond Joy candy bar. Two batches were made this year, and when they're gone, they're gone. But chances are good Big Dog's will bring this fun beer back again at some point.  
Pale ale, 5.5%
The Strip
Sin City returns with another creation that can only be found inside the ARIA resort. The Extra Pale Ale features a robust hoppiness that's complemented with a slight malt sweetness and a crisp finish. The flavorful beer is served on tap throughout the season. 
Kölsch ale 5.2%
Las Vegas
Banger Brewing came about when a group of friends in the restaurant industry started home brewing together, opening their own business five years later. They ended up with a spot in the heart of the Fremont Street Experience and constantly complement their regular brews with creative seasonal offerings. The Step-Child is among the most interesting of them. It's a kölsch ale boiled with ginger, fermented, and finished with puréed cucumber. 
Sign up here for our daily Vegas email and be the first to get all the food/drink/fun in town.
Rob Kachelriess is giving up alcohol for spring. Follow him on Twitter @rkachelriess.