After your opponents' hole cards at the poker table, the best views in Vegas are... probably at one of the city's finer gentlemen's establishments. But after that, they're at places overlooking the strip where the availability of alcohol will actually make the views even better than they already are...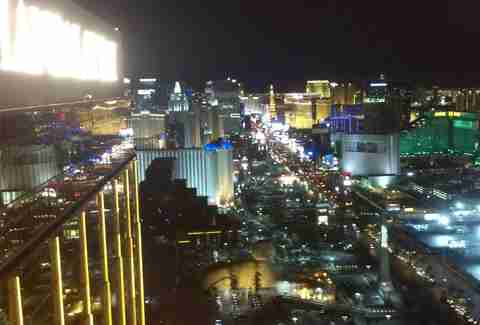 The Foundation Room
Where is it? On one of the top floors at Mandalay Bay.
What's different? This cozy lounge has a lot of character and plush sofas, but step onto the patio for amazing views of the entire Strip, and... the airport, where you can check out the private jets and point out the one you flew in on to your date, while eating "Street Tacos" stuffed w/ Maine lobster or pork belly.
Mix Lounge
Where is it? High atop THEhotel -- the second tower at Mandalay Bay.
How's the view? Ever want to take a whiz and have a panoramic view of Southern Nevada at the same time? The urinals have a window right above them that gives you that very opportunity. You can show off by pointing out the bats that can sometimes be seen in the spotlight shooting straight from the top of the nearby Luxor.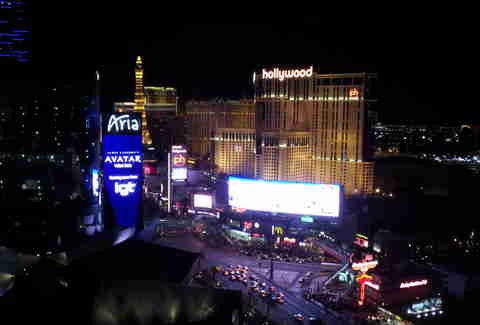 Mandarin Bar
Where is it? Mandarin Oriental
How do you get there? Take the elevator to the 23rd floor. That's where you'll find the "Sky Lobby" along with a bar and lounge that offers tea service during the day and great views of Harmon Tower, which was built years ago but never opened due to structural defects, and is now just the world's most expensive billboard.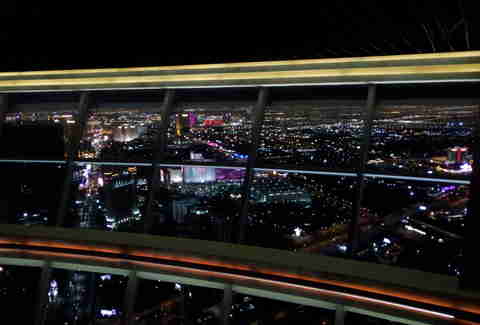 107 Lounge
Where is it? On the 107th floor of the Stratosphere.
How's the view? Ridiculous. Seriously, you can walk around the outer edge of the Stratosphere and literally get a view of Vegas from all directions. The only better view in the city is probably from the rides on the roof, but you need a lot of what Air Bar is serving before getting on that thing.
VooDoo Rooftop Nightclub
Where is it? 51 floors above the ground -- on top of the Rio
Who to bring: Lately it's a go-to spot for out-of-towners who'll soon be able to ride a zip-line from VooDoo all the way to another building on the Rio's property. It's set to open in November but they're already selling tickets, and a $3,000 New Year's Eve package that includes a ride and (yep) bottle service.
Ghostbar
Where is it? Top of the Palms, baby.
Anything good to drink? The newly redone lounge boasts a chandelier and a fireplace that might put you in the mood for s'mores, which they serve in liquid form by combining marshmallow Vodka & cream w/ a chocolate graham cracker crust, as well as a roasted marshmallow garnish.