We tend to think of life as being punctuated by all the big-ticket occasions—the graduations, the weddings, the birth announcements. While those are obviously important, they're just the exclamation points. It's all the commas, em-dashes, and ellipses in between, so to speak, that provide the day-to-day fabric of life's joy. Things like hugging an old friend, petting a puppy, or taking a walk and feeling the sunshine on your shoulders. (In fact, someone should write a song about that. What's that? Oh, ok, great.)
We all know and love the singular delights of small treats and indulgences. Here are 15 of the best ones.
1. Grown-up hot chocolate
Nostalgic pleasures are inherently comforting—and there's a fun little feeling of transgression when you turn them into grown-up pleasures. Like spiking hot chocolate with Irish cream or rum. The drink remains just as sweet and soul-warming, but a whole lot more fun.
2. A drink (okay, two) at brunch
Brunch is a time for friendly chatter and relaxation, like a mini-vacation. When you add a quality brunch drink to all the good food and great company (and then maybe a second one), well, you're doing it right. Also: The best brunches are the ones that last hours longer than you intended.
​​​​
3. Splurging at the good coffee shop
Sure, you could make your own coffee and save a small lump of cash. But when there's such an incredible coffee shop in the neighborhood, why not splurge once in a while—after all, coffee can set the tone for the day ahead, and that's worth a few extra dollars.
3a. Baileys Minis: A Staycation in a (Portable) Bottle
Small pleasures play a big part in life, especially after a long winter, when Mother Nature tossed up all kinds of obstacles to make things … interesting. Joining the list of life's greatest small pleasures are Baileys Minis, portable, "fridge-ready" 100ml servings of Bailey Original Irish Cream. Pop in a straw or drink straight from the mini bottle—they're perfect for dessert or any time you feel like a treat.
4. Canceling your plans when the weather's miserable
On those nights when you'd rather not trek out into the rain, freezing rain, snow and/or sub-zero cold—as the case may be—a fuzzy blanket and fur-lined slippers are an awful lot more appealing than a dinner out. Every now and then, give in to that impulse to stay on the couch all night. It'll be the right choice.
5. Staying up too late for that one extra Netflix episode…
Sure, you have an early meeting tomorrow, but what happens in the season finale of Stranger Things?! Sometimes you just have to find out—and it's worth every yawn in the morning.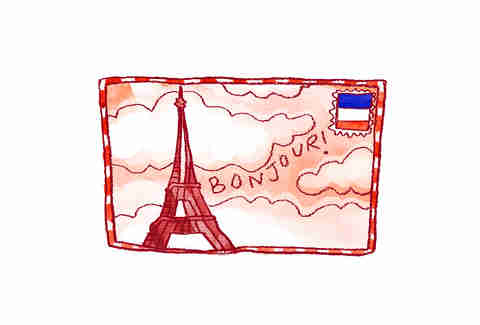 6. Writing (or receiving!) a postcard
Even though we've got Instagram and Facebook to keep tabs on our friends' vacations—sometimes way more than we want to—there's nothing like the old-school charm of a hand-written postcard, whether you're the one opening the mailbox to find it, or taking a few minutes under a big beach umbrella to dash it off.
7. Miniature cupcakes
The only problem with a perfect cupcake? Eventually, you've finished it. The devious charm of mini-cupcakes is that you're allowed to eat more than one (or, let's be honest, more than three) in one go.
8. A decadently early bedtime
Just because you're an adult and allowed to stay up as late as you want doesn't mean you can't climb into bed early—and love it. A ridiculously good, long sleep is a glorious thing.
9. Scheduling a lie-around-the-house staycation
As exciting as travel can be, there will always be some stress involved, whether you're fighting traffic, braving airport security, or fighting off jet lag. Sometimes the best vacation is right at home, no journey required, no packing or unpacking. Feel free to indulge just as much as you would on a "real" vacation…  
10. Not-actually-healthy dinners
Of course it's good to eat plenty of protein and leafy greens, but every so often a wildly unhealthy dinner is just what the—well, maybe not the doctor, but the happiness gods—ordered: A bowl of ice cream, an entire cheese plate, a heaping stack of frozen waffles. Or you could go with a childhood comfort food, like mini grilled cheese triangles, or bright orange mac and cheese and nothing else. (And don't be fooled by the serving size on the box—it's totally reasonable to eat it all yourself.) Anything can be a dinner, if you call it one!
11. Found money
That feeling when you pull on a winter coat you haven't worn in a while, and find an old, crumpled bill you totally forgot about. Sure, it might just be $10—but that's $10 more than you had a minute ago!
12. A way-too-long hot shower
A good shower is transformative, cleansing of not only body, but also soul and mind. So go ahead and ignore that responsible inner voice every once in a while, and stay under the hot water until you're good and ready to come out, until your fingers are pruny and your bathroom is one big sauna.
13. When the radio knows the perfect song you want to hear
Even if we can now play almost any song ever recorded, courtesy of the phones we're all attached to, there's a certain magic when the old-school medium of radio cues up exactly the right song for the moment—like it can read your mind. (In a good way.)
14. Dessert cocktails
When your meal wraps up and you find yourself wondering if you want another drink, or something sweet—why not have both? Dessert and cocktails are a match made in heaven, satisfying your sweet tooth in a totally indulgent way.
15. Donut holes
Donuts are tasty enough, but adorable, bite-sized, pop-em-in-your-mouth donut holes are next level: every bit as delicious, and way cuter to boot.