You're already totally on top of all the best drinking holes in this town -- we would never imply that you weren't. But there's this spot South of the river (said in hushed tones so as not to spook anyone) that you should add to your regular drinking schedule. Battersea is way more then just a sexy, disused power station -- it's actually loaded with some fantastic drinkeries that'll leave you wondering why you ever paid W1 prices when this was an option. Trust us on this. Head South. Their booze isn't going to drink itself.
The Draft House Westbridge
There seems to be an ongoing debate on what's better at The Westbridge, the food or the bar, but frankly with a whopping 150+ regularly rotating beer list, we're putting this one securely in the watering hole category. The owner is still super-hands on -- with every detail thoroughly thought out and carefully placed, from the George Best pic labeling the gents' loo, to the He-Man wallpaper (it's not ironic, it's just awesome), and he will happily bend your ear while walking you through the various ales on tap and craft bottled beers. With a view overlooking the Battersea Bridge, the outside tables are pretty great for Summer, too.
Le QuecumBar
Surrounded by council states, Le QuecumBar seems a bit out of place. Low lighting, candles, rustic wooden tables & chairs, live Gypsy jazz, and a lot of wine. This spot may feel a bit like a trip to the 1930s, but roll with it -- their wine list is solid and the food can completely hold its own. Known as a date spot, things get a little interesting after 8pm when a live Gypsy band graces guests' ears.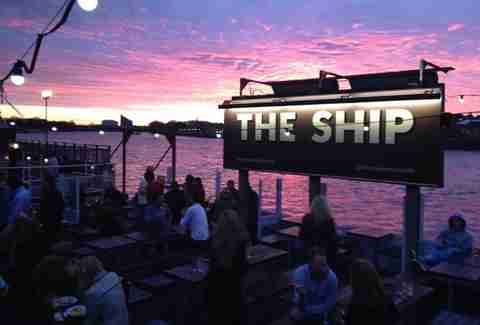 The Ship
Despite the slightly odd location -- tucked behind a McDonald's -- The Ship is considered one of the best pubs in London -- even for those slightly scared of going South of the river. And to be honest, it really ticks a lot of boxes: a nice round bar inside with a great selection of beers and even a few simple cocktails, a freaking awesome outside area right on the water with epic BBQs complete with its own outside bar, and a proper dining area and banging regular food.
The Prince Albert
This is a perfect spot for the Sunday afternoon, beer drinking, chilled out, dog-accompanied set. The crowd leans towards the young family inclination, but there's a solid craft beer selection to keep things interesting. Plus, there are a couple of pugs running around, because what's not to like about that?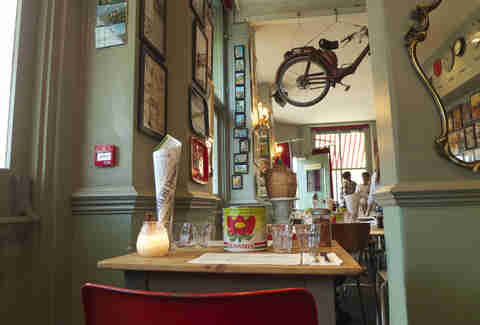 Bunga Bunga
What starts as a tongue-in-cheeky Italian pizzeria with random performers (opera singers, Elvis impersonators, etc.) gets better with a gondola-shaped bar, and then turns things up a notch as it turns into an all-out debauched crazy party complete with DJs, burlesque dancers, and karaoke. The crowd leans a little towards the rah Chelsea set, but with massive sharing cocktails served in disco balls, Pisa towers, and ceramic Fiats? Just go with it.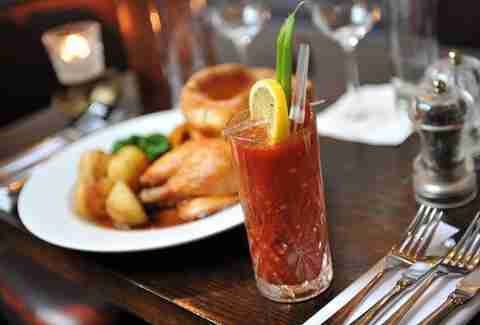 The Lost Angel
Head here for £5 cocktail happy hours (that are actually awesome), unlimited Bloody Mary brunches on Sunday, and kitschy decor (note: trumpet lights, a white London phone booth, mannequin legs -- you get the idea). Gin is their main poison, but they have a decent ale and wine list as well. Head down on a particularly nice day and try to grab a spot in their garden.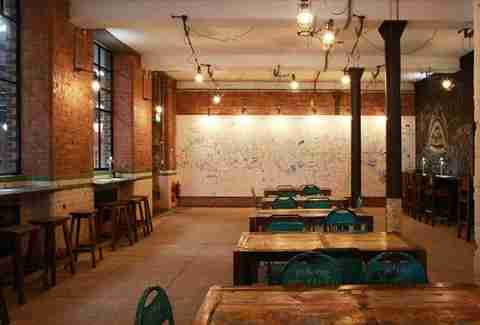 The Doodle Bar
So this isn't just a name. At Doodle Bar you are encouraged to draw on everything -- furniture, walls, the staff -- so come armed with chalk and sharpies. A "pop-up done good", they've become known for cheep booze, ping pong, and excellent street food, so if that's your thing, this is your new favorite bar.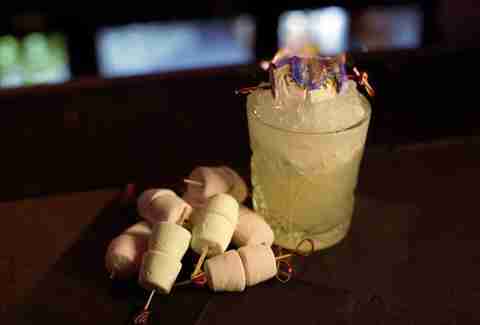 The Southsider Cocktail Club
Covering all the basics with exposed brick work, red leather booths, and street art, this little sister to 64th & Social is a haven for cocktail sippers who want something a little more experimental for their taste buds. With a repertoire of inventive ingredients like bacon dust, beef jerky-infused whiskey, and liquified butter, SCC loves a good challenge, but is still fine to stick to classics, if that's more your vibe.
The King of Ladies Man
This hidden bachelor pad behind the launderette at the back of The Breakfast Club is in fact, a great spot for '70s-style cocktails and swagger. It's all very tongue-in-cheek, but that's its charm, so quit your eye-rolling and get a drink.
Powder Keg Diplomacy
From a group of ex-Lost Society bods, this drinker/diner celebrates everything about the empire's apogee, filling itself with ornate Victoriana, portraits of the young queen, gramophones, leather-bound seating, a huge conservatory, and a map of the colonies from back when the sun never set on them. Drinks are similarly inspired, with British micro-brewed beers, Victorian-inspired cocktails, and a wine list from the colonies.