A hidden bar inside a launderette
So The Breakfast Club has now opened on Battersea Rise, but if you want to detain yourself beyond mere morning belly-fillers, then take a wander round…
At the back, there's an ordinary launderette -- a typical sight in London cafes.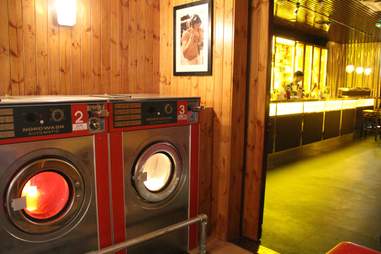 But wait! The wall slides back to reveal a hidden bar: The King of Ladies Man. Things will get a little dirtier from here on out.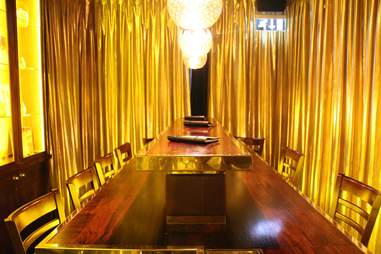 It's got a '70s theme, not that the liberal use of gold lamé didn't tip you off.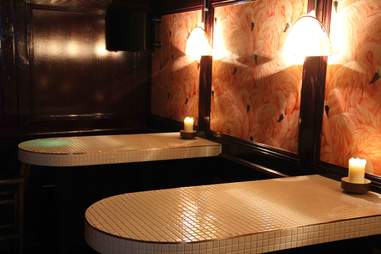 Yes, those are flamingoes on that wall, guaranteeing you'll always be drinking with plenty of fine-looking birds.
At the bar, front-and-centre, they've placed a vintage, stained-glass Freudian slip.
You know what? We've changed our minds. Henry Cavill was miscast.
All bartenders wear Hawaiian shirts. Wait, that's supposed to be a '70s thing? Uh oh.
Say "Aloha" to one of them, and they'll make you this glorious thing, filling it w/ rye, advocaat, banana & mango.
The list of disco drinks goes on, with this Thai Green Colada, mixing coriander & coconut rum -- others include the Wallbanger w/ vodka, peat whiskey & marmalade, and the Mr Miyagi, whose seaweed-infused vodka you may well wax on about.
To soak it up, they have an entire cheese menu (from chorizo & gruyere toasties, to pulled pork & applewood pot noodles), while from this century, there's a list of constantly rotating craft beers. Think that sounds good? Join the Club.