Londoners don't even know how spoiled for choice we are when it comes to great drinks. The rest of the world looks at our sea of delicious watering holes with envy. Fact. Of course, this also means we are faced with one of the world's most wonderful problems: given our cornucopia of options, it's hard to know where to start, so we've helped narrow it down for you. While our hotel bars kill it, and our pubs & locals can probably one-up each other for days, these are the absolute best London cocktail bars you should be drinking in.
Bethnal Green
Coming from the same cats who brought you The Hemingway and Hunter S, this place just oozes cool. Dark slatted shutters betray little of the outside, but once you're in, you'll find candlelit tables, strange taxidermy, old-school hip-hop, tasty snacks, and mind-blowing drinks. These guys were at Milk & Honey in its heyday and really know their stuff, treating you to a classic-heavy, daily-changing menu filled with drinks you know and drinks you'll never forget.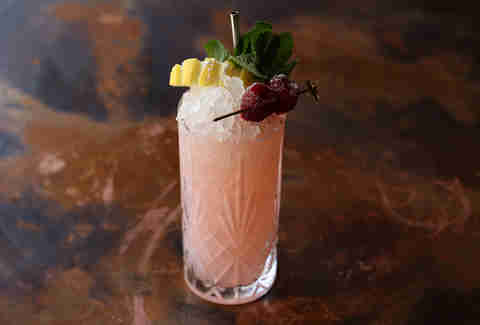 Soho
Housed upstairs inside Jason Atherton's Michelin-starred Social Eating House, this cocktail bar is way more than just a waiting pen. Filled with dark wood, leather booths, and paneled ceilings, this place offers up creative cocktails, frequently with puntastic names and atypical inspirations. We recommend ordering The Silver Screen, which is comprised of popcorn-infused Buffalo Trace bourbon, a "bespoke-a-cola" reduction, "3D" bitters, and lemon oils, served with a tiny striped bucket of popcorn pinned to the glass.
Clerkenwell
On a particularly bleak stretch of road between Farringdon and Old St, this tiny, converted pub shines like a beacon of drinks against the dark night. Featuring frosted windows, Art Deco-influenced decor, and a drink list that would take you a month to drink through, these guys really mean business. It's no surprise that the folks at the helm are formerly of The Nightjar and The Connaught; everything is presented with elegance and an abundance of picture-worthy garnishes. The best part: the drinks taste as good as they look.
Brick Lane
From a merry band of award-winning bartenders, this is a place where the craft is taken seriously, but without pretension. Drinks are served in Chinese take-away boxes, wellies, and mouse traps, with tongue-in-cheek jokes, mood-changing lights, and general feelings of good cheer. While the menu itself changes fairly often, it's always filled with surprises, like the Apairoteef, a cocktail armed with pisco, a lemon and cardamom infusion, lemon, white balsamic, sparkling wine... and a pair of teeth.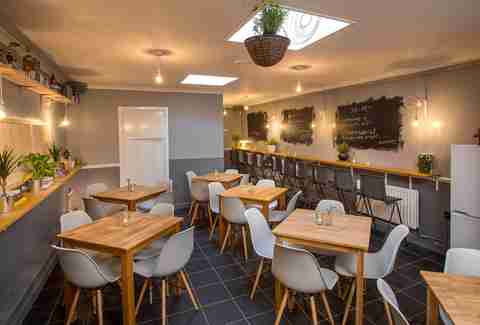 Brixton
With a bar that looks more like a kitchen laboratory than a spot for churning out ingredient-centric libations, this tiny space is all about loud tunes; fresh, unusual flavours; perfectly formed bites; and a big sign that Brixton is changing. There's lots of fancy infusions, washes, and esoteric spirits lurking on the menu, notably in drinks like the Brixton Buyers Club, with Gin Mare, pineapple, sage, cardamom bitters, pineapple shrub, lime, sugar, seltzer, dehydrated ham, and pineapple chunks.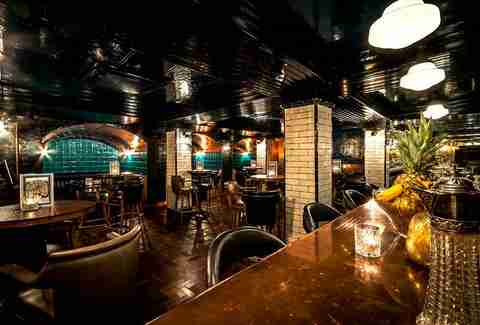 Brick Lane
While you have probably earned meat sweats at one of the Hawksmoor temples of steak, you need to check out its basement vault of all things boozy: it's a showstopper in its own right. While the whole group does great drinks, this den gets some special attention, with a regularly changing extra menu that sits perfectly next to the Hawksmoor classics. Pro tip: the food served down here is also incredible, so order up.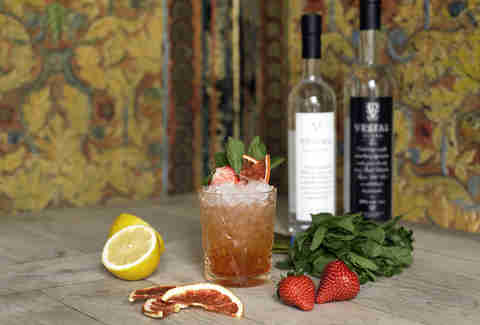 Kentish Town
Opened in a former Victorian public loo, this quirky neighborhood bar has few remnants of its former occupants. Instead, find a microdistillery making Highwayman gin (only 16 bottles a day), disco balls in toilets, and crazy-tasty drinks made with a side of fun. The menu changes a bit every day, using ingredients from local allotments, but it's hard to go wrong here, thanks to cheekily named drinks put together with flair, like That Fire Drink (which, obviously, catches fire), Manga-hattan (with a seaweed infusion), or the Leprechaun Goes To Chinatown (with Irish spirit Bán Poitin and Asian spices).
Clerkenwell
Combine neon lights, hip-hop beats, and vending machines with super-slick service and inspired drinks, and suddenly you'll be transported to a Tokyo nightlife-inspired world. Headed up by bar manager Geoff Robinson, who previously worked at Library members' club, Happiness Forgets, and Experimental Cocktail Club, this den hangs on the edge of sophistication and debauchery... which kind of makes sense, given that it's under Jason Atherton's seventh London venue, Sosharu. Grab hold of the Cold Tea with Nikka blended whisky, house "tea," and toasted coconut, or the Vancouver-influenced Gastown, with mezcal, Fernet Branca, Cynar, maple syrup, and bitters.
Islington
Officially called "the bar with no name," this small-but-perfectly-formed space is helmed by Tony Conigliaro, godfather of the London cocktail scene, who's decked it out with a classic '50s-Italian-Riviera feel. The drinks themselves all feel timeless, yet there's plenty of science going into their creation, with ingredients and methods developed in a lab by Broadway Market, including the Manhattan Steel Corp., a Manhattan twist with "Dry Essence."
Shoreditch
This staple of the East London cocktail scene is actually three bars in one. Up front, you've got a bustling fun party where PYTs down gorgeous drinks that come out at surprising speed. Next up, head through the wardrobe at the back (yes, really), and find a '70s-styled lounge perfect for gathering a crew to sit and Instagram drinks like the Tall & Oats, served with El Jimador blanco tequila, Pedro Ximénez, Angostura bitters, oat horchata, and a caramel waffle. As if that's not enough, hidden in the back of the lounge, you'll find a velvet-lined staircase that leads to the Jub Jub, which you'll enter via secret (and daily-changing) door code. The bartender changes every six weeks, giving this place free reign to design a specialty menu and theme all their own.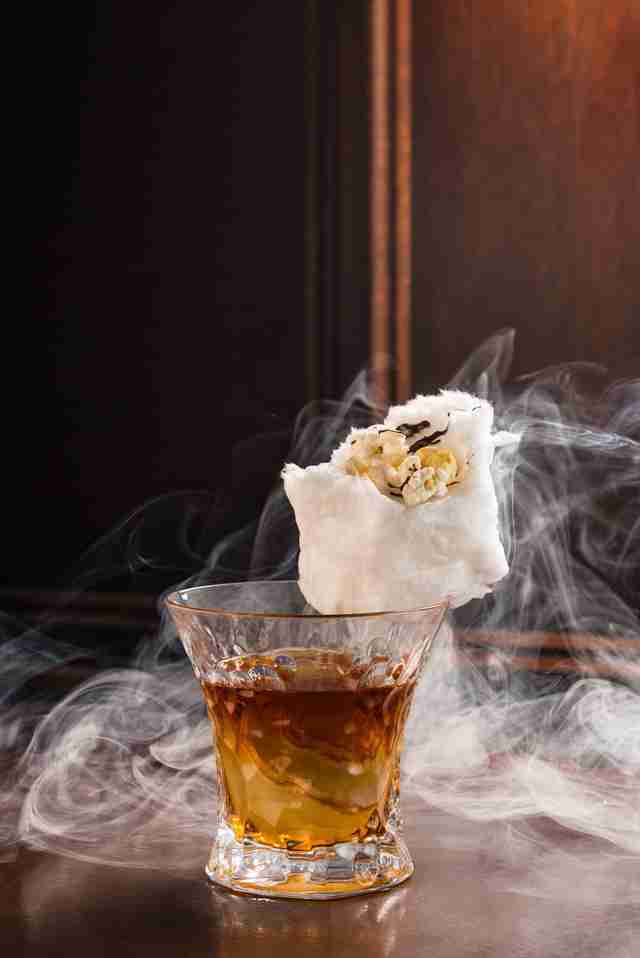 Shoreditch
This extremely well-hidden, but not-quite-secret, speakeasy takes its pre-Prohibition-era theme quite seriously, with red walls, brass fittings, an Art Deco ceiling, mirrored friezes, and a wooden dance floor that roars with the sounds of vinyl and live ragtime piano. The bartenders, meanwhile, have gone to "extreme lengths" to procure obscure original sources/ingredients for their frankly amazing drinks, which include numbers like Beyond the Sea, which brings you Gin Mare, oyster leaf infusion, fino sherry, pink grapefruit, plankton air (whatever that is), and ume & yuzu salt, all served in a massive sea conch. Naturally.
Hoxton
This low-key basement number set the bar for what a bartender owner/operator should strive for when opening a spot. Opened by Alastair Burgess, who worked over in New York at constant hotspot Pegu Club for a while, this is a true neighborhood cocktail bar where the drinks are inventive yet simple, lovingly made by passionate bartenders, and consumed by regulars, cocktail aficionados, and off-duty bartenders alike. This is also -- perhaps dangerously -- the kind of spot where you'll stop by for a Perfect Storm (a twist on a Dark & Stormy) and find yourself several bespoke drinks in a few hours later.

Sign up here for our daily London email and be the first to get all the food/drink/fun in the capital.