Unless you're a total baller, chances are good that your bank account occasionally just gives you an angry, hurt look when you check its balance. Living in London doesn't help matters -- we are living in one of the most expensive cities in the world, after all. Luckily, there are plenty of bars around town that can help you forget about the state of your finances... while not taking a massive toll on your remaining funds.
Hoxton
Down on the scruffier bit of Hoxton High Street, this understated cafe and bar is known for its killer brunches, Asian-inspired small plates, and delightfully cheap happy hours. Snag a curbside seat and sip on two cocktails for a tenner while watching the neighborhood dig in its heels against gentrification.
Shepherd's Bush
Sitting practically in the shadow of the Westfield behemoth, this Young & Co pub has a super-solid and surprisingly diverse beer selection, while being handy with their cocktails, as well. A great place to escape the shopping zoo or meet up before a gig at the nearby O2 Shepherd's Bush Empire, this spot also runs a pretty nifty happy hour from 5pm-7pm Mon-Sat, and 5pm-11pm Sunday: if you buy a cocktail for £8, the second one is only a quid. Bosh.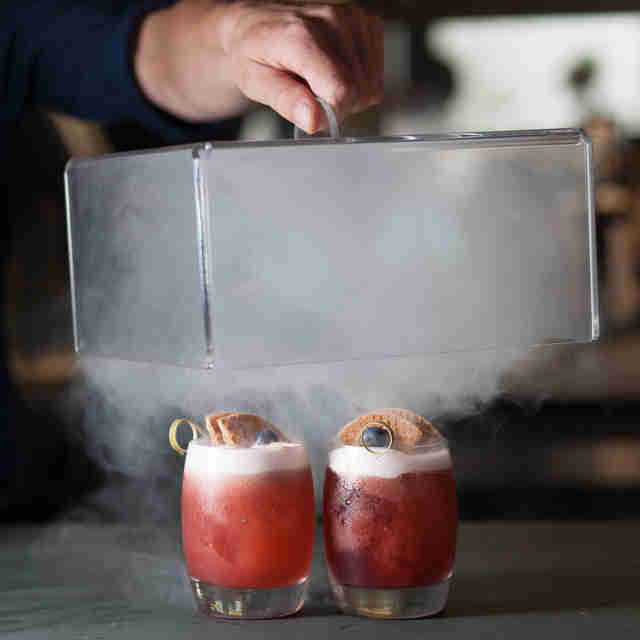 Farringdon
This award-winning cocktail joint has somehow been flying below most people's radar for a while now, which is honestly just silly. The concoctions here feature a lot of tinkered-with ingredients -- there's infused-this and dehydrated-that -- it's in a great location, and the decor is quirky yet swanky. Making this bar even better: its two-for-one deals Mon-Fri till 10pm. Ten o'clock, people! At that point, you should really just call it "Happy Night."
King's Cross (& other locations)
Simmons' growing empire is comprised of guilty-pleasure bars that can't stop, won't stop, with old-school games, kitschy neon, mismatched everything, and a ridiculous happy hour that makes you wonder what the markup must be the rest of the time. For a beautiful five hours (between 4-9pm, Sun-Fri), beer, wine, and a rail cocktail are all available for a ridiculously low £2.50. You can also go all in for a bottle of wine for a tenner... or if you're feeling extra celebratory, throw in an extra fiver and make it prosecco.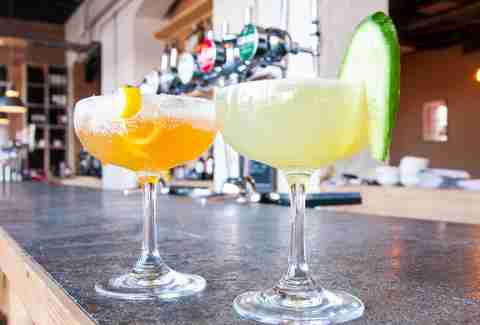 Stratford
Sitting on the banks of the Three Mills Wall River, this converted warehouse space is beautifully removed from the crowds of central London. On Fridays between 6-9pm, claim a spot on their expansive waterside terrace, check out a rotating cast of DJs, and sip two-for-one cocktails, like their The Print House Island Mule, which is made with fresh chilis.
The City
While the land of suits and day walkers might not be your first thought for delicious cocktail hours, this bi-level spot tucked on Queens St is set to change your perceptions. It feels a bit like it was transported from Dalston, with neon artwork, graphic prints, edgy-yet-comfy booths, and a food and drinks menu that has a bit of serious R&D behind it. Head over between 5-7pm, when they'll make your bank account feel better with a £4.50 cocktails, beer at £3.50, and a £10 discount on champers.
Shoreditch
Sitting on the edge of trendy east London and desk life City, this cavernous dim sum spot has been doing its delightful thing for years. While the daytime service is pretty lackluster and the decorations are a little tired, their happy hour can't be beat: £5 cocktails and £10 buckets of beer from 5-7pm Mon-Fri, 6-8pm Saturday, and all Sunday long.
Liverpool Street
Set underneath the Breakfast Club in Spitalfields, Mayor's is actually accessed via a fridge hidden at the back of the cafe; pull open the door, then climb inside and down some stairs, and find a brick-walled, moodily candlelit space. Cocktails include their Purple Rain, made with pisco, Kamm & Sons, grape syrup, and Champagne -- only a fiver a pop between the hours of 5 & 6pm every weekday.
Fitzrovia
You may have a few, very hazy memories of this spot from your student days (or last night, we don't judge), but when the lights are up, this joint is actually a super-slick number. The happy hour lasts from 5-8:30pm every night, and you can snag half-priced cocktail pitchers and bottles of wine, as well as two-for-one beers. If you feel like breaking a sweat, drink a couple rounds and stay for the club nights, which have crazy drink specials early in the week -- the DJs spin Indie, pop, and electro.
Shoreditch
While all the Barrios have pretty epic Happy Hours, East wins the grand prize with its large space (bring a crew), marble bar top speakeasy tucked away in the back, and a favela-chic area up front that houses an entire caravan. East makes some globe-spanning cocktails, including favorites like the tequila/pomegranate Hand Grenade, or the rum & mango-fueled Tropic Plunder, which are available during their "Amigo Hour" for a mere £4.5 from 4-8pm... which is essentially the first half of the night.
Islington
This place has been truly trussed up like a classic US-style dive, featuring vintage band posters peeling off the walls, diner booth seating, and a customer-controlled jukebox. They are seriously on-theme behind the bar too, with a happy hour that brings you two-for-one cocktails and non-premium (that is, below 4.2%) beers for just £3 between 5-8pm Tues-Fri and 5-10pm Sun & Mon. Of course, if you want a completely free drink, and you happen to be a girl wearing a bra, then you're in luck! According to official bar policy, just take it off, hang it from the ceiling, and it won't be the only thing that's on the house. Where you can find a decent-quality replacement for under £3, however, is beyond us.
Shoreditch (& other locations)
With LCC's popping up everywhere, it's getting easier and easier to find killer cocktails for wallet-friendly prices all over town. Each location has its own personality and slightly different HH hours, so find your favourite and head down to drink half-priced or two-for-one cocktails from their massive, classic-centric menu.
Brixton (& other locations)
Part colourful, upscale beach shack, part dark-wooded ship's quarters, here you'll find a predominantly rum-driven cocktail list including a Navy-style grog and a secret-recipe house punch named the "Rattle Skull." Come for two-for-one weeknights from 6-7 pm and because these drinks aren't expensive to begin with, you're looking at a mere £4 a pop during happy hour.
Battersea
Perched along Battersea Rise, the appropriately named Southsider is the younger sibling of Clapham award-winner 64th & Social, with a more laid-back vibe, filling itself with lounge chairs, fireplaces, and a frankly amazing cocktail list. Start off with a Tinkerbell (a yellow Chartreuse and absinthe sour with grapefruit juice) or their pumped-up Aperol Super Spritz (like the classic, only better, trust us). Delicious, well-balanced cocktails like these will set you back just a fiver if you get there between 5-8pm.
Sign up here for our daily London email and be the first to get all the food/drink/fun in the capital.