Courtesy of DF / Mexico
Courtesy of DF / Mexico
Heading into eight months of winter in London can send even the sanest person into a desperate need for a holiday somewhere tropical. While that flight to the white sandy beaches and palm trees might not be in your cards at the moment, having a margarita in hand certainly helps create the feeling of sun on your face. Bask in that tequila-fueled, vitamin-D-inspired glow with one of the absolute best margaritas London has to offer.
Covent Garden
From Tomas Estes, master tequila ambassador to the world, this long-standing Mexican cantina is on the more authentic side, for London. It leans towards Tex-Mex, with big flavours rolling around in those sizzling fajitas, and a million different kinds of tacos (like, almost literally). The classic margaritas are the real get here: order by the small glass, large glass, small pitcher, or go big, and get the pitcher that's meant to be shared with eight friends.
Soho
Give yourself a strong base of burritos and enchiladas at the ground-floor eatery, surrounded by Baja Californian kitsch and a million bottles of sweat-inducing hot sauce, before starting to work your way through the genuinely remarkable tequila list that's been compiled. Put together by the late, great cocktail genius Dick Bradsell, the selection is one of the best in the UK. If you feel like tempting your inner agave demons, be sure to make your way down the (very) steep stairs to the basement cocktail bar. Just be prepared to let your hair down -- to say it gets debauched down there is an understatement.
Soho
Split into two areas -- an ultra see-and-be-seen restaurant accessed via a fake sex shop, and a street-level cafe -- this New York City transplant was opened with some assistance from The Box designers, and instantly became a hub of A-lister activity. Thankfully, some of the hullabaloo has calmed down, but the delicious libations are as strong as ever, with the 'rita selection leading the way with classic, frozen, flavoured (black currant, anyone?), and premium.
Westbourne Park
This odd little hipster cantina has been not-so-quietly serving up modern Mexi fare and tequila shots to the local community for years. Expect a surprisingly excellent, generally staff-picked soundtrack, lasers (yes, really), and even a downstairs stripper pole, as well as a great spirits selection and super-fresh margaritas. Given that it comes from restaurateur Tom Conran, it comes as no surprise this place gets pretty mental on the weekends.
Angel (& other locations)
Inspired by a trip to South America, these bright, kitschy bars are all about la fiesta. They have a ridiculously good "amigo hour" (£5.50 cocktails! £3.50 beer!), crazy DJ'ed parties, and more tequila than you should sample in a week, much less an evening. These are great spots to bring your best mates and just throw down.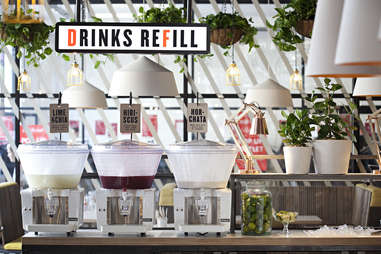 Fitzrovia (& Brick Lane)
Think of this as Wahaca's trendier little sister: fast-paced, cheap, tech-savvy, and a bit confusing at first. You order via an iPad system (thankfully with a couple staff around to help), and food and booze are brought out to your table. It has a great selection of frozen margaritas, with the classic lime sharing the spotlight with flavors like passion fruit and raspberry & hibiscus -- both of which pack a serious punch. Plus, there's a bottomless/self-serve aguas-fresca station, which is pretty excellent… and maybe necessary after a drink or two.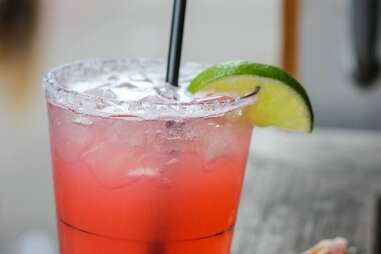 Euston
Despite featuring the authentic homestyle cooking made in many Mexican kitchens, there's not a foil-wrapped burrito in sight at Mestizo, and certainly not any brightly coloured tat littered about. Instead, find dark red walls, gaudy chandeliers, and an extensive selection of agave that'll leave you feeling like a kid in a candy shop. The margarita menu is filled with nearly 10 options, including the Cadillac, which features Reposado Tequila, Grand Marnier, agave syrup, and fresh lime.
Sign up here for our daily London email and be the first to get all the food/drink/fun in the capital.
Haley Forest is a food & drinks writer who loves mixing it up and substitutes mezcal in her 'ritas on the reg. Follow her adventures at @HCForest.