Pork belly-topped hot dogs & a ping-pong roof terrace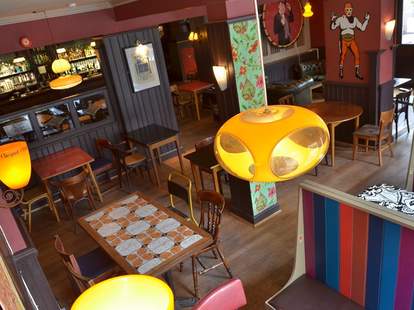 The boys behind East London's excellent Sebright Arms are now ensuring it's always Miller Time (don't worry, that doesn't mean they're keeping you from craft beer) in London Bridge by colourfully revamping & relaunching The Miller, a boozer that they've given a new life full of encased meats and rooftop ping-pong.
Besides a new lick of paint, they also had the balls to give the place a "ping-pong roof terrace", a rehearsal space for bands in the basement, and a live stage above the bar for nightly live acts.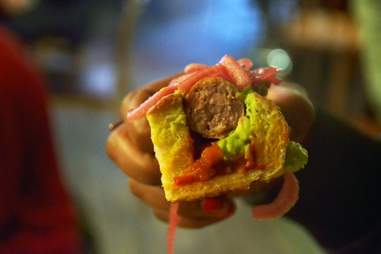 They've snagged Street Kitchen to cook up a menu of hot dogs whose bite is definitely better than their bark. This is the Basque Terrier (that's picked red onions, chorizo salsa, guac, and jalapenos you're seeing), or you can get a Boston Hound (w/ pork belly & crackling), or a Highland Terrier (a smoked salmon fillet slathered in horseradish mayo).
On the subject of man's best friend, hit the bar to fetch yourself Flying Dog's Raging Bitch, or Doggie Style Pale Ale, or perhaps BrewDog's Hardcore IPA -- the whole menu's not dog-related, but it just so happens that great craft beers tend to have canine names... though there are equally tasty non-canine selections from Partizan, Anchor, Brooklyn, and others, but again -- despite the name -- there's no Miller to be found.