They say alcohol is a great social lubricant, which makes The Craft Beer Social Club pretty much the most lubricated place in the city (outside of Soho) -- proudly repping the UK's 800 micros, they're popping up starting September 20th, and taking up residence in Shoreditch High Street. So why go? Ahem, to wit:
Recommended Video
You Can Now Get Artisanal Twinkies Delivered to Your Door in NYC
1.They have 5.5k different beers
Seriously. And all of them are from the UK, repping such gloriously named hop-houses as Titanic (no ice with that, please), Quantum Brewery (there's no uncertainty as to how delicious they are), Humptey Dumptey (they do a cracking porter), and the Moor Beer Company (which you'll want... moor of). If you have an itch for a particular one they somehow don't stock, let them know and they'll even special order it in.
2. You can claim your seat
They do in fact have table service, and you can make a reservation! At a pub! Insanity! Also, highly advisable.
3. Get knowledgeable on the cheap
At their bi-weekly tasting club, you can try 10 different snack-pared beers for a mere £22, or hit up one of their "Aroma and Flavour Appreciation" masterclasses -- the next one will cover hops & malt, and's specifically designed for "people with little or no knowledge about beer".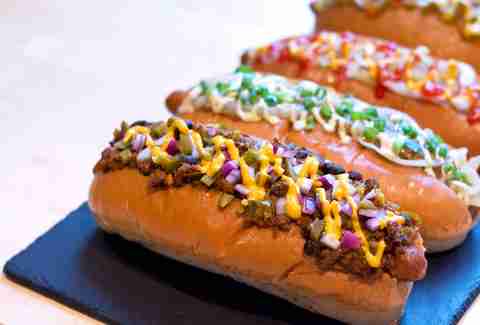 4. Awesome eats
Each week, they'll play host to a different street food trader; think squirrel pies from Jack Horner, lobster burgers from Shellfish Eatery, Colonel Tom's Gumbo, hotdogs from The Mighty Fork, and more. The opening weekend they're offering a menu from Primal Feast w/ the likes of zebra, kangaroo, and llama.

5. Free!
Well, you have to pay for the drinks, sure, but to there is no minimum spend, no charge to book, and nothing to pay at the door.
6. You can be picky
You love beer! Your partner in crime hates it. No big, as these dudes aren't total snobs, and have spirits as well. They just want to make sure everyone's well lubricated.