London gets a Craft Beer Festival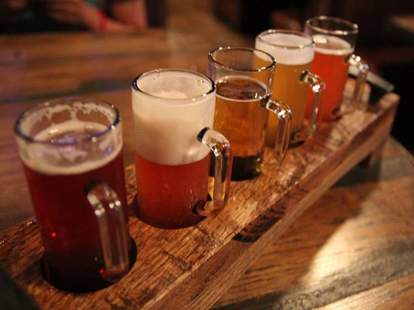 London must have been on its best behaviour lately, because it was just gifted its biggest & best craft beer festival to date, with three days of Europe's top hops being celebrated with the support of tasty pork sandwiches and live music poised to hit Bethnal Green, so expect all that good behaviour to be short-lived.
A ticket will net you not only "entry to the festival" (gasp!) but also a branded glass, and "a beer from every brewer" to go in it (wow -- actual gasp!).
The 18 hop-smiths will include locals like Camden & Beavertown (who make their dam-fine range of brews in an East London BBQ resto) as well as connoisseur faves like Mikkeller, Magic Rock, and BrewDog.
Because your belly will be getting jealous of your liver, they've arranged for a massive BBQ supplied by the folks at Ginger Pig, putting out the likes of huge, beer-glazed jerk burgers which will ironically prevent you from performing any sudden movements.
Oh, and there'll be beer ice cream from the dudes at Gelupo (maybe it'll cure its own brain-freeze?).
And, to add to the score, they'll be having a huge stage w/ nightly DJs and over half a dozen bands, with cool names like the above "Mamma's Gun", and "Fiction", who'll hopefully be no stranger to you come festival time.