The Swiss Army knife of bars from the Queen of Hoxton folks
Although most stories on Broadway are primarily confined to singing, dancing, and (apparently) Mormons, the folks who brought you The Queen of Hoxton & The Book Club are now bringing you Stories -- a multi-use drinkery on Broadway Market bringing you way more than just musical theatre. Actually, there's no musical theatre, but there is a bunch of other stuff
Work Space: They've bussed in large communal tables, tons of plug sockets, lounge areas & free Wi-Fi specifically for freelancers to mercilessly exploit with glass-after-glass of tap water
Pub: But you'd be remiss not to reach for more substantive beverages. Taps are pouring Brooklyn Lager & Green Goblin (oak-aged cider that hates that cursed web-slinger!), plus innocent-looking "spiked juices" like this milk/ bourbon/ honey number that... has no actual juice in it
Cocktail Bar:Evening-time sees them busting out the more sophisticated intoxicants such as this tequila, raspberry, and coffee-laced creation called the Shaggy Dog (get it?).
Restaurant:: The kitchen's putting out all-day eats like a prawn cocktail burger (yes, you read that right), Pigs in Blankets (American sausage rolls), and this bloody delicious chimichurri & panko-fried chicken drumstick.
Gallery: The walls will see rotating exhibitions from local artists, with the debut seeing stuff from Hattie Stewart, with Haring-esque sandwiches, plus naked ladies sadly deemed too hot for your screen. But they're there. Oh, they're there.
Events Space: They're using the communal tables for their regular "Thinking & Drinking" events, from a weekly Meat Raffle to a night of cider & cheese, the latter of which Broadway is no stranger to serving up.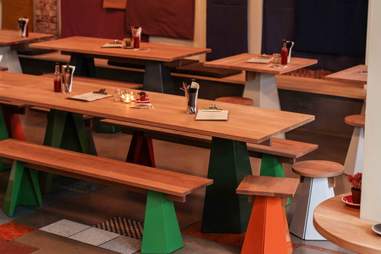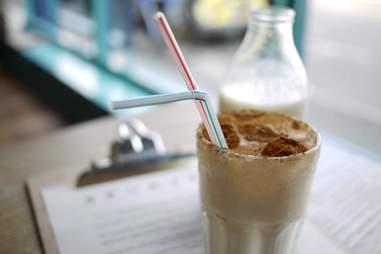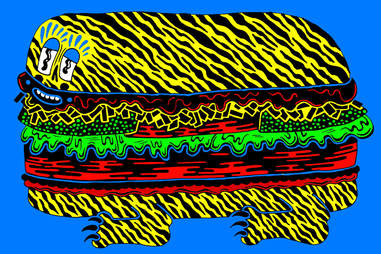 Hattie Stewart