Introducing London's first video game bar
If video games have taught us anything, it's that there's no better way to restore your health than drinking random potions you literally just find lying around. Now finally bringing you those potions, and the games that inspired them: Meltdown, London's first "eSports" bar (yes, eSports are a thing now).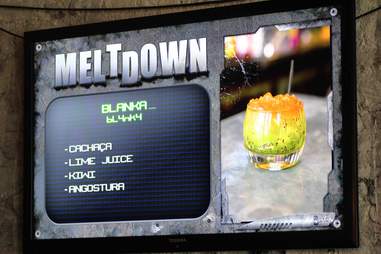 So there are already two Meltdowns on the continent, in Berlin & Chernobyl Paris, and all three have the same awesome drink list, which is transmitted to TVs above the bar and features strictly game-themed bevs like this spot-on Blanka, from Street Fighter.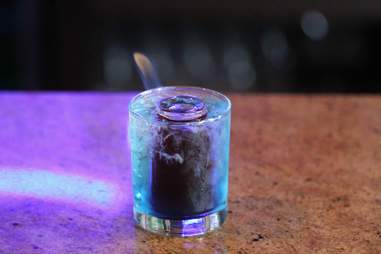 Also on the list, you'll find the likes of this Force Field, which'll destroy your defenses w/ a red martini-filled shot-glass that's been inverted into a tumbler, which itself is filled w/ Blue Curacao, vodka, and rum, then set on fire.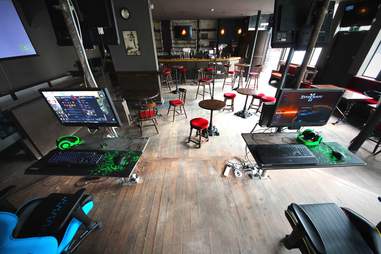 The games? Well, you can go hardcore, and play the likes of Starcraft & League of Legends front & centre at one of these two battle station-appointed rigs -- pool table rules apply if you want to get on one.
Or, if you're into something more casual, hit up one of the Xbox 360s for fighting games like Injustice & Street Fighter, the omission of which would be the real injustice, especially when they're hawking Blanka cocktails.
If you're old-school, they even have a pair of hefty arcade controllers, though if you're old enough to remember arcades, then restoring your health might be a little more problematic.