In London, beer has been a staple of life pretty much since the city was founded... which was, in case you forgot, a really long time ago. Yankeeland wasn't even a twinkle in good old UK's eye when Londoners first started knocking back pints like it was going out of style. Go and soak up some history in these ridiculously old pubs -- while you soak in some good old-fashioned booze.
Limehouse
Founded: 1583
Currently owned by Sir Ian McKellen, this was once one of the more dodgy pubs in the area -- a place where murderers, thieves, and watermen would take advantage of drunks to reappropriate their belongings and ditch the bodies (dead or alive) into the river. These days, it's a bit nicer, with plenty of rustic charm and lots of beer.
Hampstead
Founded: 1585
Perched on the edge of the heath, the literary world owes The Inn a lot of favors: Dickens mentions this pub in The Pickwick Papers, Bram Stoker included it in Dracula, and it was frequently a spot for drowning the artistic woes of Byron, Keats, and Reynolds. These days, its massive outside garden space is up there as a perfect suntrap for lazy afternoons.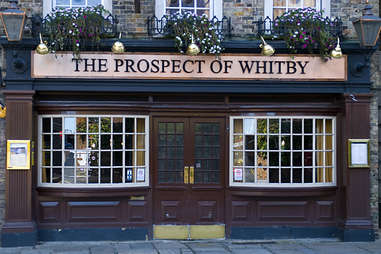 Wapping
Founded: 1520
If you were looking for trouble back in the day, this would be your jam. Loaded with pirates, traitors, smugglers, and thieves, The Devil's Tavern (as it was known) was the local hangout for those looking to take advantage of the pub's prime location on the river. Although it was burned nearly to the ground in the 18th century, shady characters always need a place to wheel and deal, and the space was rapidly rebuilt. These days, it's a bit more tame, but the open plan layout means there's generally space for you to act out your swashbuckling antics.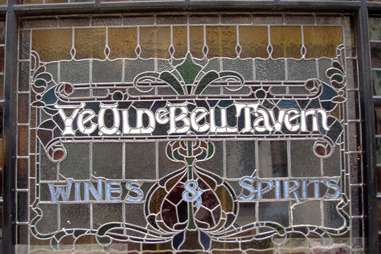 The City
Founded: 1670
Although the name has changed a couple times -- it was once called "The Swan" -- this site has been intoxicating humans for centuries. Even the Great Fire couldn't keep this spot from boozing the public, having been completely rebuilt by architect Sir Christopher Wren as a dedicated watering hole to the hardworking masons who were rebuilding St Bride's Church nearby. Now owned by massive pub group Nicholson, it's lost a bit of charm in the cleanup, but its beautiful, antique stained glass window remains intact.
Covent Garden
Founded: 1772
Up a tiny alley in Covent Garden, this tiny pub was once known as "The Bucket of Blood" for the bare-knuckle fights that would regularly break out amongst drinkers. While the clientele is much more convivial these days, this place gets absolutely packed, with more people spilling out onto the street than inside... the scene is very up close and personal.
Holborn
Founded: 1546
Founded in the Tudor era, this old-school watering hole has really stuck to its roots. Squeeze down the pub's tiny side street, and you'll find a space without music, gambling machines, or rowdy behavior here: the Mitre is mainly a spot for suits and tourists to unwind, knock back a few ales, and soak in the decor... which hasn't changed in half a century.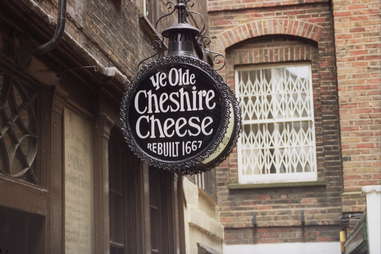 The City
Founded: 1667
While there was a previous pub on this same site since 1538, it's been trading as The Cheese consistently since the late 1660s, with not too many updates. Existing with no natural light inside -- who really needs vitamin D in England? -- the bar has evolved into a series of small rooms over several floors, starting with sawdust-covered floorboards which can soak up beer, blood, and traffic from the outside, just as it had in days gone by. The place becomes slightly more refined the more floors you climb.
Borough
Founded: 1677
Once a coffee house which Dickens visited, the George is one of the last remaining terraced pubs and is absolutely gorgeous from the outside. Originally a coaching inn, the bar itself has multiple rooms filled with paraphernalia from days gone by, like tapestries, maps, and portraits saved and curated by the building's owner, the National Trust.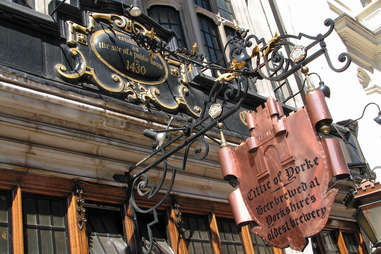 Holborn
Founded: 1645
This location has been a spot for boozing since the 1400's, but the Cittie of York itself has only -- only! -- been sloshing since 1645. The space itself is a mismatch of styles and design, with wood beam ceilings, fireplaces, small booths, and massive ceilings. Be sure to keep exploring in there, as there are a number of hidden bars that have all joined up into the one big complex.
Sign up here for our daily London email and be the first to get all the food/drink/fun in the capital.
Haley Forest is a food and drinks writer who appreciates history, but loves modern libations and their "probably won't kill you" properties. Check out her adventures on all things social at @HCForest.