London's best breweries that you can have a drink in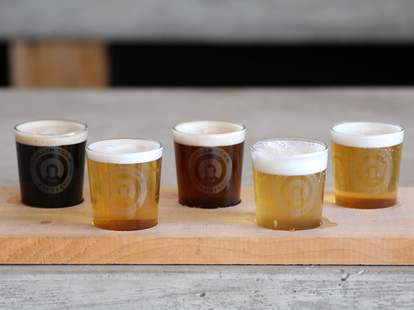 So, London's craft beer scene has taken off. In fact, the number of breweries in the capital has tripled over the last five years -- and when it comes to micro-brews, the best place to get them is straight from the source (seriously, many of them don't have fancy preservatives; freshness is pretty critical). However, thanks to The Man and his fiendish licensing laws, you literally can't organize a piss up at many of the town's breweries... so we took the trouble of tracking down the best spots where it is possible to get a beer literally yards away from where it was made.
By The Horns Brewing Co.
Wandsworth
Started by two friends with a home brew kit as a Sunday morning ritual, the dudes behind BTH soon decided to take the bull... well, you know, and ramp up to a micro where they nevertheless have a pretty decent sense of humor about what they do. Head down to their Brewery Tap where they always have at least five beers on tap & five different bottles available, not to mention a take-away shop.
Beers: Stiff Upper Lip, The Mayor of Garratt, Diamond Geezer, Lambeth Walk, plus seasonals and their Deadly Sins range
Opening Hours: Mon-Wed 12-5pm, Thurs-Sat 12-10pm
Tours: Get a Taster (£10) or the Complete Tour with three pints or bottles (£15) for groups of 5-30 peeps.
License: On and off
Jason Allen
London Fields Brewery
Hackney
Just off the East London paradise that is London Fields, these guys have set up a world of their own -- with a little help from their friends. An all-day affair, they're rocking AllPress Coffee, grub from South West Supper, Sunday jazz, midweek jams, and even a fortnightly pub quiz and even Master Classes, teaching us mere mortals all the ins and outs of the barley pop-making process. 
Beers: Hackney Hopster, Love Not War, Black Path Porter, Shoreditch Triangle IPA, Wheat Beer,  Unfiltered Lager. Plus their Bootlegger series and seasonal brews.
Opening Hours: Brewery hours are 9am-6pm Mon-Fri. The Tap Room is open from 11am-midnight every day.
Tours: Mon-Wed 7pm & 8pm, Sat 1pm, 2pm & 3pm, Sun 1pm & 3pm
License: On and off
Meantime Brewing Company
Greenwich
Having been in the craft beer game since before in was cool, Alastair Hook and his team know what's up. Through the last 14 years, they've been putting out award-magnet beers, including one of the first craft IPAs. Their restaurant, The Old Brewery, which is on the site of their experimental brewery where the magic all happens, also pays homage to around 50 different beers from around the world.
Beers: London Lager, London Pale Ale, India Pale Ale, London Porter, Yakima Red, Wheat Beer, Chocolate Porter, Raspberry Wheat Beer, Pilsner, London Stout
Opening Hours: Cafe 10am-5pm every day. The restaurant is open 6-11pm Mon-Sat, and 6-10:30pm Sun. The bar is open 11am-11pm Mon-Sat and 12-10:30pm Sun.
Tours: At the main brewery they have specific events.
License: On
Jason Allen
Camden Town Brewery
Kentish Town
Located actually a little outside of Camden Town itself, this hop-worshipping band of brewers set out to make a set of beers that could stand up to the best of the craft imports from around the world, and obviously they completely nailed it. Their recent addition of the Brewery Bar rounds out the picture with their entire repertoire on tap and waiting to be drank, not to mention a revolving cast of food trucks.  
Beers: Hells (in several different styles), Gentleman's Wit, Pale Ale, Ink Stout
Opening hours: Thurs-Sat 12-11pm
Tours: Thurs at 6pm for a couple hours.
License: On or off, and they have growlers.
The Kernel Brewery
Bermondsey
You wish you were as passionate about anything as this team of beer fanatics is about its craft. Housed in a Victorian arch south of the river in a food and booze production community, they open their doors on Saturdays (along with most of their neighbors) so you can taste the beer that's so fresh it's literally still alive.
Beers: London Sour, Biere de Table, Table Beer, a whole line on Pale Ale and India Pale Ale, Export India Porter, Brown Ale, Export Stout, Imperial Brown Stout
Opening Hours: Sat 9am-3pm
Tours: Not so much. It's still pretty small.
License: On and off
Jason Allen
CRATE Brewery
Hackney Wick
In a former print factory, this pizzeria and brewery brings together two of man's favourite companions (beer & pizza -- time to step up, dogs), with a focus on local components. While the pizza is pretty standard, it's the seven CRATE brews built to complement it that really shine, plus DJs on the weekends, and regular tastings. 
Beers: Lager, Golden, Pale, India Pale Ale, Best, Cider, Stout
Opening Hours: Sun-Thurs 12pm-11pm, Fri & Sat 12pm-midnight
Tours: Thurs at 7:30pm
License: On
Partizan
Partizan Brewery
Bermondsey
It all started when Chef Andy Smith helped out a buddy over at Redemption, and caught brewing fever. Next thing you know, he's taking over at the former Kernel arch and is brewing up batches of his own, selfishly making beers that he couldn't seem to find elsewhere and just really, really wanted to drink. 
Beers: Cuvee, Pale Ale, Grisette, 8 Grain, Anthanum, X-Ale, Amarillo, FES Stout
Opening Hours: Sat 11am-5pm
Tours: Too small. One glance is all you need.
License: On and off
Brockley Brewery
Brockley Market
After looking at the arrival of so many great bars, restos, coffee roasteries, and of course markets, newly demanding South East locals had to wonder where their local beer was. As it turns out, for maybe the first time ever, the answer to their prayers was Brockley. Having only just opened their doors early last year, these newcomers are still finding their feet, but doing a bang up job of it; in fact their stunning Pale Ale is now being served in the House of Commons bar. 
Beers: Golden, Pale Ale, Red Ale
Opening Hours: Sat 10am-3pm and some other random nights.
Tours: Saturdays, and if you ask nicely on other days.
License: On and off
The Earl of Essex
Angel
Don't go thinking the only lands of craft beer exist in East or South. The Earl Of Essex just around the corner from Angel station is waving the flag for the small and flavorsome with an ever-changing list of 20-odd local and international brews. Sure, they're constantly making their own, but they like to share the love of beer, so next to theirs you'll see friends like Tiny Rebel, By The Horns, Damn, Rogue, Camden, and many more. Their food menu is pretty solid, too.
Beers: Red Medicine, Pale Ale
Opening Hours: Mon 3pm-11:30pm, Tues-Thurs 12pm-11:30pm, Fri-Sat 12pm-12am, Sun 12pm-11pm
Tours: Nope
License: On