This is the Circle line. As you can clearly see, it is not shaped like a circle. In fact, it seems to be shaped like a bottle… of craft beer… from the UK. So, in keeping with the country's huge boom in the micro-brewing scene, we've put together a crawl along the Circle/Bottle line, taking in the nation's finest small-batch barley pops along the way.With 27 stations, hitting every one would take a very ambitious liver, so we're going to every other station, making 14 pubs in all. It's a loop, so we/you could begin anywhere, but we have to start somewhere, so, without further ado...
Stop #1: Edgeware Road
Hit The Wargrave Arms, which's hosting the oxymoronically permanent pop-up BBQWhiskyBeer. You're interested in the latter of the options. Drink: London Field's Love Not War.

Stop #2: Great Portland Street
The Albany is right across from the station, and prides itself on its selection of crafts. Drink: a geographically appropriate Camden Hells (because it's close to Camden and not, er, the other one).

Stop #3: King's X
About halfway between the station and Euston Square is Euston Tap, with a selection of 27 rotating taps and 250 bottles. Drink: literally whatever the barman recommends -- he knows more than you.

Stop #4: Barbican
When a neighborhood starts with the word "bar", you know it's going to be good -- hit The Old Red Cow, and indulge yourself in their vast, encyclopedic list of crafts. Drink: Beavertown Smog Rocket.
Stop #5: Liverpool Street
Head to The Water Poet; do not drink water. Drink: a bootle of Truman Runner, from a new micro just up the street in Spitalfields.

Stop #6: Tower Hill
Ostensibly a cocktail bar, Mary Janes also has a respectable list of small-batch barley pops. Drink: Little Scotney Pale Ale, brewed with water from Scotney Castle.

Stop #7: Cannon Street
Hit up the new joint Pelt Trader, where you will sadly have to part with actual cash for one of their 18 taps. Drink: Kernel Export Stout.

Stop #8: Blackfriars
Things are getting tipsy now. Ballast is required. Hit The Rising Sun, and snag something from Wiggies pig-laden bar menu. Drink: Sharps Doombar.

Stop #9: Embankment
Dip into Covent Garden, and head to Porterhouse -- they're Irish there, so technically, you're straying outside of the Isles. Come to terms with that fact with a stiff drink: their home-brewed Oyster Stout.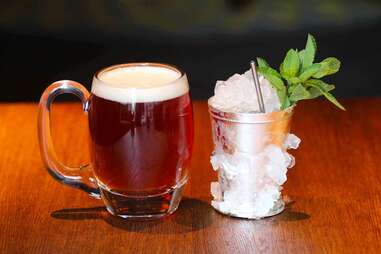 Stop #10: St. James
You're quite close to Parliament! Clearly, this is your best bet to influence policy (probably about on-the-spot fines for public drunkenness). Head to the bar at Blue Boar, and drink: Curious Brown's Lager.

Stop #11: Sloane Square
Going to such classy areas this late in the trip is doing you no favours. Head to The Orange. Drink: South London Brewery A Head In A Hat's Topee Ale... which you'll have to.

Stop #12: Gloucester Road
Right opposite the station, there's The Stanhope Arms. They have a decent selection of crafts, but your taste buds by now are probably shattered, so you need something with flavour. Drink: Brewdog Punk.

Stop #13: Notting Hill Gate
If you're still able to walk, The Champion has a nice large selection of local beers to choose from. Drink: Sambrooks Wandle, made using water from the Wandle, London's other river.

Stop #14: Paddington
You made it. Celebrate with a drink! Head to Old Mary's hidden speakeasy below The Mitre. Drink: the classic London craft beer that started it all, Meantime's London Lager.