London has great beer, great cocktails, and apparently just to collect the whole set, great wine, too. From underground caves, to a bona fide urban winery, here's where to go if you want to enjoy the best grapes the capital has to offer...
Embankment
This place is, quite literally the stone-cold classic of London wine bars. Carved out of a huge cave beneath Embankment by what we're forced to assume was a very vindictive dwarf, it's the capital's oldest wine bar, and something every native absolutely needs to tick off their bucket list.
Recommended Video
Thrillist's Best (and the Rest): What You Actually Need to Know About Natural Wine
Fitzrovia
The Remedy's name is born of the three founders' belief that good wine can "solve (just about) any problem." Clearly they've never taken a bottle of Malbec into an AS maths exam or tried to fix a blown head gasket with a carafe of Valpolicella, but we must admit that, inside the walls of this intimate little enoteca, the world seems like a slightly better place. The lovingly curated wine list at The Remedy spans the vinicultural globe, whilst the rustic, continental small plates that accompany it are crafted from ingredients of the highest caliber.
Covent Garden
Covent Garden: once you've kicked your way through a group of tourists, squeezed past an ill-advised concept pop-up, and said something biting to those chaps that hand out those little soaps that look like sweets, you'll probably be in need of a large glass of the good stuff. CVS to the rescue, then. Slip downstairs into this intimate bodega-like dining room and find yourself in a soft-furnished hollow dappled with yellow candlelight. Truly, the wine list at this Neal's Yard joint is a sight for jaded eyes: an amassed compendium of unusual delights, staunch favorites, and next-big-thing numbers.
Hackney
Sager and Wilde has the cool, severe aspect of a mid-century Parisian corner bar: all exposed floors, round tables, shadowy blinds, and sweeping wine racks, it's the kind of place Ernest Hemingway would hang out in if Ernest Hemingway hung out in, um, Hackney. Certainly the wine list here is serious enough to keep one in a state of authorial stupor: vast, creative, and dripping with Old World heavyweights. As for food, the hefty grilled cheese sandwiches on offer should keep you going whilst you bounce half-cut novel concepts off the hilariously knowledgeable staff.
Embankment
Perhaps the biggest name in London's burgeoning wine bar scene, Terroirs has poured the good stuff into more famous faces than you've had glasses of Montrachet Grand Cru. The formula's pretty straightforward: an intimidatingly long wine list with a biodynamic lean, a winningly simple small-plates menu, and an eerily knowledgeable swathe of sommeliers make Terroirs a second home for the West End's connoisseurs, flaneurs, and raconteurs.
Farringdon
Upon taking over the old Quality Chop House, owner Will Lander promised he'd make as few changes as possible to the original and beloved utilitarian eating spot.  Well, old Will made good on his promise, except for one tiny detail: the addition of a Parisian-style "bar a vin" out the back. But what a detail. Customers can choose a bottle from this lovingly curated shop collection, before paying a small corkage levy to enjoy its contents alongside a traditional London-inspired menu. Plus ça change, plus c'est la même chose.
Covent Garden
10 cases, an unpretentious bistrot a vin in a bustling corner of Covent Garden, stands blithely to the core principle that its name suggests: 10 white wines, 10 red wines, nothing more. A short wine list doesn't mean the place is short on delights, however: an incredibly well-priced cellar means you might find yourself sampling all 10 offerings in a single sitting, whilst a punchy little menu will have you fighting for a spot at one of the only 10 tables in the restaurant. I suppose we really ought to say it: it's a 10 out of 10.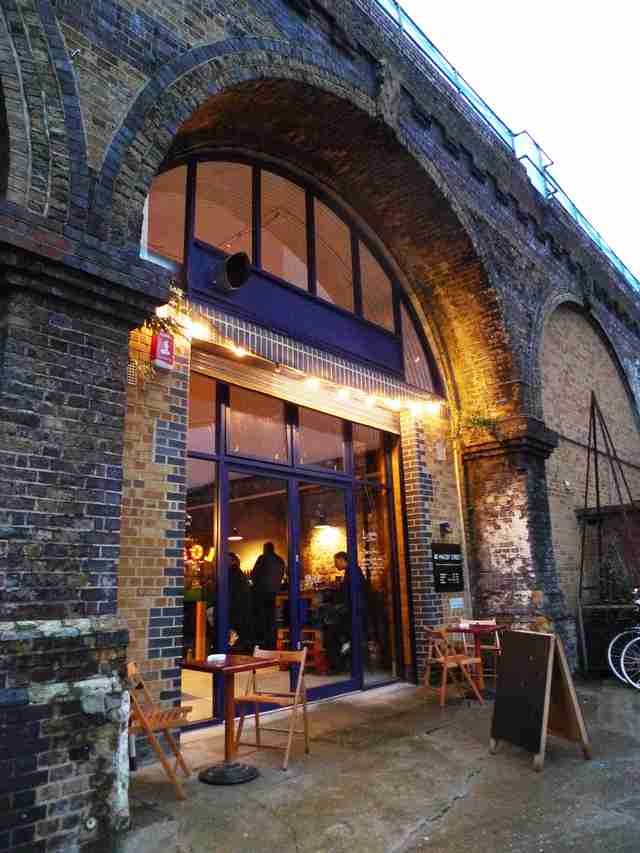 Bermondsey
40 Maltby Street is already Bermondsey's worst-kept secret, and it's only with great reluctance that we share its joys with you now, such is our desire to keep the numbers down. Crammed into an ancient railway arch, this little enoteca possesses the dimensions of a demi-carafe yet the awe of a Nebuchadnezzar. Fatty, Basque-style charcuterie and freshly baked baguettes mingle with a gorgeous wine list and now, thanks to this, the whole world and his wife. Stay away, we found it first.
Westbourne Grove
Chiseled business suits, slick-backed hair, and what are presumably some Versace underwear models lend this little bodega the ultra-trendy air of a Milanese piazza mid-fashion week. The wines on offer are, however, pleasingly rural, with a Tuscan-centric cellar and a fine selection of organic and biodynamic producers. The platters of antipasti that float by, meanwhile, are offered about with the true warmth of a Mafia wedding, completing Negozio's unique ambience: both devastatingly cool and truly homely all at once.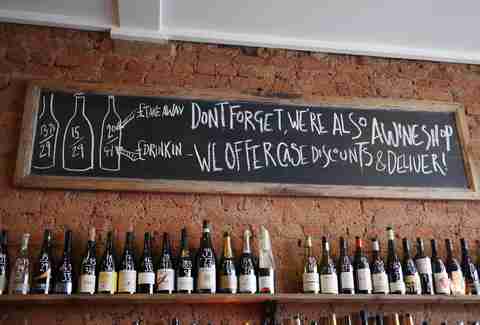 East Dulwich
Toasted's name is awfully clever in that it marries the act of drinking with the effect of drinking in just two syllables: if one drinks too many toasts, one will become absolutely toasted. Just as pleasing, in fact, is the décor: the rugged brick walls are lined with a miscellany of aging bottles abandoned by the previous owner, while one of the dining spaces plays host to three vast fermentation tanks. The Old World list here is pleasingly left field, eschewing big-name appellations for some quirky continental cameos, while the food is staggeringly tasty British fare. No toast, though, sadly.
BONUS!
Earl's Court
Holding the esteemed honor of being London's only winery, Cru imports French grapes and blends them in Earl's Court to make some -- we apologize for the following pun -- capital booze. Although they're not strictly a wine bar, they do hold regular tours that allow you drink the stuff straight from the barrel, and even create your own blend, making it something of an oenophilic dream. Currently on hiatus, they'll start up again "as soon as they've processed this year's harvest."
Sign up here for our daily London email and be the first to get all the food/drink/fun in the capital.