These are London's Bad Decision Bars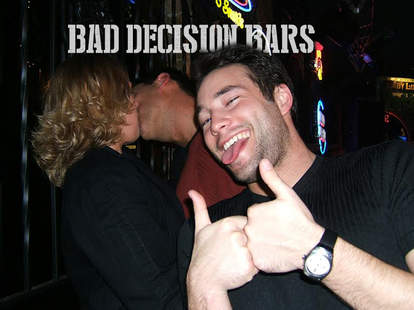 Ah, the Bad Decision Bar -- when you're juuuust about to call it a night, and someone suggests grabbing one last drink at that one place that's still serving, and all of a sudden you're drinking pitchers of neon alcopop-laced cocktails, wearing someone else's jacket, and singing Babylon Zoo on a broken karaoke machine between fistfuls of kebab. London has at least eight of them, and here they are:
Baja Room at El Camion
Soho
The insanely steep and narrow staircase leading down here basically traps you in, and the insanely powerful margs basically trap you on the postage-stamp dance floor making an arse out of yourself, and loudly asking when they stop serving fageeetas.
Efe's Pool Club & Bar
Dalston
If you remember you're first time at Efe's (and that's a BIG if), what you'll remember is thinking that the guy in the fancy nylon tracksuit looks slightly overdressed, childishly fighting with an 18yr-old over who had the next game, and trying to hustle a pot plant.
Dalston Superstore
Dalston
The bass is so earthshakingly loud, it causes involuntary twerking... at least, that's what you're telling people happened.  
Moonlighting Nightclub
Soho
The cost of a vodka Coke from a bottle that looks suspiciously like relabeled Eastern European paint thinner? £1. The cost of your dignity, self-respect, and sterling reputation as someone who has never eaten a chip they found on the floor? About seven to 10 of those. 
The Dolphin
Hackney
When you're this deep into Hackney, it's difficult to know whether the karaoke has come full circle and become cool again, or ironically uncool, or whatever, but what is for certain is that the noises actual dolphins make are more melodious that what's coming off the stage. 

Heaven
Central London
Just because it's open past 3am on a school night, does not mean that you have to be there past 3am on a school night.
Zoo Bar
Leicester Square
A bar crawl classic ending spot, you'll be sure to make some new bedfellows... until you have a Trainspotting-moment and realize you were already drinking when they were learning how to walk... earlier that night. 
Walkabout bar
Multiple locations
If you went to a Walkabout bar and didn't chat up a blonde ex-pat Aussie estate agent who "misses Vegemite" while drinking a fishbowl of Long Island Iced Tea chased by a pint of snakebite and a quick nap on the dance floor, then you didn't really go to a Walkabout bar.