​London has a lot of pubs, but all too many of them have ended up looking the same, stocking the same beers, and using the same suspiciously sticky carpet, thanks to the fact that they're almost all owned by a very small bunch of breweries/bar groups/corporate overlords. At a time when delicious craft beers are taking the country by storm, there's never been a greater need for London's independent pubs...
Recommended Video
Thrillist's Best (and the Rest): What You Actually Need to Know About Natural Wine
Oval
Once you get past its rough-looking exterior, this not-so-hidden gem knocks people's socks off with blindingly good food (Foie Gras Toast? Um, yes please.), a solid drink selection, and table football. With plush furniture, bare wooden floors, and an open plan layout, this is a sister to Great Queen Street in Covent Garden and The Anchor & Hope in Waterloo, only this time around, they really focused on the drinkers, which we're totally okay with.
Haggerston
Known for its epic Sunday night jazz sessions (which always somehow innocently turn into a 3am school night deal), it also has cheap and tasty pizza, a tiny outside garden, plus some serious craft brews like Delirium and Crystal on tap. It gets packed, but somehow the East London attitude gets checked at the door.
The City
The guys from the Holborn Whippet are on a mission to help educate those hard-working suits in the glorious world of craft beer and fresh pizza; with 16+ rotating brews on tap, they frequently have local presence from the likes of Camden Brewery, The Kernel, Redemption Brewing, and more, plus other guest beers from all around the world. They kept the furnishings to a minimum -- this is definitely a man cave -- but it gives you more attention bandwidth to focus on that wonderful beer.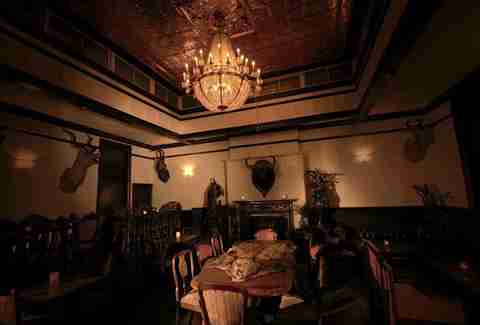 De Beauvoir
Tucked off Balls Pond Rd, this sister joint to The Hemingway ticks all the boxes -- it's got a vast collection of brown spirits that Mr. Thompson would be proud of, classy nudes adorning the gents, and some eye-popping taxidermy to keep you company. Plus its tiny kitchen busts out some pretty high-class eats like seared beef fillet & Guinness rarebit and Beef Wellington for two.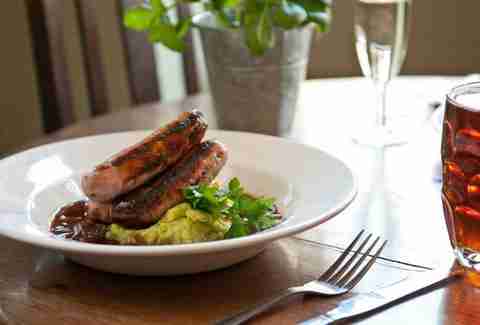 Hoxton
Situated on the edge of cooler-than-thou Hoxton, but still spitting distance from Old Street Roundabout, The Eagle has a Cask Marque accreditation, thanks to a fantastic range of beers from the big names to the small batch brews from down the road, and seasonal specials to boot. When the weather gives us a minute, there's a good-sized outdoors bit as well, which is perfect for their massive Sunday roasts.
Holborn
Sure, Holborn may seem a bit like no man's land, but the Whippet might change your mind -- it's rocking a 20-strong, regularly rotating collection big enough to keep you challenged, but not so much as to overwhelm you. Purely to provide ballast, they've also thrown in a surprisingly good food menu filled with everything from burgers and sandwiches to salads and pizzas, too.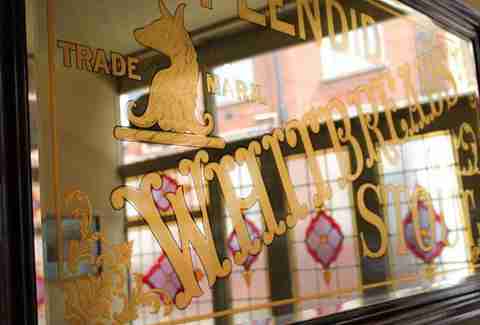 Barbican
This place is all business in front and a party up top, with a classic ale house room at ground level and a swank and modern roof terrace that's perfect for summer. Its menu leans heavy towards real ales, but its list is comprehensive enough to please everyone. Just slightly out of the way, it draws in some serious beer-heads, while still remaining very family friendly.
Islington
A classic neighbourhood boozer, but with a touch of class. They really went OTT with their craft selection, with a rotating cast of draft beers, plus a huge selection of bottles hailing from everywhere, with Mikkeller (DK), Lagunitas (US), Beaverton (UK), and many more making appearances. Plus, they're starting up their own brewery and have an off license, so if you fall in love with something you can grab a couple bottles for the road.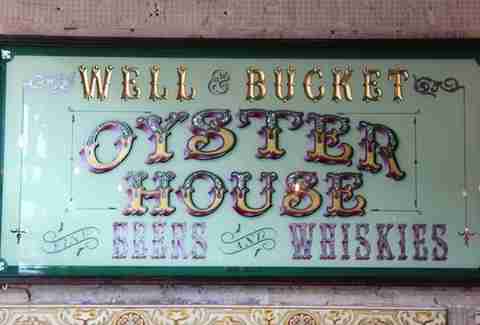 Brick Lane
Once upon a time, there was a pub on this site, and it was classic. After a couple decades detour, it was semi-recently refurbed, bringing it back to the glory it deserved, plus they added a whole slew of beer, cider, oysters, and other must-have edibles, like their oxtail chilli cheese dog. Oh, and no big deal, but they have one of the city's best cocktail bars sitting right below them, too.
Piccadilly
All the more impressive for its centre-of-town location, The Queen's has managed to stay independent for a staggering 280 years, an asset it exploits to pull in a range of globe-spanning craft brews from Brooklyn to Notting Hill to Butcombe. Pairing this is a regularly changing menu, and the occasional guest chef. It's everything an independent pub should be.
Spitalfields
When the dudes from Forza Win went and opened a pub in East London, we thought it was going to be fantastic, and lo and behold, it was fantastic. Besides having high ceilings and a slick, old-school vibe, they're growing a damn working farm up top, from which ingredients make an appearance in literally every single dish. It's roof-farm-to-table, East London-style, and a whole lot of booze.
Sign up here for our daily London email and be the first to get all the food/drink/fun in the city.