We told you about London's oldest restaurants, so now we're giving you the scoop on the city's oldest pubs too, because that's how life works. And as it turns out, some of the capital's drinking holes are astoundingly old, and actually predate some remarkable things. So without further ado, here's what your local is older than...
Hampstead
Founded: 1585
What is it older than? Newspapers
That's right, for the first few years it was open, The Spaniards' customers were left reading the backs of beermats because the newspaper (at least the first one intended for the general public) would not be invented until 1605 in Germany. London wouldn't get one for another century. The pub itself is name-dropped in Dracula though, so there was a little literature to chew on.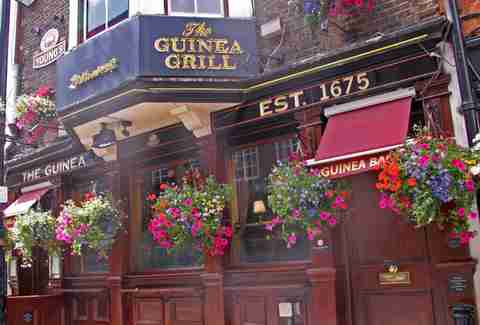 Mayfair
Founded: 1675 (though there was a bar on the site since 1423)
What is it older than? The beer pump
If you wanted a pint at the Guinea Grill, you would have had to patiently wait 16 years before you had even heard of draught beer. The "beer engine," as it was called, was first dreamed up by an enterprising Dutch man named John Lofting while he was living in London in 1691.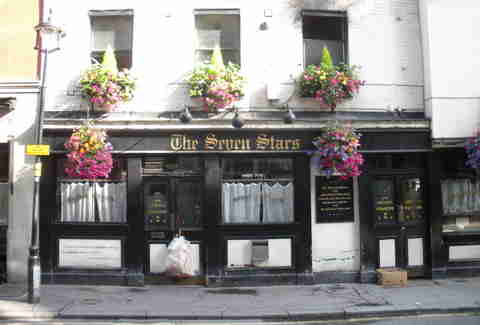 Holborn
Founded: 1602
What is it older than? Gin, rum
The Seven Stars opening menu would have felt a little short because the first distillations of both rum and gin would only take place (respectively in the Caribbean and Holland) in the mid-17th century.
Wapping
Founded: 1520
What is it older than? The minute
Strange as it may seem, the hour seemed to do just fine for society until the railways came along, and suddenly everyone needed a timetable. It was only in 1577 that a  minute hand was added to a clock by a Swiss clock maker, Jost Burgi, and suddenly pubs could call time with alarming accuracy. The Prospect itself actually still has its original floor, and has even kept the noose that judge John Jeffreys used to hang smugglers from.
The City
Founded: 1663
What is it older than? The word "pub"
Public houses (and the abbreviation "pub") were only first referenced in the 18th century. Before then, they were known simply as inns. It's unclear whether The Old Wine Shades can even be called a pub nowadays though, as it doesn't sell beer. Discuss!
Westminster
Founded: 1434
What is it older than? The printing press
The Red Lion was a hangout for Westminster's political elite for centuries, and when it opened, they would have had to promote it without using any flyers, as it was only in 1439 that Gutenberg started to churn out Bibles faster than even the most well-caffeinated monks. 
Blackfriars
Founded: 1667
What is it older than? The piano
When they rebuilt the Cheese after the Great Fire of London, even its presumably fancy new jukebox would only have played the latest harpsichord hits, as the piano wouldn't be invented until 1700. Later on in life, Mark Twain, Sir Arthur Conan Doyle, Charles Dickens, and many more authors would drink, write, and socialize there.
Bankside
Founded: 1665
What is it older than? Classical physics
Well, gravity, the laws of motion, and everything that makes up classical physics as formulated by Issac Newton in his book Principia Mathematica, which was published in 1687. Before then, anchors were simply attracted to the seabed by mermaids pulling them down really hard. 
Sign up here for our daily London email and be the first to get all the food/drink/fun in the city.