Along with the rise of the city's craft brewing scene has come the rise of the beer bar: a place where they worship the almighty pint, and where the bartender basically needs a PhD to decrypt the menu. If you can't find something you like at these hop spots, then you just aren't thirsty.
With five London locations -- plus a Brighton outpost -- there's pretty much something for anyone here. In fact, the menu is the size of a medium-length novel. With 37 beers on draft alone at the Clerkenwell location, plus a casual 300 bottles available, this bar likes to boast that it has the largest selection in London, and frankly we're not going to argue.
Just up from the chaos of Holborn and Covent Garden, this beer haven on the pedestrianized Sicilian Ave has 20 taps on regular rotation, and you're only going to find super-small craft brews being poured here. It has a small kitchen, too, and the food menu is surprisingly good.
The marriage of meat & beer is one of the oldest, best partnerships in history -- so it comes as no surprise that this cleaned-up old-school boozer, located just around the corner from Smithfield market, is loaded with both various shades of liquid goodness and a protein-filled menu featuring the likes of bone-marrow & bacon burgers. It stocks a daily changing selection of kegs and casks, but it's really the bottles that will keep you checking the shelves in wonder, boasting nearly 100 different brews in total.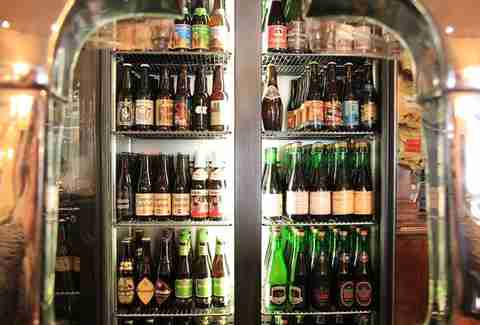 With a massive chalk board sign instructing you to "ask for a beer menu," it's a good guess that the stuff you see on the tap handles is only the tip of the iceberg. The menu packs everything from Evil Twin, to Dark Star, Mad Hatter, Hoppin' Frog, and so many more -- the list is in the ball park of 350.
This sister location to the cocktail-centric Discount Suit Company, the Sun focuses on the barley pops. With bottles from local buddies like Beavertown, CRATE, and Partizan, its also got 10 rotating brews on tap, including a couple of special house pours.
In an old Victorian gate house, a stones throw from the transit hub of Euston station is a beer-drinking commuter's dream. With eight rotating casks, 20 kegs, and 150 bottles stashed into this tiny, postage stamp of a bar, it actively encourage you to go outside of your comfort zone and try something new, with loads of small batched brews sourced from around the globe keeping you on your tasting toes.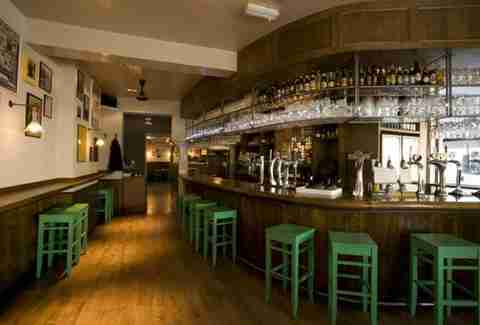 Aiming to have a beer for everyone -- even those who don't, like, swear by the stuff -- Draft House has been quietly creating a hoppy empire across the capital -- and with eight locations (and counting), it's on its way. There are plenty of glass-size options too, so it's a great place to try everything, and still leave with your wallet & liver on speaking terms.
On the site of a former greasy spoon, The Rake boasts a simple motto: no crap on tap. That certainly makes ordering a bit easier. Keeping things always changing, it's got an awesome 130 (or there abouts) bottles hanging out in ttheeir cellar, and a constantly changing three kegs and seven casks for the taps. If you really want to get your geek level up, check out the walls -- they're covered in the signatures of your favorite brewers.
Otherwise known as The Sloaney Pony. To say these guys like beer is kind of an understatement. The bar has 135 different bottled brews, plus 8 cask ales, a whole selection of guest drafts that regularly rotate, and it also throws beer festivals quarterly. No, this is a stallion.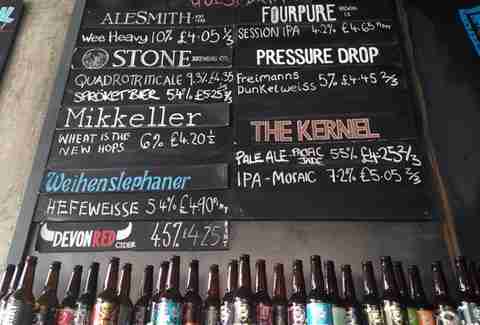 While the thought of a brewery-owned bar might sound like a clever way to sell its own product, the BrewDog temples of beer are so much more. Sure, this place love you to down one of its barley pops -- there are loads of different batches to try, after all -- but with a constant changing list of guests beers, plus staple taps from rival hop-houses, it's happy for you to expand your palate and mind and just enjoy great beer, regardless of where it comes from. Mikkeller, Weird Beard, Stone and Ballast Point, and more are fixtures behind the bar.
Sign up here for our daily London email and be the first to get all the food/drink/fun in the capital.
Haley Forest is a London writer who put together the majority of this article in a bar. Follow her at @HCForest.