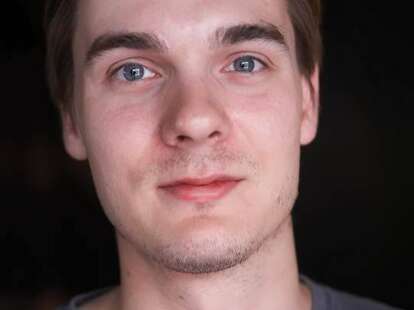 Courtesy of Marcis Dzelzainis
Courtesy of Marcis Dzelzainis
With a CV that reads like a guide to where to drink in London, Marcis has certainly been involved in some serious watering holes through the years. Before becoming the general manager over at Mr Lyan's spot in the Mondrian Hotel, Dandelyan, he was at Bethnal Green's classic date spot, Satan's Whiskers. And before that, he spent several years making all kinds of wheels turn over at 69 Colebrooke Row with Tony C. Since he joined the team over at the wine-centric Sager + Wilde, he has quietly developed an absolutely stunning cocktail menu, which is worth the visit alone -- but the food is also brilliant.
What have you been focusing on this year?
Marcis Dzelzainis: Keeping things simple and making sure that the drinks taste the way they should. In terms of actual research, I've been looking at forgotten ingredients, such as nettle beer. These products were much more familiar to us before the industrialization of food and drink.
What was your proudest moment?
Dzelzainis: I think people's reaction to the drinks list at Sager + Wilde in general, and how many people say nice things about it.
Why do you think the London cocktail scene is so strong currently?
Dzelzainis: That's an interesting question. I think it's quite a mixed bag, to be honest. There is some great stuff out there that doesn't get the recognition it necessarily deserves, and some really average stuff that gets a lot of attention. I think a lot of people are reacting to that, and deciding to do things their way, industry recognition or not. To sum it up: Everyone wants to be a jazz musician, but no one wants to learn the blues.
Where do you think drinks are headed in London in terms of trends, tastes, and designs?
Dzelzainis: I think London's key strength is how multicultural it is, and that makes it very unpredictable and interesting. It's really hard to predict trends, and also I try not to pay too much attention because I don't want to get caught up in it. Guest reaction and feedback is always the best gauge for what works and doesn't. I like people who go completely off-piste but are somehow still in tune with the zeitgeist. The only things I would commit to saying are trends would be sustainability and zero waste. Regardless of what I think about drinks and the people behind them, these are both incredibly important topics we as an industry need to tackle collectively.
Is there anything you can share about your future plans?
Dzelzainis: All things agave. Watch this space.
Sign up here for our daily London email and be the first to get all the food/drink/fun in the capital.
Haley Forest is a food & drinks writer who would happily sit by the service well and watch Bartenders do their thing all night long. Follow her (mis)adventures at @hcforest.