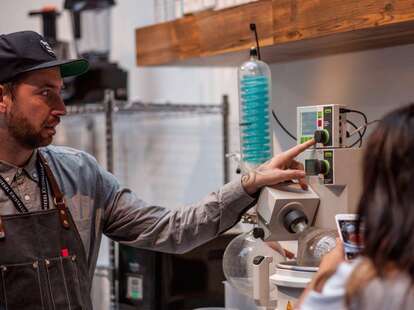 Courtesy of Matt Whiley
Courtesy of Matt Whiley
Like the wizard behind the curtain, Matt Whiley has wielded his influence over many of London's favourite spots, although most of the time, you probably didn't know it. Earning a name for himself as part of the team behind Purl and Worship Street Whistling Shop, he has since started up his own consultancy company, setting up the beverage programs for restaurants like Hoppers, Restaurant Story, and Rök Smokehouse, as well as taking over the reins at Bethnal Green's Peg + Patriot.
What have you been focusing on this year?
Matt Whiley: The focus this year at Peg + Patriot has been split into two areas: one has been a big push for the guest experience, making sure everyone has great service and everyone leaves having had a great time. The second is we have focused a lot on our drinks and our team. We still use the Peg + Patriot ethos, but wanted the team to have some personality in the drinks. I think this way we can all be proud of what we put out and it comes across in the service. We have also focussed heavily on trying to understand every single ingredient we come across, be it from our amazing fruit & veg suppliers to our forager, so we can work towards better flavour pairings between fruit ingredients and spirits.
With the consultancy work, I'm lucky to work with some great people who show a lot of faith in me and what I do. At Restaurant Story and Rök, we change the menus when the produce changes -- with the seasons -- and it's always exciting to be pushed for new and interesting drinks.
What was your proudest moment?
Whiley: Signing on the dotted line with the publisher to write my first cocktail book. Aside from that, I would say the relaunch of my gin (Wolf's Nose), and also working with lots of amazing bars and bartenders, bringing them to Peg + Patriot for our guest shifts; having the team share our ethos with other great bars, and learning from other great people in the industry.
Why do you think the London cocktail scene is so strong currently?
Whiley: What makes the city so great is that London is sharing in each other's success and wanting each other to succeed, which pushes everyone to better things. I also think that in London we have amazing guests who are open to new ideas and innovation, meaning we're able to push and be at the forefront of bars.
Is there anything you can share about your future plans?
Whiley: I've just agreed to work with the amazing chef Michael O'Hare for his new restaurant, Rabbit in the Moon, opening in Manchester in December, and you are in for a treat. It's going to be amazing.
Sign up here for our daily London email and be the first to get all the food/drink/fun in the capital.
Haley Forest is a food & drinks writer who would happily sit by the service well and watch Bartenders do their thing all night long. Follow her (mis)adventures at @hcforest.