McQueen
So, the whole deal behind this place is that it's supposedly designed to be the spot Steve McQueen would want to come to if he wasn't already at the giant nightclub in the sky, and they're pretty much bang on -- the upper deck is filled with quilted leather paneling & sizable Chesterfields, the DJ-boothed dance space below comes decorated w/ life-size pics of negligibly clad/actually naked ladies, and the resto will make you a fillet steak w/ triple-cooked chips. In short, t's the perfect place to, ahem, Getaway to.
Corsica Studios
Sure, from the outside, this warehouse spot doesn't seem like much, but once you get in, you can get a feeling for what they're trying to achieve -- it's a sort of artsy, cool, edgy, yet still-not-pretentious kinda vibe, with live acts who intermingle with the crowd (like normal people!), and an ear-violatingly-loud sound system. And if that's not your bag? They have a separate room dedicated to silent disco.
Cargo
Part of the appeal here is that the venue is big. Really big -- and it's stretched out across several different rooms/levels, meaning that even with a ton of peeps lining up outside, it never feels claustrophobically crammed, and the queue never takes too long. Plus? There's a patio, which is super-rare for clubs, and even in the hellish Winter makes for a place to cool down & refresh quickly. When the night is over, they even have a mini-cab dude on staff whose sole job it is to get you a non-sketchy-yet-cheap ride home.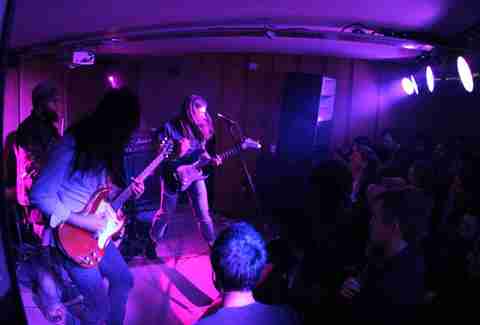 Birthdays
Birthdays would make it onto the list alone for the space above, which holds rotating pop-ups such as Ritas, and currently Psychic Burger, and they've got a solid craft list (Anchor, Kernel, Flying Dog, etc.), but that's not why you came here. You came here for the subterranean prance-pit, which plays host to a regular lineup of solid DJ nights (many of which are free), plus big name live music acts, and this being Dalston, many up-and-comers in the club scene.
Love & Liquor
Named after a 1920s Burmese silent film (and narrowly beating out other era classic The Massage Practitioner) L&L's brick-walled warehouse space may have its feet in Kilburn, but it's heart is firmly across the Atlantic in Williamsburg, w/ neon signage, a huge, amorous mural across the wall, and even a built-in photo booth all contributing to the slick atmosphere. Stringer Bell himself Idris Elba has DJ'd here, and there's even a hidden speakeasy set inside a weathered wardrobe where you can snag something from the solid, classic-heavy cocktail list.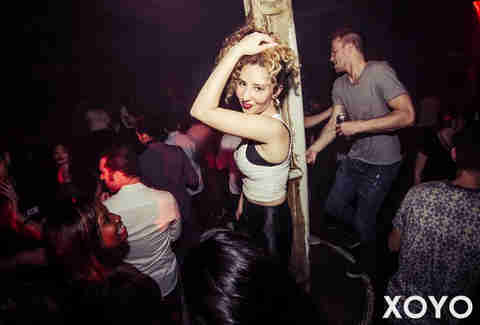 XOYO
A relative newcomer on the London club scene, this Shoreditch stomp-spot makes the cut thanks to its split levels, which allow you to roll with either a dark, laser-aided, bass-thumping dance floor, or a more chilled bar-centric area. As an added bonus, you can bookend your night at the Shoreditch Butchery above, where you'll find craft taps of Brooklyn & Redchurch, a slickly curated cocktail list, and food like brioche bunker double-smoked hot dogs.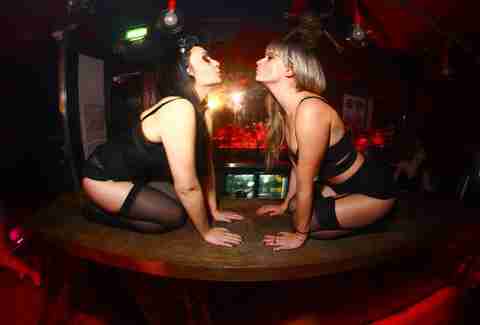 Proud Camden 
So, this place is set in the Camden stables, and inside it quite literally is just that. The cavernously high ceilings preside over several divided, and formerly-horse-occupying areas, each with their own theme (giving it a club-within-a-club kinda' feel), plus a connecting bar for you to get unstable. Some have stripper poles, TVs, video games, karaoke, and there's even a hot tub outside. They have regular live bands, you can reserve the stables, and the house wine is only nine quid a bottle.
Fabric
Obviously a classic (it's 15yrs old, which by club standards means Indiana Jones is likely to get angry that it's not in a museum), there's a good reason for that. Regularly topping best club in the world, they throw out a great range of music, have a huge, well put-together space, a well-run bar, and is basically the most reliable bet for a decent night out.