The Patio Power Rank: The seven finest outdoor drinking spots in London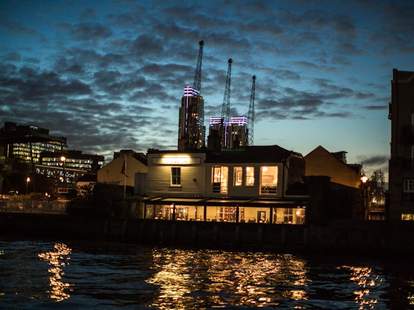 Londoners love Summertime. In fact, it's their favorite day of the year. Because living here means making every fleeting moment of sunshine count to the fullest, picking a prime patio when the opportunity presents itself is essential. But you're busy, so we've done the work for you -- ranked for your convenience.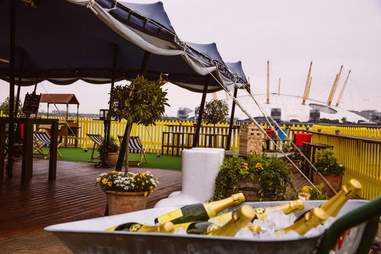 7. The Gun
27 Coldharbour; 20 7515 5222
Apart from having a large outdoor space right on the river, from which you can see the Millennium Dome, they also have a new Gin Garden, a "lazy lawn, complete with garden games", plus a marquee, picnic baskets full of food on sale, wheelbarrows filled w/ beer, and champagne & wine served in plant-pot ice buckets… and a load of gin. Why only 7? It's not exactly the easiest to get to.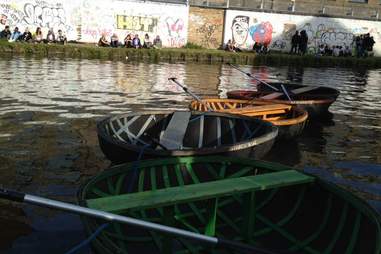 6. Crate Brewery
Queens Yard; Hackney; 7834 275687
They have their own brewery on-site, so you'll be drinking the freshest beer in London, plus their outdoor space is on a canal. The only thing keeping them from moving even higher is their pizza doesn't quite live up to their brews.
5. Vista
2 Spring Gardens; 20 7870 2900
It's on, or actually on top of, Trafalgar Square, which is a huge plus because it puts you above all the tourists, not to mention those lazy-bum pigeons. And the top-notch cocktails pair nicely with the view.
4. The Water Poet
9-11 Folgate St; 20 7426 0495
Sure, it's a great pub with a great beer garden, but that's not why it's number four. It's number four because it has whole hog roasts waiting for you in that beer garden, all Summer long. Or at least until all those hog roasts leave you needing a double bypass.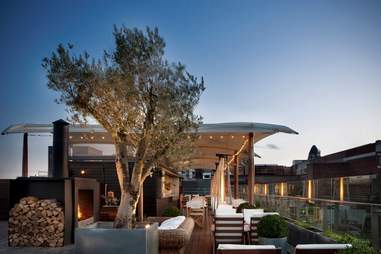 3. Boundary
2-4 Boundary St; 20 7729 1051
They have amazing food and drink (seriously, they do heart-stoppingly good French food), and their rooftop space is actually open all year round, with an open wood fire for the slightly chillier evenings.
2. The Dickens Inn
Marble Quay, St Katharine's Way; 20 7488 2208
So this place is all about location. The Dickens Inn itself is actually pretty run-of-the-mill, but it's inside St. Katharine's Docks, which is kind of a hidden gem in London. On a hot day, it's like you're in the South of France. But with fewer French people. Another plus!
1. The Queen of Hoxton
1-5 Curtain Rd; Hoxton; 020 7422 0958
Where to begin… their rooftop sees a constantly changing lineup of awesome, from outdoor movies, to booze-slushies, to water-pistol fights (with "free ammo" -- score!), to BBQ's, to rum shacks, to hot tubs, to beer pong, to a bloody wigwam. And did we mention the free water?!