Ah, Shoreditch: the land of weekend party kids and once-upon-a-time ravers. When every other storefront is a bar, it can be tough to find one that's not just playing a numbers game, with lame music and two-for-one drinks that leave you wondering what was actually in there. But some of the best bars in London are hidden here -- you just need to know where to look. And now, with our pick of the best bars Shoreditch has to offer, you do.
Recommended Video
Thrillist's Best (and the Rest): What You Actually Need to Know About Natural Wine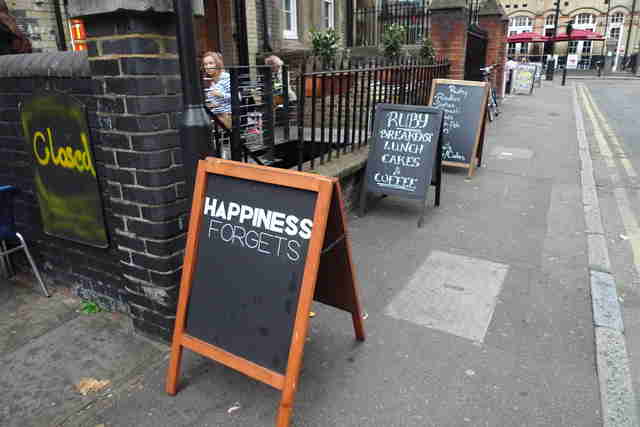 8-9 Hoxton Square
This subterranean cocktail den is one of those comfortable spots that makes you never want to leave. Situated in a barely marked basement off Hoxton Square, there's a distinct lack of stupid haircuts/pretension in general. In their place, you'll find plenty of banter, expertly crafted drinks, and general good times by all. Owned and operated by a bartender, it's a bit of an off-duty industry watering hole, but with a chilled-out, sexy environment, and plenty of dates making eyes at each other, as well.
Best trip to the Big Easy without a flight: NOLA
68 Rivington St
Welcome to the French Quarter in Shoreditch. Secretly stashed upstairs inside the bro-y bar/comedy/gig space that is Bedroom Bar, NOLA smashes out Southern hospitality at its finest with New Orleans signatures, live jazz, and cigars. Hang out on the terrace (or in one of the massive booths) while sipping on hurricanes, Ramos Gin Fizzes, and Vieux Carrés while dreaming of sunnier skies in the Big Easy.
65 Rivington St
There's more (a lot more) than meets the eye at this award-winning bar, so be sure to go exploring. The front room is where mixology meets party, with loud music and fast cocktails that'll leave you wide-eyed and asking for another. Be sure to go through the wardrobe in the back (yes, literally), and check out the backroom lounge space where you can sit and get some serious talking done. Then, sneak past the curtain and up the stairs in the back left of the room to the Jubjub: it's a secret micro-bar where the concept changes every few weeks, with resident bartenders taking over and showing their stuff. Weekends can get pretty mental across the board, so if you're looking for a quiet one, best to go earlier in the week.
68 Bethnal Green Rd
The kings of playful boozing have packed up their Soho spot and joined the party out east with their new flagship venue just off Brick Lane. Expect drinks served in Chinese takeout boxes, rain boots, and sunscreen bottles, with garnishes like toasted marshmallows, sunglasses, and chips -- playful boozing, remember? The bartenders all have some serious pedigree, so while the jokes may be flying, the liquids are no laughing matter. Get ready to work your way through the whole menu.
81 Great Eastern St
Housed inside the trendy Hoxton hotel and run by the cats from Soho House, here, there's always a bit of a scene. But late-night shenanigans are where the Grill really shines. Open 'til 2am -- a good hour later than most things in the area -- it's a solid spot to get those last couple Negronis down and make some terrible/terrific decisions in the photo booth that you may or may not remember the next morning. Walking that line between debauched hotel bar and classy lounge, Hoxton Grill is not a place to find any students causing a scene. But the people-watching can be better than TV.
14 Rivington St
What started as a pop-up under Broadway Market has turned into a fully fledged cocktail bar on the lower stretch of Rivington St. With a vaguely nautical theme and a banging soundtrack, the Parlour's a place to pop in for one drink and end up staying all night. This neighborhood spot is all about setting you up for a great night: it closes by midnight, so it's a perfect spot to get your cocktail on without fear of of ending up dancing on tables. Into rum? So are they -- their collection is pretty spot-on.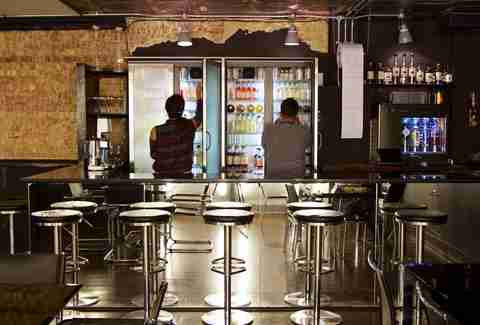 Best spot for science: White Lyan
153-155 Hoxton St
Hyperbole aside, this bar really is unlike anywhere else: there's no ice, no bars, and none of that fiddling-around nonsense like shaking and stirring we've come to associate with a bar. This place has a rectifier's license, meaning everything from the water up is made in-house -- no, really, the water's redistilled to make sure it has specific minerals, and all spirits are distilled to the bar's unique design. From there, all cocktails are pre-batched, prediluted, bottled, and stashed in massive fridges, so all they have to do is measure (on a scale) and serve.
Best place to eat toasties and make bad decisions: Loves Company
104 City Rd
This bar has a serious case of Jekyll & Hyde, in the best way possible. At ground-level, there's a tiny cocktail bar where you can sit and watch the world of Old Street go by, all the while nibbling on kick-ass toasties like the Jamon Eileen (chorizo, pineapple, and Double Gloucester) or the American Pie (apples, sultanas, and custard). As the night rolls on, things start to kick off downstairs where DJs get things rolling and the party kids take over. Expect the night to get dark and dirty; there's a good chance you'll lose your jacket, phone, and more likely, dignity.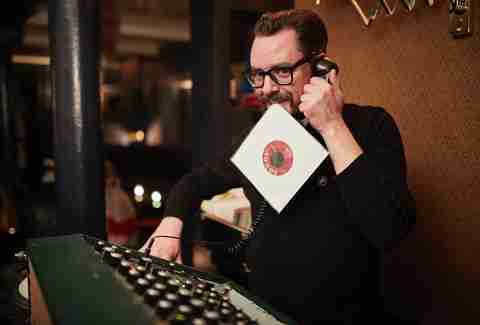 147 Curtain Rd
Head past the slightly picky doormen (hint: having a booking helps), down the stairs, and into the lower level bar run by the same crew as Chinatown's Experimental Cocktail Club. The cocktails are tremendous, of course, but you'll also want to keep an ear out for the phenomenal sound system. The owners went mega-geeky on this one with 1970s Tannoy dual 18" speakers, each separately powered by 1960s Quad II amplifiers, and valves from 1940-1960 -- and if you ask very nicely, and promise not to touch anything, they might even show you the dedicated room for all the equipment.
193 Hackney Rd
This vino-centric spot is the project of husband & wife team Michael and Charlotte, who may just be the most unpretentious wine geeks ever. Overflowing with their laid-back charm, this is the perfect spot to try wines you've never heard of (there's an insane by-the-glass program) and then end up ordering several bottles worth. Also, the toasted sandwich game here is ace.
157 Commercial St
You already know about the amazing steak upstairs, but if you're after a slightly more booze-focused experience, then beeline to the bar down below. Darker, sultrier, and with award-winning bartenders behind the stick, this place is always a little rowdier than its upstairs counterpart, which makes it ideal for letting your hair down, ordering an Old Fashioned, and smashing a short rib French dip.
Best picture-worthy garnishes: Nightjar
129 City Rd
Have your Instagrams at the ready, because these drinks are mini pieces of art and demand to be documented as such. Hidden behind an unassuming door (and tough bouncer) just off Old Street, this basement speakeasy is jaw-droppingly gorgeous from start to finish, with a 1920s vibe, out-of-this-world drinks, and a constantly buzzy scene. Yes, you should make reservations, and no, no one will judge you for taking pictures of the ridiculous garnishes.
Best place to rediscover your love for tequila: Casita
5A Ravey St
Although this bar is about the size of a closet, it packs a solid, tequila-fueled punch that'll leave you shuffling homeward by last call, wondering where the last few hours went. Taking no prisoners, it's always crammed with a devoted crew of super-friendly regulars, so expect to consume many shots of the signature tequila con verdita while insisting you stopped by for "just one." Yeah, as if.
Sign up here for our daily London email and be the first to get all the food/drink/fun in the capital.
Haley Forest is a food & drinks writer who lived in stumbling distance from most of these bars for many years. Yes, it was dangerous for her liver. Check out her adventures on all things social at @HCForest.