By now, we've all come to expect a few things of a cocktail bar: low lights, the rhythmic sound of ice in a shaker mixing nicely with soft jazz in the background, someone wildly spinning bottles behind the bar while desperately wishing Elisabeth Shue would walk in. But now, thanks to the crew at Hoxton's White Lyan, pretty much all of that is going to change… thanks to a system of pre-mixed cocktails which, for what they lose in showmanship, they more than make up for in flavour, and not being compared unfavorably to a not-yet-insane Tom Cruise. So what else are they doing different?
No Brands
Take a peak in their fridges. Your eyes are not deceiving you -- they're all Mr. Lyan's labels. These guys have taken brands out of the equation by getting a compounders license in order to buy raw spirits and make their own. Even the water has been purified, and a perfect mixture of minerals has been added back in to create the "perfect water" for what they're doing. Which, presumably tastes like water.
No Ice
They're not going to be callously serving you room-temp booze, but you will not find any ice rattling around this bar, and just waiting to water down your hooch. All drinks are pre-batched and pre-diluted, meaning the journey from ordering to drinking is generally just a matter of opening a bottle. The process for a Negroni is just a matter of spraying a chilled glass with "layered zests", lighting a match under it for that smokey taste, and pouring.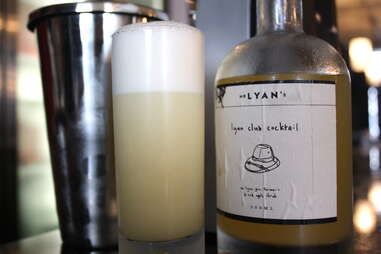 No Fruit
When life gives you lemons, that's actually kind of awesome because lemons are delicious, plus you can make your own cordials with them. So far so standard, but that's not all the folks at WL are doing -- house distillates, shrub clippings, vinegars, acids, and atomizations are the real game-changers here. The Lyan Club Cocktail, for instance, is made on a milkshake wand and includes turmeric & red apple shrub to cut through their gin.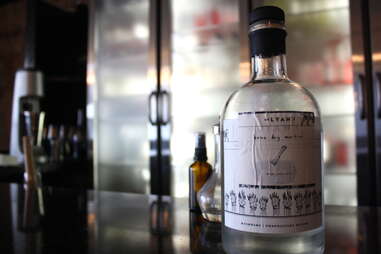 No Waiting
There is more to the minimalistic display than just looking kind of cool -- they've also cut the amount of time you have to wait for a tasty beverage by a metric crapload. Take the Bone Dry Martini; a good martini should be cold, and this normally takes a good 3-4 minutes with you standing, waiting, and wondering if you should have risked looking like a tool by asking for it shaken not stirred. Theirs is as simple as opening a bottle of vodka and bones (a roast chicken bone, dissolved in phosphoric acid, which gives it an ever-so-slight smooth mouth feel), and pouring it.
Paint??
A slightly more labour-intensive beverage (that takes like, 10 seconds more to make) is the Painted Presidente. The glass is literally coated with "pomegranate paint" before they simply pour in a mix of house rum & vermouths, and then it's finished off with a drop of "liquid grass" (no, not that kind).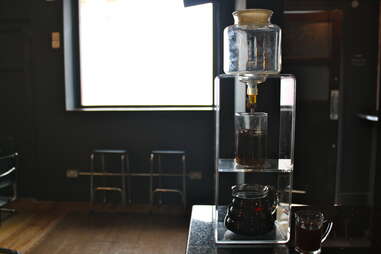 Coffee
The even-longer-to-make Daily Grind cocktail is basically the best cup of coffee ever, running a secret house blend of spirits (instead of ugh, water) through through Square Mile grinds.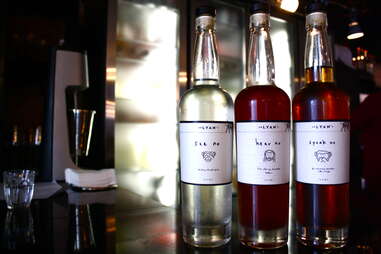 Three Evil Shots
Their triptych of shooters includes the likes of gin & cider vinegar (See No), Fino & bitters (Hear No), and whiskey & Chinato syrup, after which you should definitely Speak No.
Downstairs
While the upstairs is a great place to sip & shoot the breeze, head downstairs, and you'll find low red lights, DJs, and an ambitiously placed stripper pole which will have everyone wishing Elisabeth Shue would walk in.