The Cocktail Trading Co. Makes Drinks You Won't Believe
Ensconced neatly underneath Soho's Central & Co., The Cocktail Trading Company, remarkably, trades in cocktails. What's not so straightforward however, are the drinks themselves. See this box of noodles above? Nope, that's a cocktail. And it's not just the looks they're getting experimental with. Virtually every aspect of the drinks has been tinkered with, to create some truly next-level mixed booze.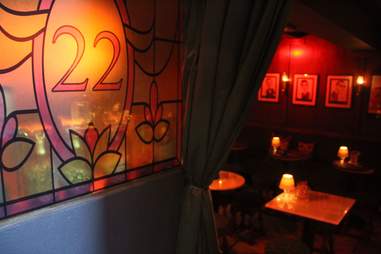 Jason Allen/Thrillist
The collective brainchild of three award-winning bartenders (Olly Brading, Elliot Ball, and Andy Mil), CTC may be underground, and it may be filled with mahogany, and it may be dimly lit (they will in fact adjust the lighting at individual tables according to "how well a date is going"), but it is not a speakeasy. In fact, it advertises its presence quite readily on the street above.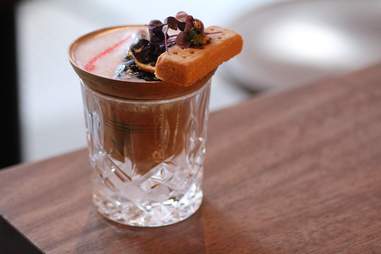 Jason Allen/Thrillist
This is called For Whom the Bell Bols, and was made in memory of a fallen bartender friend of the owners. (A percentage of the sales goes towards his family). Inside it, you'll find lavender-and-chamomile-infused Bols Genever, golden syrup, lemon juice, and egg white.
Jason Allen/Thrillist
... Oh yes, and they're all served in a (custom-made) bell -- the metal stays cold, so you don't dilute the drink with ice.
Jason Allen/Thrillist
The Scout's Honour has 86 Co. tequila, lime juice, smoked marshmallow syrup (!), toasted marshmallows, and a very special garnish.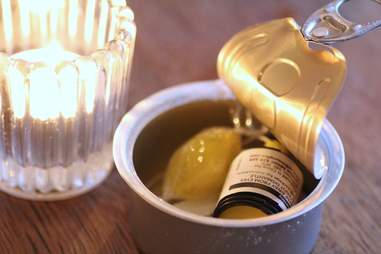 Jason Allen/Thrillist
Peel back the lid, and you'll find sweets, cracker jokes, and a party popper.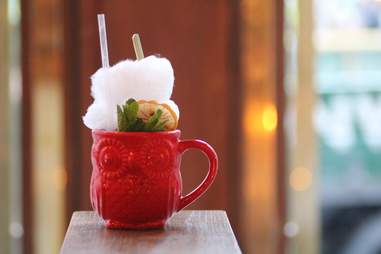 Jason Allen/Thrillist
The Tu-Whit-Tu-Whoo-Woo which is basically a Woo Woo (Remember the early 2000s? You probably had one then.), but ramped up a bit with sage syrup and topped off with Prosecco. Then, because it wasn't quite amazing enough, it's garnished with house-made candy floss.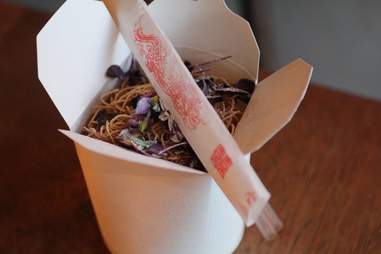 Jason Allen/Thrillist
This is their award-winning Welcome to Kentucky, Have a Nice Day. With a nod to Suntory whisky's acquisition of Jim Beam bourbon, they've loaded it with Beam, ginger, plum, yuzu, and matcha tea.
The Cocktail Trading Company
Here are a couple of upcoming menu-fillers: the snowglobe-esque Citizen Cane (w/ coconut-infused cachaça and rosebud eau-de-vie), and The Snapper, whose vodka, tomato, and "Hell-Mary" mix, are there to cure your hangover.
Sign up here for our daily London email and be the first to get all the food/drink/fun in the city.